News
Teen Testifies in Jeschke Trial
Coach Faces Allegation of Illicit Sex
In Judge Frank Ochoa's courtroom on Monday, the faces of jurors, attorneys, and the scant few in the audience flashed concern and disbelief as Deputy District Attorney Joyce Dudley played a recording of a phone conversation between former Santa Barbara High School tennis coach Peter Jeschke and the 16-year-old girl he allegedly gave drugs to and had sex with in the fall of 2007.
Dubbed "the pretext calls," the three telephone conversations on December 14, 2007, happened under police supervision, with the girl baiting Jeschke with allegations that he had impregnated her, although both she and Detective Jim Ella admitted she was never actually pregnant. "I've loved you since last year, sweetheart. Now put yourself in my shoes for a second. I'm a 34-year-old man who loves somebody he can't and shouldn't even be with," he said to her in the conversation, his voice dripping with emotion. The recordings also included Jeschke's explanation to the girl that he had "had his things tied" and couldn't have gotten her pregnant.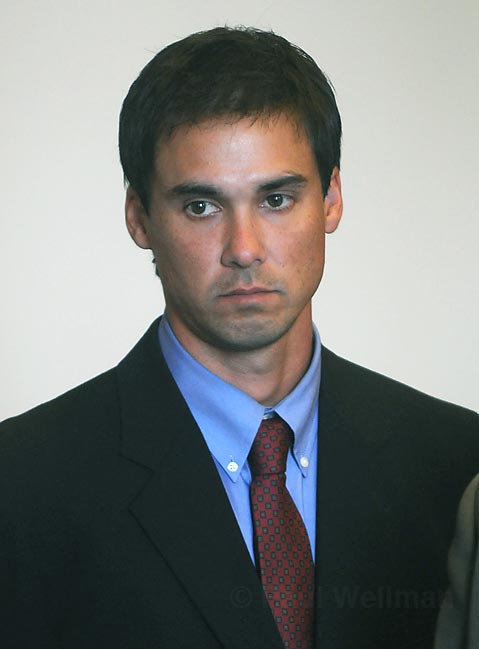 With a group of detectives from the Santa Barbara Police Department in place, Jeschke was arrested after the third in the series of pretext calls was made that day, charged with giving drugs and alcohol to minors on the tennis team, as well as having repeated sexual contact with one of the girls. As of Tuesday, several of the prosecution's key witnesses had taken the stand, including Detective Jim Ella, who led the investigation, a couple of school officials, a number of the girls from the tennis team, and the girl who was the victim of the alleged sex crimes.
"He was holding me around my waist and touching my back a lot more," she said in her testimony last Friday.
Although Dudley has already stated that there is no physical evidence available in the case, a number of testimonies have corroborated the victim's allegations that Jeschke gave her marijuana and alcohol, and that he gave alcohol to her and two other teen girls when he was paid by their parents to take them to a tennis tournament in Anaheim in October 2007. It was at that tournament that witnesses, including the teen girl, said that they first noticed Jeschke's attentions toward her. Stone-faced, the girl answered the questions asked by Dudley, losing her composure only when confused by the many unclear questions asked by defense attorney Lara Yeretsian. "He was holding me around my waist and touching my back a lot more," she said in her testimony last Friday.
With her parents sitting in the courtroom, the teen then recounted play-by-play details of the several visits she made to the home Jeschke was house-sitting. The first time, he gave her white wine to drink, which she said made her feel "tired and loose," after which she said he took off her clothes and performed oral sex on her. According to the rest of her testimony, subsequent encounters were similar, until the day before Thanksgiving 2007, when she reported going to the East Pueblo Street residence, where Jeschke gave her marijuana and had unprotected sex with her in the hot tub. She told the court that on November 23-the day after the holiday-she went to the house again, where he gave her ecstasy and had unprotected sex with her again, giving her cocaine to wake her up when her parents called and told her to come home. "He told me I couldn't tell anyone-especially my [best friend]," she said, adding that she told her friend about the incidents as soon as they happened.
Yeretsian's questions have appeared to be aimed at discrediting witnesses by various means, including pointing out discrepancies between their testimonies and statements made during interviews with police. Throughout the trial, Yeretsian has repeatedly run afoul of Ochoa's patience. During a particularly tense few moments on Tuesday, she repeatedly asked one of the teen witnesses why she was looking at Dudley while answering the defense's questions.