Visual Arts
The Arts Fund's 2009 Teen Arts Mentorship Group Exhibition
Program Connects Budding Artists to Masters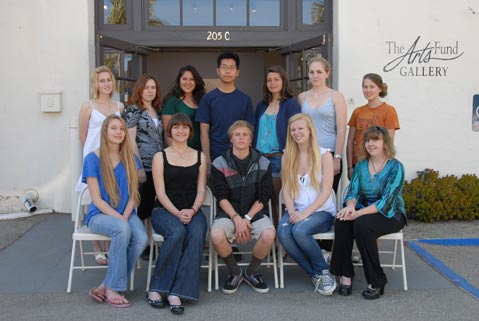 For more than 15 years, the Arts Fund's Teen Arts Mentorship program has showcased work by young Santa Barbara artists. This unique program gives high school students the opportunity to work with and be mentored by award-winning master artists. This year's mentors- Nell Campbell, Ron Robertson, and Rafael Perea de la Cabada – provide an essential link between young talent and experienced industry veterans. A new exhibition showcasing paintings, mixed media, and photography by 22 budding artists opened last week at the Arts Fund gallery and runs through July 10.
Executive Director Nina Dunbar believes the program offers something unique. "This program started in response to the concern that there wasn't enough support of young artists in our community," she said. Since its inception, the Teens Arts Mentorship has allowed young talent to flourish. Classes are kept deliberately small with no more than seven students each, allowing for an apprenticeship environment. Like the Arts Fund's coveted Individual Artist Award program, the Teen Arts Mentorship is known for its high standards: to even be considered for admission, prospective students must submit a portfolio, samples of their work, and a formal application. "We make sure that every student has a commitment and dedication to the arts," said Dunbar. "We want them to know what they are getting themselves into." What they are getting into is an intensive 10-week program that challenges them from both a creative and a technical standpoint. There are no assignments or grades, but that doesn't mean students aren't working hard. Dunbar was adamant about dedication being a key component of their success. "We often ask students to withdraw from the program if they miss more than two classes without an excuse," she said seriously.
Teen artist Jenna Baucke agreed that the mentorship was intense, but explained that she used that to her advantage. "It pushed me to finish pieces and think more critically about my work," she said. "Everyone in the class grew a lot as artists." Baucke said all the hard work and dedication paid off. "The opening was so crowded that it was hard to move," she said. "One student in our group, Charlie Doan, even sold one of his paintings."
Master artist Rafael Perea de la Cabada, who mentored both Doan and Baucke, feels the program provides something vital to new artists. He expressed dissatisfaction with conventional artistic teaching methods saying, "It's not about assignments, not about requiring or forcing students to produce." He also recognized that teaching one-on-one comes with certain challenges. "When you teach in a traditional setting, you give an assignment and then you grade it; it's very simple," he said. "But when you work in a mentorship like this, you really get into their personalities. Although it is a more difficult way to work, it can yield far better results. You begin to move away from requirement and start to deal with passion." This passion seems to have fueled these young artists, who with the help of their mentors have produced a legitimate exhibition. Hopefully, this valuable program will continue to inspire young, talented artists for many years to come.
4•1•1
The 2009 Teen Arts Mentorship Annual Group Exhibition is on view at the Arts Fund gallery, 205C Santa Barbara Street, through July 10. Call 965-7321 or visit artsfundsb.org for more information.