Sports
Pitching, Batting, and Beating Cancer
Santa Barbara Foresters Open Their Baseball Season This Weekend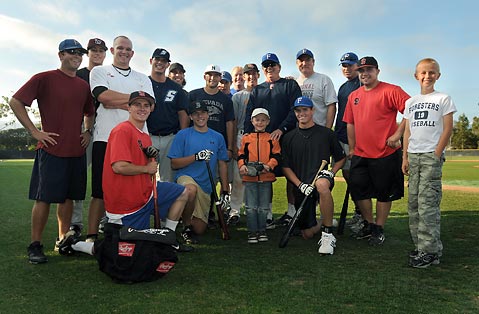 It's a pretty sweet deal to be a Santa Barbara Forester: Spend two rent-free summer months in a scenic coastal setting-where the biggest gripe about the weather is that gray skies may lower the temperature to the 60s from the usual 70s-and play baseball every day for the most successful California club ever to compete in the National Baseball Congress (NBC) World Series.
The Foresters, winners of the NBC championship in 2006 and again last year, open their 19th consecutive season at UCSB's Caesar Uyesaka Stadium on Saturday, June 6, with a 4 p.m. game against the San Diego Waves. Their busy schedule will continue with a double-header against the Waves on Sunday (1pm) and their California Collegiate League opener against the Santa Maria Packers on Tuesday (5pm).
With a winning percentage of .745 in the last 14 years under manager Bill Pintard, the Foresters might be expected to take the field with a swagger. It is there, but it is tempered by the players' awareness of their good fortune. At their very first practice this week, a reminder showed up in the person of eight-year-old Wyatt Taylor.
Wyatt loves baseball and was looking forward to playing in the Dos Pueblos Little League this year. But he got very sick in March. The diagnosis: Burkitt's lymphoma, a form of cancer that is curable but has to be treated aggressively with chemotherapy. Wyatt brought his glove to the practice field last Monday and played some catch with the Foresters-as much baseball he's been able to experience since his debilitating treatments began. "He's between rounds," said his father, Michael.
The Foresters have designated Wyatt an honorary cancer survivor. They will wear the initials "WT" on the back of their caps this season, along with "TG" for Trent Gerke, another boy battling cancer-and "EP 19," a perennial emblem representing Eric Pintard, who wore the number 19 when he pitched for the Foresters.
Eric Pintard founded the club's program of support for kids with cancer. He called it "Hugs for Cubs." Bill Pintard has continued the program in his son's memory. Eric died in 2004 after fighting brain cancer for 10 years. He was so inspirational that Ryan Spilborghs and Ryan Church, two former Foresters who have made the climb to the major leagues, wear number 19.
The Foresters' roster consists mostly of college players with serious ambitions to play professional baseball. They swing wooden bats. They will not be at full strength this weekend, because a number of prospects are tied up with their college teams in the NCAA playoffs. Pintard is expecting several players from Texas, Oklahoma, and Arizona to wear Foresters caps.
UCSB pitcher Mario Hollands and infielder Matt Valaika may join the team-they will not be eligible until the end of the school year-and there's also a possibility that major league teams could sign them after the June 9 draft. Pintard, who's also a scout for the Angels, knows how that system works.
Gaucho pitcher Chris Joyce could be Santa Barbara's "comeback player." The left-hander went 5-1 with a 1.34 ERA for the Foresters in 2007 after his junior year at Dos Pueblos High. He was drafted in the 10th round by the Dodgers last year but did not sign a contract. Knee surgery and a back injury sidelined Joyce for most of last summer, and a transcript problem delayed his UCSB debut until next year. "I've had eight months to get in shape," Joyce said. "I'm ready to get out there."
Three position players returning from last year's championship team are third baseman Ryan Goetz (UC Riverside) and outfielders Casey McMurray (Illinois) and Vinnie St. John (USC).
"The best summer I've ever had was playing here last year," St. John said after he took some cuts in batting practice Monday. "The trip to Cuba [the Foresters faced the Cuban national team in Havana] really got us going. It was the best pitching I've ever seen, and the ball looked a lot bigger after that." The Foresters won 28 of their last 32 games, including a 7-0 sweep in the NBC World Series at Wichita, Kansas.
Cuba is not on the schedule this summer, but the California Collegiate League will stage its first All-Star Game on July 13 at the Major League Baseball Academy in Compton.
The Foresters will hold their first open house at the UCSB ballpark this Friday, June 5, from 1-4 p.m. Fans can meet the players, pick up schedules, and buy tickets. Kids will be able to try hitting against a pitching machine and run the bases. There will be free ice cream for the first 100 children.