News
Accomplice on the Stand
Convicted-but Freed-Conspirator Testifies Against Hollywood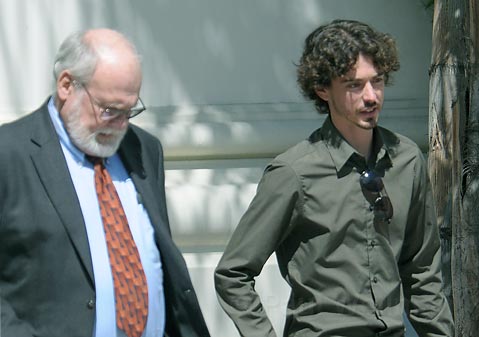 Cool, calm and collected, Graham Pressley-one of three conspirators thus far convicted in the murder of 15-year-old Nicholas Markowitz-sat on the stand for three days as he fielded questions first from prosecutor Josh Lynn and then defense counsel Alex Kessel, who is representing Jesse James Hollywood, alleged to have kidnapped and then ordered the murder of Markowitz in August 2000. Hollywood is potentially facing the death penalty if found guilty of Markowitz's kidnapping and murder.
Pressley, the most significant witness to date, recounted the events leading up to and following the murder of Markowitz almost a decade ago. He was clearly a different Pressley than the 17-year-old boy who appeared in an interview videotaped in 2000 and played in court Friday and Monday, in which he could often be seen rubbing his face and scratching his scalp. "If I've got one hand going, it's nervous," recalled a wide-eyed, soft-spoken Pressley upon viewing the tape of his younger self. "If I got both going, it's really nervous."
He recounted being intoxicated and terrified when Ryan Hoyt, who was later convicted for shooting Markowitz to death, made Pressley direct him to Lizard's Mouth, a hiking area in the foothills above Santa Barbara, and forced Pressley to dig a shallow grave there. At that point, Pressley said, he thought the grave he was digging was his own because of what he knew about the alleged kidnapping. (The defense is attempting to show it wasn't a kidnapping, and that Markowitz was free to leave at any time.) Yet Pressley didn't think about trying to fight Hoyt or even running away, he said.
Eventually the two left and later returned, this time with Jesse Rugge-currently serving life behind bars for murder and kidnapping-and Markowitz. The group started walking down the trail, but when Pressley realized what was happening, he said, he could go no further. The three others continued walking ahead of him, with Markowitz leading the pack and not talking or protesting. Twenty minutes later Pressley heard a "rapid succession of gunshots." Pressley said he could have easily run but wasn't able to think rationally. Rugge and Hoyt then hurriedly ran into the car with Pressley, and Hoyt threatened to kill him if he told anyone what he had seen.
While defense co-counsel clearly flustered several previous witnesses during cross-examination and seemed to successfully discredit much of what they were saying during their testimony, Pressley never seemed to get frazzled on the stand. At times he even seemed to be under Kessel's skin.
Kessel asked if Pressley got into the car voluntarily or unwillingly, but Pressley frustrated Kessel by using neither of those words, instead insisting that he acted out of fear. Kessel also asked Pressley if he intended to hurt Markowitz, and Pressley explained that, while he didn't, he also understood that "being afraid to do something is not a defense for murder."
"Can you just answer the question?" yelled Kessel, who was stopped by Judge Brian Hill for badgering the witness.
Pressley, a fourth-generation Santa Barbaran, saw his first trial end in a hung jury. In a subsequent trial in 2002 a second jury found him guilty of second-degree murder as an adult, though he was sentenced as a minor. He was released by the California Youth Authority in 2007 at age 25.
Days prior to the murder, when Pressley and Rugge were alone, Pressley testified, Rugge said that Hollywood was "crazy" and had offered him $2,000 to kill Markowitz. Lynn asked why Pressley didn't tell the victim or any law enforcement personnel about this potential threat. Pressley responded that he made the "very selfish" decision to keep quiet because he smoked marijuana every day and "didn't want to interact with law enforcement."
Kessel alleged Pressley had to change his story when he realized people had witnessed him walking toward the scene.
Friday during cross-examination, Kessel attempted to have Pressley admit he was more than just a pawn in the murder, but Pressley retorted, "I was doing what I was told." Throughout the testimony, Pressley admitted that, in earlier trials and interrogations, he had not provided entirely accurate information. When Kessel confronted him on that point, Pressley said that he could not remember why he had lied. Initially, for instance, he told authorities he never got out of the car. But at trial he said he stopped on the trail while walking to Lizard's Mouth. Kessel alleged Pressley had to change his story when he realized people had witnessed him walking toward the scene.
Then Kessel attempted to call into question Pressley's relationship with Susan Markowitz, the victim's mother, who had attended Pressley's probation hearings and spoken in support of his release. Pressley has called her involvement in his new life a great "motivator" for his testimony in the Hollywood case. He did not deny it, explaining to Kessel, "If that's what I said, then I stand by it."
Tuesday, the deceased's half brother, Ben Markowitz, took the stand. The prosecution is attempting to show that a feud between Ben Markowitz and Hollywood led to the kidnapping. Ben Markowitz said he started dealing marijuana for Hollywood sometime in 1999. Hollywood would give him one to two pounds of marijuana, which he would sell in ounces, making enough money to pay Hollywood back and keep profit for himself.
It was a debt of $1,200 that began to come between the two, Markowitz said. It initially wasn't a huge deal, he testified, until Hollywood much later stiffed his girlfriend-a waitress at a brewery-on a tab and wrote on the check to take the amount owed off Markowitz's debt. From there an argument between Markowitz and Hollywood's crew escalated, with threats back and forth over the phone and Markowitz at one point breaking the windows of Hollywood's home.
"I walked around with a chip on my shoulder," he told the court. "If someone looked at me sideways, I'd kick his ass."
Clean-cut and dressed cleanly in a striped white shirt and black sports coat, he looked much different than the person he described he was back then. "I walked around with a chip on my shoulder," he told the court. "If someone looked at me sideways, I'd kick his ass." Markowitz wasn't afraid of Hollywood, and at one point threatened his family, intimidating behavior that will no doubt be used by the defense to show that, in fact, Hollywood lived in great fear of Markowitz.
It was during the time of this friendship that Markowitz said he not only saw the firearm used to kill his step-brother but even held the gun in his hand. Shown a photo of the weapon, Markowitz began to get emotional on the stand, taking a moment to keep from crying.
Susan Markowitz, Nicholas's mother and Ben's stepmother, also began crying in the audience during his testimony. His father, Jeff, though wanting to be in the courtroom, has not been allowed to sit through the proceedings because he is on the witness list.
Markowitz was expected to be cross-examined Wednesday in Department 14.