Living
Summer Shoes and Fashion Updates
Flip-Flop Shop Opens, Blue Bee Adds an Outlet, and Other Style News
File This One Under D: For "duh." As in, why didn't I think of that? Pop quiz: What's the one wardrobe item no Barbarino can live without? Hint: It's not a little black dress. Think all-ages, unisex necessity, and as integral to 805 life as sunglasses, anti-frizz hair product, and directions to La Super Rica. (Yes, I've been to Los Agaves. But Super Rica's chilaquiles shall never be outdone.) The answer, of course, is flip-flops. And about a month ago, the Flip-Flop Shop opened its doors in Paseo Nuevo, in the spot that was once Mel's-and more recently eMBe. Inside, men, women, kids, and grown-ups can find flips to suit any taste, from the barest bones to the most trendily embellished, from labels including Flojos, Hurley, Astrodeck, O'Neill, Sanuk, Havaianas, OluKai, Cobian, Reef, and Ocean Minded. My crystal ball predicts they're going to do just fine. Genius. Evil genius.
Keeping it Hot: Women's mags proclaiming the secrets to a spicy sex life instruct: to heighten the heat, mix it up. Presumably the same logic holds true for lingerie slingers; ergo, underthings overlordess Miss Kitty has remodeled Purrmission (18 W. Calle Laureles), saturating the space with even more bras, sleepwear, and myriad unmentionables. Stop in to get the treatment from her expert fitters; then shop for a (properly sized!) piece from Cosabella, Le Mystere, Prima Donna, Chantelle, Eberjey, Simone Perele, and many more. Batteries not required (not for the bras anyway).
So Sheik: StylePhiles up for bargain-hunting, closet-cleaning, and other era-appropriate means of achieving a fashion fix should make note of a new consignment shop, Sheik Boutique (11 W. Arrellaga St.). The recently opened space offers stylish, seasonal consignment pieces, as well as inventory adopted from some shops that recently called it quits (which stores those might be is hush-hush). Manager Skye Taylor takes consignments by appointment Monday-Friday, and already has amassed a notable cache of bags, denim (Rock & Republic appears to be a favorite), and shoes, from everyone from Michael Kors to Manolo.
Economic Blues: In Santa Barbara terms, the clearest possible sign of the times has arrived: Blue Bee has opened a discount outlet. The word "discount" undeniably is relative, but the store, dubbed Blue Bee Off State (9 E. Figueroa St.) carries goods for men and women from all of the other Blue Bee shops-all at least 30 percent off. The space formerly was Blue Bee Kids, and some of the pint-sized designer duds remain, though they're phasing out kids' stuff to make room for more grown-up bargains. What's next? A happy hour menu at Lucky's? Hmmm. This recession might not be half bad :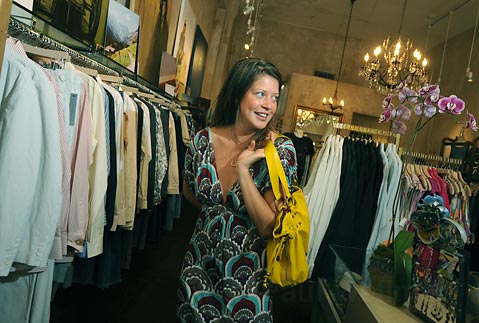 Spotlight On: Bryan Lee
Last Tuesday, fresh from New York, I was hurrying down State Street to procure some Farmers Market veg (something about a four-star food coma makes me crave Tutti Frutti's heirloom tomatoes like a Solstice-head craves a drum circle), when the window display at Bryan Lee (802 State St.), as fresh and edgy as anything in Park Slope, stopped me in my tracks. The next day, I set off to meet manager Jen Smithwick, arriving to find I'd just missed some serious action. She'd sold a beautiful blue, expertly constructed Eva Franco bustier to a very, very tall guy and his wife. Said tall guy was sporting a purple polo shirt, and Smithwick, in her characteristic chatty style, said, "Lakers purple! Whasssup!" He gave her a look. Only later did she discover the dude in question was Antonio McDyess of the Houston Rockets-presumably not wearing that purple in a show of Kobe-and-co solidarity. But that's neither here nor there. If you haven't been to Bryan Lee lately, I implore you: go, go, a thousand times GO! Smithwick's revamped the inventory, and, while everything still is that perfect blend of cool, casual, and current, she's been buying with an eye toward keeping prices low. How low? How about Five Crown tees for $28? Or graphic sundresses from S.B. line the Daily Dress for less than $70? Even her denim is palatably priced: AG's Big Star line goes for around $130. Smithwick and staff seemingly know everyone in town, and boast encyclopedic knowledge of their lines, like the raw, indigo-dyed Japanese denim line Naked & Famous for men and women, cute men's sneaks from UCSB alum-spawned People's Shoe, sweet dresses from Jill Johnson's Bunny Jackson line, or Josh Brody's affordable maxi dresses, skirts, and ohhh! that little black jumper : swoon. The locally owned gem is the perfect cure for big-city shopping withdrawals-and surviving, smack dab in the middle of paradise.
3 Reasons to Check Out: A Tropical Affair
The marine layer's about to take off for summer vacay, and you know what that means: a trip to bikini and lingerie mecca A Tropical Affair (12 E. Cota St.) is in order. Here's why:
1) When the store opened in December 2000, it carried only one swimwear line and a handful of lingerie designers, but purveyor Heather Taylor now carries more than 100 lines, in sizes ranging from XS-XL, 32A-38DD.
2) Trying on bikinis is generally not the most enjoyable way to spend one's time, but with so much fantastic stuff from the likes of Anika, Huit, Karla Colletto, Kathleen Cook, La Perla, Letarte, So De Mel, Storm, and Trina Turk, you'd have to try not to find something to fall in love with. And the store itself is so adorable that just poking your head inside is a treat. (Of course, if you need a shot of liquid confidence, the bartenders next door at Blue Agave would be more than happy to oblige.)
3) And yet. Shy ladies and dumbfounded men will loooove the just-launched Web site, ATropicalAffair.com, which offers shoppers a shot of convenience and a way for the blushing-cheek-inclined to get in on the action, no matter how naughty they like it.