News
East Beach Memorial Honors Deceased Homeless
Community Members Call for End to Violence Against Transients
With its sandy golden beaches and serene blue skies, it's easy to forget about the plight that many members of the Santa Barbara community face. Residents may find themselves stepping over human obstacles on the sidewalk, for example, but only view such a situation as an inconvenience rather than a testament to a societal problem.
On Monday, July 13, a memorial service commemorated the 17 homeless people who have died since January 1 of this year. It's a particularly high number. In fact, the entire year of 2008 saw a total 18 deaths. The service endorsed by Casa Esperanza Homeless Center Community Kitchen, Bringing Our Community Home, and the Santa Barbara Clergy Association was held outside of the East Beach restroom where homeless man Ross Stiles was fatally assaulted on February 3.
Stiles's attackers have yet to be caught and this can often be the case with crimes against homeless and the case was recently reopened following public outcry that it was too easily dismissed. Thelma Thrapani, a friend of Stiles who came to Santa Barbara from Ventura nine months ago, has found that homeless life in Santa Barbara is not as carefree as many believe it to be. "Cops don't fuck with you as much [in Ventura]," said Thrapani and apparently neither does the community. Thrapani claimed she never experienced this type of violence against the homeless community during her time living in "the river bottom" an area typically inhabited by transients. "It is way uncalled for : We don't need to be disrespected like that," said Thrapani, claiming she now feels unsafe and unfairly targeted in Santa Barbara; "I feel angry – angry and sad."
During the ceremony, Minister Teena Grant of Unitarian Universalist conveyed a message of unity and protection: "[The victims] were a part of our community and a part of us too." Reverend Mark Asman of Trinity Episcopal Church cited Psalms 102:2 as a reminder that it is during tough times that people need help the most; "Do not hide your face from me in the day of my trouble." Following the emotional words of the event's speakers, the names of the deceased were read in the chronological order of their deaths, each with an accompanying bell chime to signify their individual commemorations.
Ken Williams, area homeless outreach worker, spoke fervently about the individuals who had died, giving weight to their unique identities rather than grouping them together. Said Williams, the public memorial will hopefully "keep this issue at the forefront [of the public conscience] to effect change."
The memorial coincided with the unveiling of a sculpture donated by world-renowned artist Morris Bear Squire. The piece a cactus plant with seventeen unique flowers, marked with the names of the deceased, standing next to a German shepherd is "symbolic of the difficult situation of the deceased people," said Squire. The artist painted each flower uniquely to represent the individuality of the people who have died, emphasizing the importance of each life lost. "The memorial really humanizes this issue," said councilwoman, mayoral candidate, and Bringing Our Community Home leadership council co-chair Helene Schneider, whose solution for homelessness in Santa Barbara incorporates housing and supportive services to address the issues many transients face.
Although investigations into violence against transients have been inconclusive earlier this year Alexander Mansfield, who remains comatose, was the alleged victim of arson the disparity between the deaths of 2008 and the deaths in only half of 2009 sends the clear message that mortality in the homeless community is on the rise.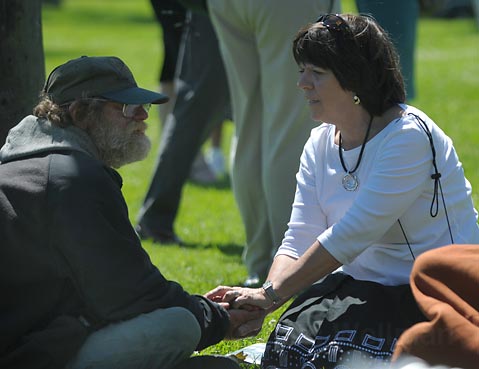 Quoting Dylan Thomas, Squire's sculpture bears a strong stance of confidence for the homeless of Santa Barbara: "Do not go gentle into that good night."
On July 24, Casa Esperanza will hold an auction for Squire's sculpture in coincidence with the screening of a short film produced by filmmaker Brandon Britell and actor Paul Walker, documenting homelessness in Santa Barbara – at the Veterans Memorial Building at 112 W. Cabrillo Blvd on Friday, July 24, at 7 p.m. For ticket information visit the website or call (805) 884-0123. Proceeds from the auction and screening will benefit Casa Esperanza.