News
State and County Campaign Dollars
Nava Trailing Competition, Supervisors Stocking Up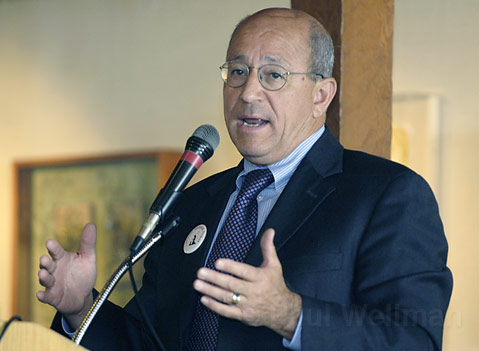 Money may not be everything to a political candidate, but at this point in the electoral races, it's certainly worth counting. In the race for California Attorney General, Pedro Nava, currently representing Santa Barbara as State Assemblymember for the 35th District, is trailing far behind the front of the pack in fundraising. Nava reported $227,359 in contributions over the latest filing period-January 1 through June 30-and spent $43,050, leaving him with $202,351 in the bank. Of that $227,359, Nava gave himself $107,465 from a previous account he used for his 2008 Assembly re-election campaign.
Of the remaining amount, $44,950 came from individuals and groups within his district, including the Camarillo-based United Food and Commercial Workers Union Local 1036, which gave $12,900.
Three of his Democratic opponents-San Francisco District Attorney Kamala Harris, 53rd District Assemblymember Ted Lieu, and Assembly Majority Leader Alberto Torrico-all brought in significantly more amounts of money than Nava, with Harris leading the way at more than $1.2 million. They all have at least $500,000 more in cash-on-hand than the former Santa Barbara County prosecutor. Harris raised $20,000 within Nava's own assembly district, much of it coming from a recent Montecito fundraiser hosted by 1st District Supervisor Salud Carbajal.
Nava's wife, Susan Jordan, is also engaged in a fundraising battle. She is fighting for funding against Das Williams, her opponent for the Democratic nomination to replace Nava when he is termed out of his 35th Assembly District seat next year. Jordan raised $124,129 while Williams raised $122,656. In separate press releases, both sides claimed victory in the scramble for money, with Jordan pointing to the total amount while Williams pointed to a $12,500 loan Jordan gave herself. Carbajal gave $3,900 to Williams, while Nava gave $500 to Jordan.
Meanwhile, Janet Wolf, whose 2nd District seat doesn't come up again until next year, is starting to flex some political muscle. She brought in $52,898 in the most current period. That, combined with loans from herself and her husband, brings her contribution total for the six month span to $81,248, including $10,000 from the Santa Barbara County Firefighters Association. A big chunk of money came during a Valentine's Day fundraising event with more than 120 people in attendance. "It was a way to let people know I love my job," she said after the event.
Doreen Farr, despite an income of $73,214 since her election to the post of 3rd District supervisor in November, has a lingering debt of $219,637 from fighting a challenge to the election results by opponent Steve Pappas. His fight, which he has not yet abandoned, is being financed in large part by rancher Nancy Crawford-Hall, who has given nearly $600,000 to Pappas, including a staggering $303,000 since the November 3 election.
Pappas has spent $124,201 on legal expenses thus far, including $100,000 to Stanley Green for contesting the election results. Farr has paid $44,936 in legal fees, but still owes $208,637 to attorneys.
An effort by Farr's legal team to recoup legal fees in July was denied by Judge William McLafferty, who said there was no precedent for such a thing, despite his conclusion that there was no wrongdoing in the election, which Farr won by 806 votes out of 35,524 that were cast. Pappas is appealing the judge's decision on the result of the election, while Farr is appealing his decision to not award her attorney's fees.