News
Uribe Bows Out
Departure from Council Race Leaves Supporters Flat-Footed
Olivia Uribe, the 24-year-old standard bearer for Santa Barbara's populist left in the crowded race for Santa Barbara City Council announced she was dropping out of the election for personal reasons. Her announcement, issued Friday, August 7, came as a surprise and a shock to supporters and foes alike. In a prepared statement, Uribe explained that because she no longer had her job with SBCAN, an activist organization focused on affordable housing, social justice, and environmental politics, she needed to focus on getting new employment.
The circumstances by which Uribe came to be unemployed by SBCAN, however, have been the subject of much tight-lipped, clenched-jawed "no-comment" discussion. Uribe had worked for SBCAN for at least a year. Relations between her and the organization were officially severed at a special meeting conducted Thursday night, August 6.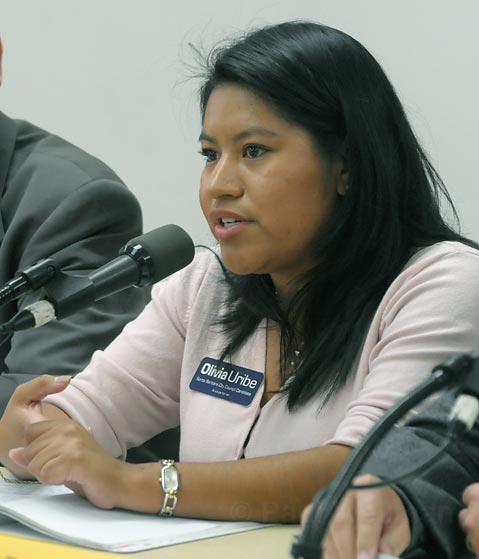 Uribe garnered the official endorsement earlier this year of the Democratic Party, for a race that is only nominally nonpartisan. The party slate of endorsements-which also included Helene Schneider for mayor and Grant House and Dianne Channing for City Council-was not without considerable controversy. Candidates David Pritchett and Cathy McCammon, both longtime party activists, challenged the outcome and the process by which the endorsements were made. Afterward, Pritchett engaged in a public war of words with party chief Daraka Larimore-Hall that some felt was candid and refreshing while others deemed it unseemly and undisciplined. McCammon, who has served on the Democratic Central Committee, expressed concern that she was never even invited for an endorsement interview. Larimore-Hall said he did not know at the time the invitations were sent out that McCammon was running.
With Uribe out of the race, the party will now re-examine its endorsements. Larimore-Hall said the executive committee has decided to meet to endorse either McCammon, Pritchett, or Harwood White, all registered Democrats. When that meeting will take place remains uncertain, but Larimore-Hall said it would be in the next few days.
Uribe's supporters credited her with bringing new and younger faces into the council race, and injecting an element of diversity into a process otherwise dominated entirely by white candidates. "I was surprised and very disappointed," said Larimore-Hall. Based on campaign fundraising reports, Uribe held her own with many of the candidates in the field, raising a respectable $12,000. At a candidates' forum organized by PUEBLO, the first-time candidate turned in a respectable performance. Larimore-Hall said the Democratic Party would be endorsing the candidate most in-sync with the values espoused by Uribe, which he described as a commitment to sustainability and affordable housing and a "ground-up as opposed to a top-down" approach to dealing with youth violence. Uribe also opposed Measure B, the proposed height-limitation initiative that would cap new buildings in downtown at no more than 45 feet, and 40 in the El Pueblo Viejo historic district. The limit now is 60 feet. Most Uribe critics-who did not welcome her into the race with anything resembling open arms-contended that she was too green, too inexperienced, and too politically correct to attract the breadth of support needed to win. They also complained her candidacy would fragment the liberal environmental voting bloc.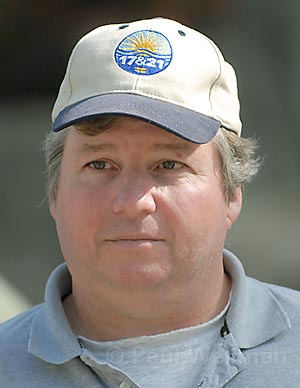 Fellow candidate David Pritchett happens to serves on the SBCAN board of directors. He said he could not discuss the terms and conditions under which Uribe severed her ties with that organization. "I don't know anything and if I did I couldn't tell you," Pritchett said. "I think you know how painful it is for me not to talk about this." Pritchett said he hopes the party will consider endorsing him, stating, "As a lifelong Democrat, I'd be honored to have the endorsement, and I believe I'd fulfill the objectives they had in mind by choosing Olivia in the first place." Given Pritchett's outspoken remarks when he was passed over the first time, that option may be difficult for the party to entertain.