News
Heroes on a Dark Day
Direct Relief, Neighborhood Clinics Continue Crusade for Uninsured
Most days Santa Barbara seems like a Pacific paradise, with its plentiful palm trees, beautiful beaches, and camera-ready temperate weather. Other days, the soap opera sunshine seems to be giving way to a Gotham City-esque dark side that leaves one wondering if Santa Barbara might benefit from its own Batman, fighting to rescue those who need help the most.
For example, Santa Barbara's steadily growing population of uninsured patients could use some superhero intervention. California ranks as the state with the fourth-lowest level of medical insurance in the nation, and Santa Barbara County, despite its mansions and millionaires, has the highest rate of uninsured people within the state: 26.6 percent. While these people may not have their own personal Batman rushing to the rescue, they're not without champions, working just as hard to right wrongs, but doing so without capes and masks.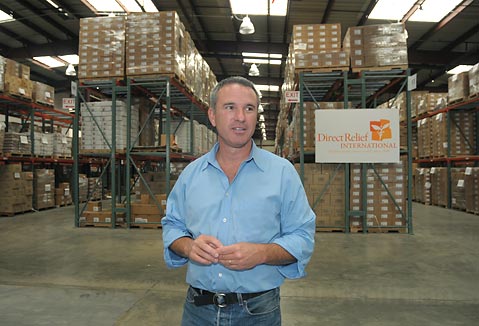 Five individuals met on Tuesday, July 28, in an unlikely spot near the airport and next to the Goleta Amtrak station – the unassumingly located Direct Relief International (DRI) headquarters – to discuss the pressing problem of the an ever-growing uninsured population in need of medical care: Bonnie Campbell and Cynder Sinclair, the respective deputy director and executive director of the Santa Barbara Neighborhood Clinics; Jim Prosser, manager of Direct Relief International's media relations; Damon Taugher, director of Direct Relief USA; and Thomas Tighe, president and CEO of DRI. "Currently we have a perfect storm of crises," explained Prosser, who described the drastic cuts that have been made to budgets for healthcare, the growing unemployment rates, and consequentially the burgeoning number of uninsured patients. The majority of hospital beds across the nation are filled to 90 percent capacity, and emergency rooms are clogged, added Tighe. "If you make $10 an hour, you're too rich for Medicaid," Tighe explained. "Health insurance doesn't ensure health, and it doesn't ensure access," he argued, pointing out the government and media's mistake in focusing so much on the issue of insurance rather than that of care.
"Santa Barbara is a microcosm" of this problem, explained Prosser, and DRI is at the center of it, able to help needy residents despite its reputation as an organization whose work is predominantly international. Tighe said DRI can choose where its resources will go. "We want them to go to where they'll go to the best use." In this area, the answer without a doubt, he said, is the Santa Barbara Neighborhood Clinics.
This organization runs three health clinics, one in Isla Vista, one on the Westside of the City of Santa Barbara, and one on its Eastside, as well as a dental clinic in the Eastside. In 2008, the Neighborhood Clinics were responsible for covering 64,000 visits by more than 15,000 individuals. The Eastside Family Dental Clinic alone has about 1,000 visits per month. "Eighty to 90 percent of our patients are self-pay, which means no pay or not very much pay [for us]," explained Sinclair. Recently, there has been a growing population of people who have "never not had health insurance … We're getting 400 new patients per month," she said.
And though Neighborhood Clinics seems like the perfect solution to this problem – the safety net that is catching more and more people each month – it has become clear that this net isn't as secure as one might hope. "We're operating to the bone right now," Sinclair explained with concern. "It appears that we're going to have to close some of the clinics." With budget cuts to county healthcare and loss of funding from the state, the clinics need to ever work all the harder to make ends meet. Expanded Access to Primary Care (EAPC) funding that the clinics had been receiving, an amount that made up nearly 10 percent of the operating budget, has been cut, along with countless other sources of funding. "It's scary," remarks Taugher, voicing everyone's feelings.
Despite enormous challenges, and with the help of DRI in the form of approximately $350,000 in supplies and pharmaceuticals received each year, Neighborhood Clinics has continued to provide excellent care. "What we try to provide is a 'medical home,'" said Campbell, who believes that education and prevention are just as important as medical care itself. Many people who come to the clinics are suffering from chronic illnesses such as diabetes and asthma. "It's never just one thing wrong," added Campbell, pointing out how bringing in the whole family and educating them about healthy diets or good dental hygiene can help treat more than just one patient.
Rick Reeves, a recent patient of the Westside Neighborhood Clinic, was diagnosed with diabetes four months ago during a trip to the ER. "You're looking at the world's happiest human," he said, despite the potentially depressing news. After visiting the clinic and receiving consultations with nutritionists and doctors about how to manage his newly discovered diabetes, Reeves put his nose to the grindstone – or "starvestone" as he jokingly termed it in an email – and effectively cured himself through lifestyle changes in four months with the help of the clinic staff. "They've taken care of me," says Reeves. "It felt personal – it felt like what I needed."
Reeves isn't the only one who recognizes the amazing quality of care that Neighborhood Clinics provides. Tighe praises the clinics for their "amazing financial management." It costs about $44, according to his math, to treat one patient at the clinic – and the quality of care is unparalleled. "They're people who are really good at their jobs," Reeves said, especially in light of the fact that "these clinics are in the trenches," to borrow Campbell's phrase. Moreover, "If something really bad happens again," Tighe pointed out, referring to disasters like Hurricane Katrina, "Where are people going to go? The community clinics."
How will these clinics provide optimal care when they are struggling so mightily themselves? "There's no doubt that there is an enormous need," remarked Campbell, but the support "is like a rainforest – it's just not there anymore." Prosser looked on the bright side though, saying, "When these problems come to light, everyone rallies."
Perhaps he is right. After all, as it's said in the most recent Batman movie, "The night is darkest just before the dawn." With organizations like Direct Relief USA rallying for Santa Barbara Neighborhood Clinics, which in turn champions the uninsured, it looks as if the dawn may be on its way.