Sports
Santa Barbara Triathlon
Nearly 2,000 to Compete in S.B. Triathlon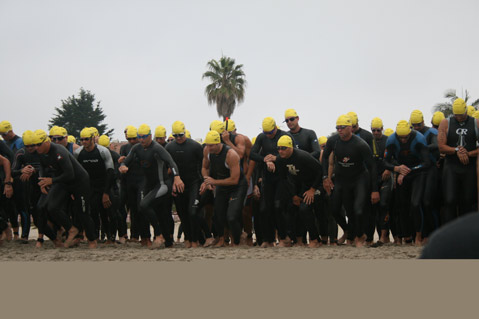 There was a shocking fatality in the Santa Barbara Triathlon a year ago, but a full quota of athletes are ready to compete in this weekend's races, and Joe Coito is not surprised. "We love the sport," said Coito, director of the popular triathlon since 1995. "If we can't cope with the tragedy that can occur, we're in the wrong sport."
Nine hundred contestants will line up on the sand at East Beach early Saturday morning for the start of the long course triathlon (one-mile swim, 34-mile bike ride, and 10-mile run). The race attracts elite athletes from all over the state. The winning woman last year-and 11th-place finisher overall-was Michellie Jones, a Carlsbad resident who was Australia's silver medalist in the 2000 Olympics and winner of the 2006 Ironman World Championship in Hawai'i.
Another 900 will go off Sunday morning in the sprint event (500-yard swim, six-mile bike ride, and two-mile run). Special categories in the shorter race include women-only and a parent-child division. There will be a new "Just for Fun" grouping in which contestants of all ages can start together, rather than being segregated by age divisions. "That way, you can go with grandma," Coito said.
Coito grew up playing basketball and was accustomed to cutthroat competition on the court. "Triathletes aren't like that at all," he said. "They are supportive and helpful."
Barbara Warren of San Diego epitomized the spirit of the triathlon. As a psychologist and motivational speaker, she encouraged people to stretch out of their comfort zones, and she practiced what she preached. Her lust for life knew no bounds. She competed in the Hawai'i Ironman 13 times and won her age division in 2003. She did a Triple Ironman (7.2-mile swim, 336-mile bike ride, and 78.6-mile run) in France. Trading off with her twin sister, Angelika Drake, she set a women's pairs record in the 2,983-mile bicycle Race Across America. She ran the 135-mile Badwater footrace from Death Valley to the slope of Mount Whitney. And last year, at age 65, she was one of the oldest athletes to enter the Santa Barbara Triathlon.
Before the start of the race last year, Coito warned everybody of the hazards-particularly on the hilly bicycle course-and his words came back to haunt him. "I said you could die out there," he said. "Somehow, I feel guilty about that." Midway through the course, descending Gobernador Canyon Road in Carpinteria, Barbara Warren lost control of her bike and crashed. She broke her neck and might have died on the spot, Coito said, but a firefighter living nearby resuscitated her. That enabled her to live three more days in the company of her family at Cottage Hospital. She was paralyzed from the neck down and, according to her sister, let them know by blinking that she wanted to be taken off the ventilator that was breathing for her.
Coito attended a memorial service for Warren in San Diego. "I'd received some business advice that I shouldn't address her death," he said, "but more than a businessman, I'm a person who wants to go to sleep at night, and I needed to honor Barbara personally." He need not have feared recriminations from her family. Tom Warren, her husband, was a former Ironman champion himself.
"There's a risk inherent in getting off the couch and living a life of adventure," said Bob Babbitt, a triathlete, publisher of Competitor magazine, and friend of the Warrens. "It can happen to any of us. Dick Martin was training for a triathlon in Solana Beach last year and got bit by a shark."
That it happened to Barbara Warren, however, was still hard to accept. "Everybody loved her," Babbitt said. "She stood out with her platinum blonde hair and always a big smile on her face. Tom built a home east of San Diego with lifts that can take you upstairs. He thought he would be the invalid, and Barbara would be taking care of him."
Coito has established the Barbara Warren Community Spirit Award that will be bestowed annually to the person who raises the most money for a beneficiary of the Santa Barbara Triathlon. That beneficiary this year is the Cancer Well-Fit Program, which was launched 16 years ago by Julie Main of Santa Barbara when she was diagnosed with breast cancer. "We know that physical activity can help cancer patients," Coito said. "We have Julie to thank for that. When a doctor told her to stop exercising, she said, 'Screw you.'"
Main died last May and is another spiritual presence that will be hovering over the triathlon this weekend.