Arts & Entertainment
Built to Spill at Velvet Jones
Alt-Rock Reigns at Sold-Out Saturday Night Show
This past Saturday, in front of a sold-out Velvet Jones crowd, Built to Spill proved themselves the alt-rock legends they are said to be, and frontman Doug Martsch the guitar god he is. The band's studio albums are often complex affairs, consisting of many overdubbed guitars weaving in and out of each other, which oftentimes means disappointing live shows. But this was not the case for Built to Spill. Martsch and crew drew from all corners of their catalog on Saturday and did a fantastic job of translating their complex and layered recorded sound to a hypnotic and sometimes cacophonous live event. The Velvet show was only the second date of an extensive tour for Martsch and the gang, and there were some moments where it showed. Martsch made some mistakes, but that didn't take anything away from the performance. In fact, the frontman has such a subdued stage presence that he was able to smile, pause, and keep rocking.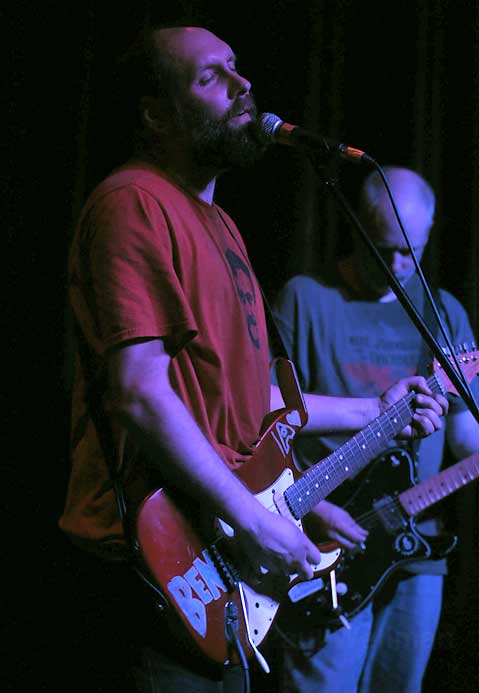 The band's current live incarnation allows for three guitars, resulting in a thick, resonant texture, making it hard to tell where one guitar stopped and others began. Many of the night's numbers ended in a flurry of noise as the band slowly let their songs unravel, exploring their instruments to the point where there truly seemed to be nothing left to explore. Highlights included inspired versions of "Car, Time Trap" and "Carry the Zero." The band returned for one encore and ended the evening with an incredible version of "Virginia Reel Around the Fountain," which ended in Built to Spill's signature style of sonic deconstruction.
The only problems with the show were the early start (since when does the headlining band at Velvet Jones take the stage at 10:30 on Saturday night?) and the preponderance of drunk guys waving their drinks, screaming the lyrics at the top of their lungs, and generally falling all over the place. These were not the band's fault, of course, but there's nothing more annoying when trying to simply sit back and enjoy the show. Despite it all, it's still safe to say Built to Spill did not disappoint.