Arts & Entertainment
Lang Lang at the Granada Theatre
Santa Barbara Symphony Played Beethoven with the Acclaimed Pianist
The Santa Barbara Symphony performed beautifully in this major coup of a concert, which put the orchestra together with the world's hottest pianist, Lang Lang, for an evening of music by Beethoven. Lang Lang's parents, Lang Guoren and Zhou Xiulan, were in the Granada's lower, stage-right box, and the rest of the theater was full. Symphony subscribers mingled with Granada supporters, arts aficionados, young musicians, and those made curious by the tremendous amount of attention that Lang Lang has received lately in the media-after all, he appeared on Oprah's television program just this week. After a short introduction by way of Beethoven's "Overture to Coriolan, Op. 62," the Granada's Steinway concert grand piano was rolled out and Maestro Nir Kabaretti welcomed the young soloist to the stage. Dressed in an elegant business suit and a blue shirt with an open collar, Lang Lang eschewed the traditional black tie of classical performers in favor of something more in keeping with his spiky coiffure. From the opening notes of his entrance on Beethoven's Piano Concerto No. 2 in B-flat Minor, Op. 19, Lang Lang made it clear that his interpretive art is that of a poet, as well as a technician. Razor-sharp in the allegros of the first and third movements, Lang Lang's personality emerged most fully when he slowed to a more contemplative pace for the second movement adagio.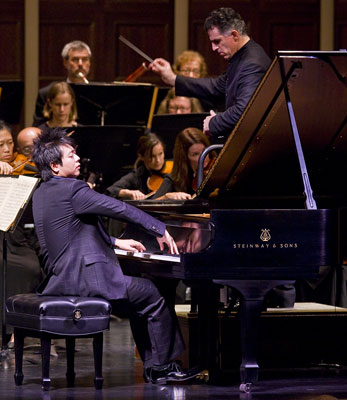 In a lot of ways, this program was an ideal introduction to the artist. Since early childhood, Lang Lang has held Beethoven apart as his personal favorite composer. He has also said that he uses the music as a soundtrack to the way he imaginatively reconstructs the stories of his parents' lives, which have been filled with heroic struggles against the forces of history. In this capacity, Beethoven makes a perfect fit. Concerto No. 2 is relatively early, and demonstrates a Mozartian fluency and delicacy; the calm before the storm. Concerto No. 3 in C Minor, Op. 37 hails from the "heroic" phase. It is also perhaps the most familiar and in some ways the grandest of all piano concertos. The great story of this young man and his family's journey from Shenyang to Santa Barbara could hardly find a more apt analogue.
For an encore, Lang Lang played Chopin's A-flat major "Harp Etude." The notes hung in the air for a moment, before another tumultuous round of applause swept through the theater. Guoren and Xiulan stood and applauded; their "number one" of a son had arrived again at the summit of artistry.