Bottles & Barrels
The Joy of Blending
Behind the Scenes of Making Thread, a New Wine to Inspire Us All into Blending
Have you ever tasted a wine so dynamic that it sang like a symphony as it flooded your mouth? A wine that began with an enticing aroma, continued with a flurry of mid-palate harmonies, and culminated with a sigh-inducing finish? If you have, it's highly likely that the wine was crafted from a number of different wines, painstakingly blended together.
Winemakers study the interplay of flavors, aromas, and nuances when blending and layer them to create the optimum effect. If you think of every wine as having its own melody, a composition of notes and rhythms, blending is combining these divergent melodies to create a dynamic drinkable overture.
In recent weeks I had the opportunity to observe some of Santa Barbara County's finest winemakers in action, blending the inaugural release of an exciting new wine called Thread – a masterpiece Syrah-Grenache blend of four individually made wines from highly regarded Santa Barbara County vineyards.
Blair Fox of Fess Parker Winery and Blair Fox Wines, Larry Schaffer of Tercero Wines, Mikael Sigouin of Beckmen Winery and Kaena Wines, and Dave Potter of Municipal Winemakers invited me to observe as they created this extraordinary new wine and thoughtfully walked me through the process of blending – from collecting the crimson samples from the barrels, to tasting and evaluating the individual wines, and finally calculating the optimum ratio.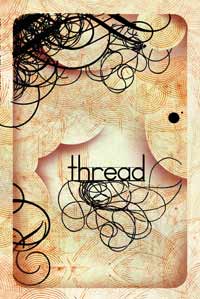 The scene looks like chemistry class – pipettes, glassware, and white countertops, only with more laughter and, thankfully, no Bunsen burner accidents. And wine blending, as it turns out, is creative chemistry. "When blending, you have an idea of what you think each piece will contribute to the final blend – but no one is always right about what actually occurs," says Schaffer as he adds his Camp 4 Grenache to the graduated cylinder already containing Fox's Paradise Road Syrah, Potter's Tierra Alta Vineyard Syrah, and Sigouin's Larner Vineyard Grenache. "It's therefore necessary to create many different blends and push the envelope a bit, to see how the various combinations work together."
Indeed, as we taste the individual wines straight from the barrel it is apparent how different they are, each with their own distinct personality. Mixed together they create a wine with succulent dark fruit and cocoa, balanced perfectly by a graceful tannic structure.
From harvest-time sugar levels, to the yeasts used in fermentation, and the vessels wine is stored in, every step of the winemaking process has a direct and dramatic effect on the end result. With each decision, winemakers create an array of wines with varying flavors which they use during the blending process the way chefs use spices – a dash of pepper here, a touch of vanilla, and a pinch of clove – to create symphonic wines.
Think it sounds like fun? The best part is that anyone can try their hand at blending (though, admittedly, blending well only comes only from years of experience). To give it a shot, purchase a few bottles of inexpensive wines (we suggest starting with a single varietal), take careful notes of each of the different wines' characteristics, and combine them in varying proportions to create a wine that is better, more complex and complete than the base wines alone.
So go to it, intrepid wine blenders! Taste away! Once you have taken stock of the individual wines' attributes, using some form of measurement (graduated cylinder or Dixie cup – you choose), experiment with different ratios until you achieve the formula that best suits your own personal taste. This will require a lot of trial and error, sipping and evaluating, tasting and discussing which, as any winemaker will agree, is all part of the fun.
We would love to hear about your blending successes (and failures, for that matter)! Let us know how your creative chemistry works out by emailing wine@independent.com.
4•1•1
To learn more about Thread Wine, go to threadwine.com . To taste this and other blended masterpieces from Santa Barbara County, head to the annual Celebration of Harvest this Saturday, October 10, 1-4 p.m., at Rancho Sisquoc. See sbcountywines.com or call 688-0881 for tickets.