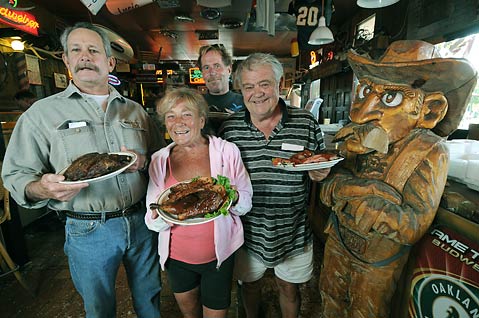 Health Food/Nutrition Store
Gourmet Food Store
Salad Bar
Lazy Acres Market
302 Meigs Rd., 564-4410
Consider Lazy Acres' salad bar as a microcosm. It has all the icon-foods of the health nut: sprouts, sunflower seeds, and broccoli stalks. Yet it also features some gourmet flourishes, too: whole roasted garlic cloves, jalape±o slices, and big chunks of grilled beets. It's a major accomplishment when one establishment can suggest the unlikely hybrid of a whole grain/organic/natural countercultural shack with a knowledgeable staff as a source for fine wines, crafted cheeses, and gourmand delectables from caviar to truffles. Throw in natural meats and fish, and glowing aisles of produce, and you have some idea why this Mesa market has been a readers' fave, pleasing everybody from hippies to highbrow foodies. Lettuce give praise.
FINALISTS: Health Food/Nutrition Store: Trader Joe's; Gourmet Food Store: Gelson's Market; Salad Bar: Chuck's of Hawai'i
Ice Cream Shop
McConnell's Ice Cream
201 W. Mission St., 569-2323; 7034 Marketplace Dr., Goleta, 968-0780; 1412 N. H St., Ste. E, Lompoc, 736-0020
In these times of trendalicious Korean-influenced frozen yogurt proliferation, it's a pleasure to announce the town's still-enthusiastic embrace of the one product that's been identified as Santa Barbara's gourmet dish since Eisenhower was in the White House. Rich and unflaggingly buttery, there is indulgence delivered in every bite of McConnell's exquisite flavors-like chocolate-burnt almond, Turkish coffee, or that summertime staple, peppermint. Old-timers think of the upper De la Vina Street store as the new HQ for the classic S.B. date-night finale (they moved from State Street in the mid 1980s), but most people just think of McConnell's as the place we all scream for when we need to chill.
FINALIST: Cold Stone Creamery
Carpinteria Restaurant
The Palms
701 Linden Ave., #1, Carpinteria, 684-3811
For a sleepy town that morphs into a tourist mecca, Carpinteria is like a tiny version of Santa Barbara, but with a lot more old, old dining establishments per capita. Clementine's, The Spot, even Mi Fiesta Market go back far enough that most Boomers hereabouts were kids when they first visited. The Palms has the added luster of being a place where working-class parents could afford to take the whole family and eat celebratorily high on the food chain-the folks had martinis, the kids a Roy Rogers, and then it was over to the tiny grill to pour concoctions on a steak your folks let you grill to imperfection. It's a family place with a big bar, and an old place that seems exactly like you remembered it when you were making fresh memories.
FINALIST: Sly's
Isla Vista Restaurant
Freebirds World Burrito
879 Embarcadero del Norte, Isla Vista, 968-0123
Though little seems to change out in the student-dominated world of I.V., there are precious few businesses with much longevity. That's only one reason to like Freebirds, a fixture on the well-traveled intersection of Pardall Road and Embarcadero del Norte since 1987, which, in Isla Vista years, is three epochs. But the real reason the kids love this place is that it's open way late and is always ready to serve up humongous burritos specifically engineered to your beans-cheese-rice-meat-or-not-condiment fetishes. Like I.V., it's the same and always changing, and some alumni remember it more fondly than their alma mater right next door.
FINALIST: Silvergreens
Seafood Restaurant
Cole Slaw
Clam Chowder
Bloody Mary
Brophy Bros.
119 Harbor Wy., 966-4418
This interesting quadfecta of awards consistently has been earned by Brophy Bros. for at least the last decade. It's easy to understand the seafood, clam chowder, and cole slaw praise since the upstairs, always-busy joint sits right on the oceanfront and plies its trade on the fruits of the nearby Pacific. (The chowder and the slaw exude an almost sinful creaminess, by the way, which may explain some of it.) The fish is fresh and the prices are well below what a touristy site might be expected to charge. But the bloody Mary experience must be appreciated-tangy with pepper, peppers, and a hint of horseradish, it's amply endowed with inhibition-loosening spirits, too. All in all, Brophy's is a place justly noted and rewarded for harboring a lot of diverse pleasures.
FINALISTS: Seafood Restaurant: Enterprise Fish Co.; Cole Slaw: KFC; Clam Chowder: Enterprise Fish Co.; Bloody Mary: Tupelo Junction Cafe
Burger
The Habit
5735 Hollister Ave., Goleta, 964-0366; 216 S. Milpas St., 962-7472; 628 State St., 892-5400; 3890 La Cumbre Plaza Ln., 687-5200
When this chain opened its first store-as Hamburger Habit-in Old Town Goleta in 1969, it offered a great hamburger smeared with chili. Only problem was, this was a town of great burgers from Carpinteria to Milpas, from Carrillo Street to Patterson Avenue. Now the chili is gone and most of the little Mom 'n' Pop competition is, too, and, somehow, The Habit, which now has outposts in Ventura and Los Angeles, just seemed to get better and better the whole time. A double burger, fries, and a medium drink costs about $8 with tax, and it's always served piping hot in sparkling clean surroundings. You might miss the chili, but the readers in this town think The Habit is buns up the very best.
FINALIST: In-N-Out
Hot Dog
Costco
7095 Marketplace Dr., Goleta, 685-3199
It's not really one of those cuisine items that's well-integrated into the Santa Barbara lifestyle. How do we know? Well, look how far away you have to travel to enjoy what year after year everybody votes for as the finest exemplar of the art. There are hot dogs-good ones-downtown and on the bluffs of Carpinteria. But oh no, we have to travel to the edge of Goleta to a store you need to join, like a secret society of shame. Then you get to have the reward. Actually, the Costco dog is super-fine: a Hebrew National with a soda and chips for about the same price as an unadorned bagel elsewhere. I mean, you were out there anyways. Might as well eat a wiener.
FINALIST: Mad Dogs
Burrito
Super Cuca's Taquer-a
626 W. Micheltorena St., 962-4028; 2030 Cliff Dr., 966-3863; 6547 Trigo Rd., Isla Vista, 961-0020
This is the place you go for food-depth bombs. Not to diminish the nicely blended spice of the carne asada or the meaty-chewy pork goodness of the carnitas, not to mention the delicate chicken in combo with rice, beans, sour cream, onions, and cilantro packed densely inside a big, soft flour tortilla, but what's truly surprising after savoring the thing is how massively present it feels in your hands and later how completely one is satisfied. (Assuming you can even finish a Super Cuca's super burrito.) Three locations, ultra-friendly staff, and more satisfaction than one presumes is possible por muy poquito dinero.
FINALIST: Freebirds World Burrito
Butcher Shop
Whitefoot Meat Market
336 N. Milpas St., #E, 965-8850
Dave Whitefoot is very happy. "The economic conditions haven't been great and we lost 200 homes in Montecito last year to fires, and that's where a lot of my business comes from. Then you add to that the closing of the Milpas Street onramp-well, business has been off. But somehow we're still doing fine." The secret is probably a good sense of humor and community. "I hope people come in because we have such good-looking butchers," said Whitefoot, who began working in his dad's store after getting out of the service 38 years ago. "But I know we sell prime beef and we can give people cooking suggestions; there's really nobody left like us anymore."
FINALIST: Ye Olde Butcher Shop
Fresh Fish Market
Santa Barbara Fisherman's Market
117 Harbor Wy., Ste. A, 965-9564
This little store in the harbor isn't just about location, location, location. The freshness of the product here is matched by the terrific variety: abalone, live Maine lobster, and more every-day pleasures like halibut, tuna, and shark. Being near the ocean, they have a good first right of selection from what is coming off our fleet of boats. (At press time, it was sea bass.) At the same time, however, you must admit that a short drive down to the breakwater and a stroll into this tiny, friendly store only enhances the experience. Maybe it's not quite as fresh or awe-inspiring as catching it yourself, but it saves money on hooks, lines, and sinkers.
FINALIST: Kanaloa Seafood
Produce/Greengrocer
Tri-County Produce
335 S. Milpas St., 965-4558
Like his neighbors at Whitefoot Meat Market up the street, John Dixon came to work for his dad more than two decades ago, and has plans to outlast both the economic downturn and the closed Milpas Street onramp. "Our business didn't grow, but it didn't fall much either. They say that zero is the new up," he laughed. "I know it sounds cliched, but the secret to our success is the freshness of the produce and our great prices. But most of all, we like hearing from our customers. When I can get out there from my office and bag groceries and talk to them, well, it makes you feel good."
FINALIST: Farmers Market
Frozen Yogurt Shop
Yogurtland
621 State St., 564-8680
This trendy new dessert actually is quite old in terms of trend half-lives. Its appearance in our quaint yet sophisticated burg took some time, especially considering that the nouveau frozen yogurts are delicious and weigh in at fewer calories than a cucumber sandwich (about 70 for a small cup). Among the wave of competitors, Yogurtland distinguished itself by providing a self-serve component. Though people generally complain about the lines, they universally declared the flavors and the freedom of choice worth the wait.
FINALIST: Pinkberry
Bakery
Jeannine's Bakery
1253 Coast Village Rd., Montecito, 969-7878; 15 E. Figueroa St., 687-8701; 3607 State St., 687-8701; 3305 State St. (in Gelson's Market), 687-8701
Even if the baked goods weren't delicious-from scones to lavish layered cakes-Jeannine's would be a phenomenon. The store in Montecito is just as vibrant a scene as the smaller, more suburban setting of the upper State Street stop. Begun as a little cookie-making enterprise in the early 1980s, Jeannine's is now a powerhouse of the Hardey family-mom, dad, and son. And the baked goods top the readers' sweet-tooth list year after guilty pleasure year.
FINALIST: Anna's Bakery
Doughnut Shop
Spudnuts
222 W. Carrillo St., 899-2779; 3629 State St., 569-3719
Though it's a small chain, the two stores have different owners. And, yes, they really are made with potatoes-or at least potato flour-forming a consistency of paradoxical binding power and ethereal lightness. Okay, well, maybe more sinkerrific than ethereal. But the important thing, according to the staff, is the most popular doughnut is the plain, glazed variety, which means the deep-fried delight has inherent appeal that our readers have preferred for the last 10 years in a row.
FINALIST: Eller's Donut House
Bagel Shop
Jack's Bistro & Famous Bagels
5050 Carpinteria Ave., Carpinteria, 566-1558; 53 S. Milpas St., 564-4331; 3891 La Cumbre Rd., 563-2524
Savory baked items are not inherently a California thing. We get by with tortillas, and, in a pinch, the kind of dense, no doubt nutritious bread that health food bakers make for restaurants that think alfalfa sprouts a delicacy. We Westerners owe everything to East Coast importations for our notions of how dough should be consumed-baguettes, pizza, and the now-ubiquitous bagel. Luckily for us, Jack's stores are conveniently located so that 50 years from now, people growing up here will have a gold standard to carry with them as they travel the world. It's a substantial bagel with a shiny crust and just the right resistance to a bite yielding a nice, yeasty interior. The toppings are generous enough, but not a distraction from the wheaty taste of one savory baked bread we may some day claim as our own.
FINALIST: Bagel Cafe
Juice/Smoothie Bar
Blenders in the Grass
8 locations
An important part of the life hereabouts is healthy outdoor living and, despite the mellow image, a lot of it's hectic-like. People run from classes to work to yoga to big winter breaks; maybe they need to provide their bodies with combustible proteins and carbohydrates but they can't eat breakfast burritos every day. So, they stop at a Blenders and pick healthy concoctions that look and feel like primitive fast foods (a malted milk) but contain proven healthy balances of fruit, yogurt, and powerful additives, like vitamins and antioxidants. Blenders has ruled the blended drink choice practically since opening in 1995 in a fast-moving but health-conscious place called Isla Vista. With 12 shops in Santa Barbara and Ventura counties now, the smoothie seems more unstoppable than the speed demons it feeds.
FINALIST: Backyard Bowls
Cheese Selection
C'est Cheese
825 Santa Barbara St., 965-0318
It's a tucked-away neighborhood that's been very boulevard-ish since the 1980s. What with Sojourner, Our Daily Bread, Panino, bookstores, and great delis, you can almost hear a mandolin playing as you stroll along, baguette under your arm. C'est Cheese is a first-rate addition to this truly soulful neighborhood, with more than 100 varieties of aged, foreign, domestic, fresh, stinky (in a good way), and otherwise exquisitely curdled dairy product. The shop also features dried and cured meats, sandwiches, and what stores used to routinely call assorted sundries under the roof, in a real tasty part of our town.
FINALIST: Lazy Acres Market
New Restaurant
Jane
1311 State St., 962-1311
Jane Huston is thrilled that Santa Barbarans have rallied to her new restaurant so quickly. "We're so excited that they voted us in," she said. But maybe she's not completely surprised. "After all, it's such a great location and so many people know our food from the Montecito Cafe," she said, reminding us that her parents opened Jane as a downtown version of the ever-popular Coast Village Road eatery (see Montecito Restaurant). Maybe the best part is that it's downtown and a lot of our friends can just walk over and eat there. See Jane smile.
FINALIST: Blush
Goleta Restaurant
Fresco Cafe North
5940 Calle Real, Goleta, 692-8999
Always packed at lunch, Goleta's Fresco offers a rounded menu that's often referred to as fresh cuisine: salads, sandwiches, and antipasti. But the baked goods, and especially big pieces of cake, are what bring in crowds of mostly young professional women. Fresco prides itself on serving fresh food, delicious but healthy, and reasonably priced. The readers agree.
FINALIST: Beachside Bar & Cafe
Montecito Restaurant
Montecito Cafe
1295 Coast Village Rd., 969-3392
You could hardly blame the Huston family for displaying a little pride in the double glare of winning best new restaurant (Jane) and the long-annual reward of winning best restaurant in a part of town where luxury, fine dining, and customer coddling are expected bottom lines. But Jane Huston is more inclined to humble appreciation of the honor. "I think maybe the reason the readers probably vote for Montecito Cafe is the combination of consistently delicious food and reasonable prices," she said of the 25-year-old restaurant where she practically grew up. "I was 4 when my parents first opened it, and we're thrilled to be picked the best."
FINALIST: Lucky's
Breakfast
Cajun Kitchen Cafe
5 locations
With five locations in Santa Barbara County, Cajun Kitchen has long been one of the bigger entrepreneurial successes in our town. Especially if you measure success in growth without compromise. No doubt the prices have gone up since the late 1970s when the first Cajun opened near Mission Street on De la Vina-there were long lines on weekends back then-but the quantity and quality of the Louisiana-inspired grub has stayed basically the same. Unspoiled, delicious, and convenient, Cajun Kitchen has gotten bigger and better year after year.
FINALIST: Tupelo Junction Cafe
Sunday Brunch
Hotel/Motel
Four Seasons Biltmore Hotel
1260 Channel Dr., Montecito, 969-2261
"We're thrilled about getting two accolades from the people of Santa Barbara," said Biltmore's General Manager Karen Earp. "Especially, of course, being voted best hotel." Earp attributed a great deal of the renowned beachfront site's contemporary appeal on its new-ish owner, billionaire toy business mogul Ty Warner, who, she said, lavishes a lot of attention on the hotel's operations. "We are very grateful," said Earp. "I can't wait to share the news of our win."
FINALISTS: Sunday Brunch: El Paseo Restaurant; Hotel/Motel: Bacara Resort & Spa
Late-Night Eats
Roy
7 W. Carrillo St., 966-5636
"It's just good food," said Roy Gandy humbly. But after thinking about it, Gandy has a more encompassing reason that folks like going to his Carrillo Street eatery. "You know, sometimes you just eat late-not that often, but you go to a show after work and don't have time to stop. And then you're hungry. And some other places stay open late, but it's strange going in; you feel slightly uncomfortable if you're the last one there and the wait staff has to stay late. But not at Roy's." Although now serving appetizers, too, this 16-year-old restaurant specializes in soup, salad, main courses, and great desserts. And they kind of expect you to come in late.
FINALIST: Freebirds World Burrito
Sidewalk Cafe/Patio
Veggie Burger
Natural Cafe
508 State St., 962-9494; 361 Hitchcock Wy., 563-1163; 5892 Hollister Ave., Goleta, 692-2363; 2407 S. Broadway St., Santa Maria, 937-2735
In some ways, it's a throwback to the early 1960s coffee house, with those brown rice and veggie entrees we were sure would overcome sins we freely committed on our poor boomer bodies. Yet at the same time, that's unfair. The Natural Cafe lacks the hippie sanctimoniousness one used to endure regularly from longhaired '60s wait staff, and the selections of foods now stretch from daily soups to nutty breads and a lot of actually fun dishes like fish tacos, stuffed baked potatoes, and these award-garnering veggie burgers. There are four fine locations to choose from, and each has a patio for outdoor dining. For all its seeming nostalgia, the Natural Cafe actually is uniquely healthy, convenient, and affordably delicious in our world today.
FINALISTS: Sidewalk Cafe/Patio: Fresco Cafe; Veggie Burger: Sojourner Cafe
Chinese Restaurant
China Pavilion
1202 Chapala St., 560-6028; 1070 Coast Village Rd., Montecito, 565-9380
Even if it wasn't the most elegant and intensely varied Chinese food menu in town-with a special Chinese menu in English, for those of us who love to move beyond kung pao and moo shu dishes-China Pavilion would rate its glowing reputation for one glorious fact: real dim sum. For more than a year now, Peter Chen's fine downtown eatery has served a large scorecard full of weekend brunch bites, ranging from the steamed glories of shaomai and pot stickers to sophisticated porridges, Chinese greens, and even some invented concoctions like Chen's shrimp lychee fruit fried baskets. The staff is friendly and frank about their opinions, and the cuisine is as authentic as you want to order it.
FINALIST: Madame Lu Chinese Restaurant
French Restaurant
Restaurant Mimosa
2700 De la Vina St., 682-2272
Chef and co-owner Derrick Melton still enjoys winning readers' praise. "Are you kidding me? This is awesome," he said. It wasn't a banner year, but Melton feels Mimosa may not be as susceptible to poor economy problems simply because it has taken root here. "Mimosa is a 26-year tradition now," he explained. "And we're doing our best to keep holding on, to be here for the duration. I'd like to think that the readers vote for us because we keep providing casual fine dining at an affordable price."
FINALIST: bouchon
Italian Restaurant
Ca' Dario
37 E. Victoria St., 884-9419
That the food is good almost goes without saying, laughed Ca' Dario Manager Chauncey Kim. "It's very nice to know that people appreciate what you are doing, especially now when life is tough for so many people," he said. "But we're surviving on a combination of having a great reputation with the concierges in the local hotels, but mostly because we have a great group of regulars-a large local following. We're very lucky."
FINALIST: Pascucci
Indian Restaurant
Flavor of India
3026 State St., 682-6561
"We've been doing very well," said Rajinder Singh Josan, whose family owns and runs the 18-year-old Indian restaurant on upper State Street. "In fact, when our business is off, it's usually more about the weather than the economy. People don't come here when it's warm outside. But business picks up when it's cool." It's safe to say Josan hopes for a lot of rain this year, but he is not really worried. "I think people come here because we consistently are doing our best. Every family member is at the restaurant all the time, making sure that things are done fine. People come in and say this place is just as good as it was when you first opened."
FINALIST: Spice Avenue
Sushi Restaurant
Arigato Sushi
1225 State St., 965-6074
There are a few undisputable crowns in the S.B. restaurant world, and they have more to do with tried and true ratings than trendy surprises. Somehow, miraculously, Arigato offers both. The undiminished enthusiasm this town has for the State Street arts district restaurant can be measured by the crowds who come, line up-they don't take reservations-and come back again hankering for fresh, raw fish. And the trendiness? It's more like innovative investigations of traditional flavor. Most people have a favorite roll, but most can't wait to try something awesomely weird like sushi pizza. It's the best of both worlds: the new and the old; the raw and the cooked.
FINALIST: Sakana Sushi Bar & Japanese Restaurant
Mexican Restaurant
Salsa
Los Arroyos Mexican Restaurant
14 W. Figueroa St., 962-5541; 1280 Coast Village Rd., Montecito, 969-9059
In one short decade, Maria and Tony Arroyo have conquered the sophisticated Mexican-food-friendly taste buds of this town. It's not like they brought anything overtly nouvelle to the table, either. The menu reads like any self-respecting South of the Border dining experience, though perhaps part of the appeal is their combination of old-school Mexican cafe food (enchiladas, burritos, and crispy tacos) with the taquer-a sensibility of fresh Mexican food (soft tacos, sopes, and tapas treats). Without a doubt, the town responded to the flavors-the salsas and the place itself consistently have swept awards, surging past old favorite eateries and, most surprising, the most famous restaurant in town on Milpas Street. We're sure they didn't mean any harm-they're just honestly good and widely appreciated.
FINALIST: Rose Cafe
Thai Restaurant
Your Place Thai Restaurant
22-A N. Milpas St., 966-5151
This Milpas Street spot was the first Thai restaurant in town. It combines a cozy front room, romantically decorated with big soothing fish tanks and greenery, and a large back room big enough to accommodate the crowds that usually come on weekends. It's Thai comfort food, if there is such a designation: safely grounded in balanced spices and reliably rich flavors, the readers pick it every year.
FINALIST: Zen Yai Thai Cuisine
Deli/Sandwiches
South Coast Deli
1436 Chapala St., 560-9800; 185 S. Patterson Ave., Goleta, 967-8226
"Are we glad? We think it's fantastic that we won," said Jim St. John, who co-owns South Coast Deli with his wife, Dar. The now two-store chain recently expanded downtown from the reliably healthy Goleta point of origin. "I think what people like about us is that we go out of our way to make interesting and tasty sandwiches and get them out the door as fast as humanly possible. Maybe you could get these kinds of flavors in a nice sit-down place, but for a quick sandwich, I don't think anybody does like we do."
FINALIST: Panino
Barbecue
Woody's Bodacious Barbecue
5112 Hollister Ave., Goleta, 967-3775
"Business was down a bit, but we're stable now," said Gino Stabile, who co-owns the venerated slow-cookin' establishment with his spouse, Kim. "I think our secret is that we're an institution in town; there've been like three generations of kids coming here," he said of the 28-year-old business. "I think another thing is that we never take anything off the menu. We might add stuff like salads. But if you had it here before, it'll be there when you come back."
FINALIST: Santa Barbara Chicken Ranch
Pizza
Rusty's Pizza
8 locations, 564-1111
It's crusty pizza with a sharp sauce and a wealth of toppings from plain cheese to the stomach-cursing diavolo, with chorizo jalape±o and pepperoni. It's fantasy architecture at the downtown pub store and the beachfront lighthouse location. It's a corporate chain that offers other corporations, and just plain kids, free rooms to hold meetings. But it's also one of the three big businesses-Kinko's and Freebirds-that were born in Isla Vista in the bad old days circa 1969, when banks were burning and the times they were a-changing. Who said the boomers couldn't get anything right?
FINALIST: Giovanni's
Restaurant for Dessert
Sojourner Cafe
134 E. Canon Perdido St., 965-7922
Anybody who has lived here for the last two to three decades understands the irony of this prize. Back in the day, Sojourner represented the kind of paradoxically nutrition-over-flavor cuisine born in the supposedly hedonistic 1970s. Of course, it's different now-the Soj has been all about great taste as well as good-for-you food values for more than a decade. But the desserts? Hedonism finally triumphs.
FINALIST: Fresco Cafe
Restaurant with a View
Boathouse at Hendry's Beach
2981 Cliff Dr., 898-2628
Long ago, it wasn't much more than a beach-y snack bar, and then it was the Brown Pelican. Today, thanks to the hard work, vision, and deep investments of pop-and-son team Tom and Adam White, the new Hendry's Beach bar and fine food purveyor has been in business for about one year and gets rave reviews from almost everyone. "It was such a compelling assignment," said Tom White, who also owns the Fishouse down by the pier. He proudly admits that he took it on as a challenge to make the place sparkle using S.B. architects and construction crews and to keep the place fancy yet affordable. (The wine list offers lots of bargains, too, he said.) "We're very pleased," said Tom. "And then there's that spectacular view."
FINALIST: Brophy Bros.
Stellar Service
Palace Grill
8 E. Cota St., 963-5000
Team service accounts for some of the pleasure of dining at the Palace Grill, a place that's been the town's celebratory food and watering site for a couple generations now, offering great Louisiana food and those Cajun martinis, too. But the wait staff isn't attentive in that smothering sort of haut cuisine, my-name-is-Rufus-and-I'll-be-your-kitchen-interface kind of way. These are people who wear a game face to work and keep the bon temps roulez-ing with a quick refill and a smooth clean-up-help when you need it, and enough space so you can try to wow your date a little on your own.
FINALIST: bouchon
Appetizers/Tapas
Milk & Honey
30 W. Anapamu St., 275-4232
Remember that small plate phenomenon in dining about five years ago? Look around-those places are gone. Maybe part of the reason was there were already two great tapas eateries in town, owned by the same folks. Up on the Mesa, there is Alcazar. But downtown in one of the three best eating nexuses in our little town resides Milk & Honey. The gourmet snacks range from fragrant olives to choice pieces of steak, and they are accompanied by wines and beverages of the finest ilk, including a mean mojito (is there any other kind?). Voted the best since it first opened-now that's a big heaping on any metaphorical plate.
FINALIST: Alcazar Tapas Bar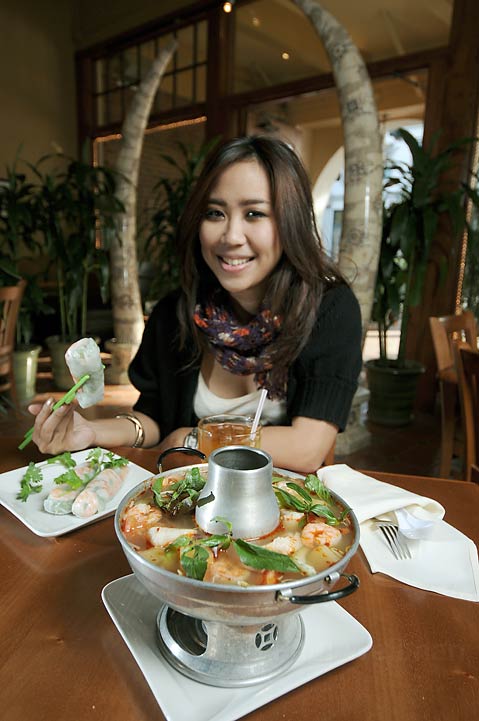 Vietnamese Restaurant
Saigon In and Out
318 N. Milpas St., 966-0916; 1230 State St., Unit A, 966-0909; 424 State St., 962-0707
William Lam is taking over the world. In a good way, that is. His first Vietnamese restaurant on Milpas Street was a revelation of soothing decor and clean, fresh flavors from a national cuisine that reflects a lot of pungent and subtle influences from the French to the Chinese. When Lam balances mint, basil, and cilantro in a dish, the result is somehow both satisfying and palate-cleansing. In the interim three years, he's opened two more on State Street, one up by the Granada and the other down by Haley Street. Next month, Lam will stretch out to Five Points, and soon his Pho will be poised to take on the universe.
FINALIST: Noodle City Vietnamese Restaurant
Steakhouse
Holdren's Steaks & Seafood
512 State St., 965-3363; 6920 Marketplace Dr., Goleta, 685-8900
In a town where cows were once not exactly sacred but pivotal (yes, this was a cow town), we suppose it's only fitting there be a number of great steak places-from the very reasonably conceived to the very see-and-be-seen. Holdren's rests assertively in the dead center of this pack, a family-run downtown eatery-and a new one out in the Camino Real big-box center-that sells lovely big pieces of meat with fine sauces and delicious sides. So there's a nice undercurrent of nostalgia, but a presentation that bespeaks indulgence and satiety for a price that won't put you into refinance problems.
FINALIST: Chuck's of Hawai'i