News
2009 Election Results Roll In
Measure B Losing; Helene Schneider on Top in Mayor's Race; City Council Led by House, White, Self, and Hotchkiss
At about 8:30 p.m. on election night, the results of the City of Santa Barbara's first mail-in-only election started rolling in. Down at the council hearing room in City Hall, the crowd was standing room only as staffers processed ballots in the front of the room, verifying signatures from the roughly 4,000 ballots turned in today.
In attendance were such dignitaries as current Mayor Marty Blum, former Assemblymember Hannah-Beth Jackson, and former city councilmember Brian Barnwell, as well as mayoral candidate Bob Hansen and City Council candidates David Pritchett, John Thyne, and Cathie McCammon.
Although the final count won't be for a couple more hours – one city staffer estimates the semi-official results will be known by 11 p.m. – the current tally of all ballots received by yesterday, November 2, has: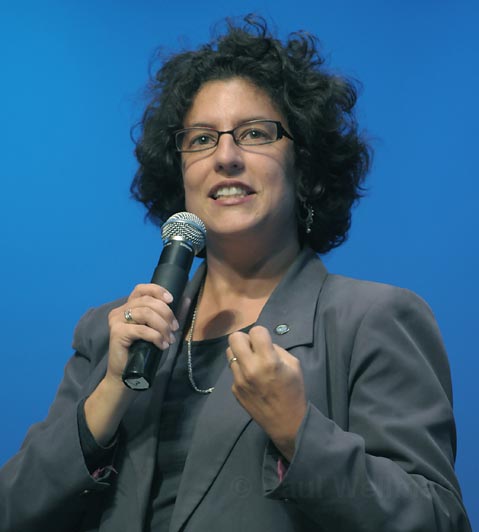 Helene Schneider on top of the mayor's race with 7,706 votes, followed by Dale Francisco with 6,278 and Steve Cushman's 2,755 votes, and even further followed by Isaac Garrett at 365 votes and Bob Hansen at 320.
Measure B, the initiative to lower allowable building heights all over town, was losing, with 8,942 votes against and 8,475 votes for;
and the race of many for three-but likely four, if sitting councilmembers Schneider or Francisco win the mayor's race – seats on the Santa Barbara City Council being led by:
– Grant House with 6,702 votes;
– Harwood "Bendy" White at 6,312 votes;
– Michael Self with 5,716 votes;
– Frank Hotchkiss with 5,688 votes;
– Dianne Channing with 4,787 votes;
– David Pritchett with 3,869 votes;
– Cathie McCammon with 2,975 votes;
– John Thyne with 2,570 votes;
– Justin Tevis with 2,020 votes;
– John Gibbs at 1,492 votes;
– Cruzito Cruz with 1,400 votes;
– Lane Anderson with 933 votes;
– and Bonnie Raisin with 638 votes.
also on the ballot were three more initiatives:
– Measure C, which seeks to combine the Parks and Recreation commissions, is assured a win with 13,501 votes for and only 3,666 against;
– Measure D, which seeks to increase the number of harbor commissioners, is much closer, with 8,624 for and 6,575 against;
– and Measure E, which seeks to reduce the number of members of the Architectural Board of Review, is also a shoo-in, with 10,099 for and 5,349 against.
According to the latest figures, more than 38 percent of Santa Barbarans had voted by yesterday, or 17,802 out of 46,718 registered voters. There is an estimated 4,000 votes left to be counted, which will bump that percentage to about 21 percent.
UPDATE, 9:30 p.m.: Indy reporter and longtime Santa Barbara political junkie Nick Welsh called in after hanging around City Hall with some analysis. After speaking with political consultant Mary Rose, who worked on the brief but preemptively failed Iya Falcone campaign for mayor, and others, Welsh explained that there's a lot of post-game chatter going on to try and explain the early results.
With Grant House and Bendy White – who both received a heavy and sustained attack in mailers paid for by Randy Von Wolfswinkel – leading the pack but Von Wolfswinkel's conservative council candidates Michael Self and Frank Hotchkiss pulling up the open seats number three and four, it's easy to be confused. Why did the attacks backfire but the support work?
Welsh said that the going thinking is that Santa Barbara's large liberal Democratic camp was split all over the place – thereby lacking the consensus needed to pull a third or fourth candidate into victory – but that Santa Barbara's conservatives were probably just focused on getting Self and Hotchkiss in, even so much as simply voting for those two and sending in the ballot. "At the end of the day," said Welsh, "that probably was enough to put them over the top." Cathie McCammon, who was the third leg in the conservative slate, finds herself way down, so her connection to the conservatives clearly did not click.
Meanwhile, there's Measure B, which many political watchers thought would pass easily. But proponent Bill Mahan was shaking his head in City Hall after he found out that the initiative to lower building heights was losing by more than 400 votes. Although that gap could be easy to fill with as many as 4,000 ballots still to be counted, the thinking is that these later ballots will be those influenced by the recent get-out-the-vote campaigns of liberal Democrats and PUEBLO, both groups that are against Measure B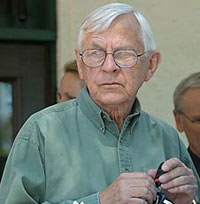 "These are going to be votes that are going to be trending against Measure B," predicted Welsh. "Although the gap is numerically not insurmountable, it's probably not going there." Welsh reports that Mahan "was not optimistic that his initiative was going to change course."
As for the hundreds of thousands spent by Van Wolfswinkel? "I don't think the money did that much except galvanize people into the voting booth," said Welsh, explaining that when all is said and done, the 21,000 expected ballots is "historically a better than respectable turnout." Nonetheless, it's pretty clear that the support didn't hurt Self or Hotchkiss, and that a new council makeup appears to be on the horizon.
Stay tuned to independent.com for repeated coverage throughout the evening, including reports from the various victory and defeat parties around downtown.