News
Carp Taking 'em All On in Water Duel
Montecito Tries to Force Carpinteria to Pay Share of Pipeline Project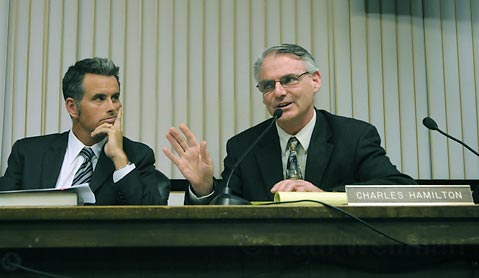 In the wake of the Carpinteria Valley Water District's refusal to fund a major reliability project planned for a section of the South Coast Conduit – the region's main water artery – the other three South Coast water districts may have to pick up the slack. But not without strings attached: The Montecito Water District is insisting that Carpinteria make do without water deliveries through a key segment of conduit while the disputed $10 million repair is underway on it.
The Cachuma Operations and Maintenance Board (COMB) has a list of improvement projects meant to upgrade aging, and in some case decrepit, system components, as well as bring the system back up to its original capacity after 50 years of continuous service. COMB General Manager Kate Rees has been adamant that due to some problems with the South Coast Conduit, water supply reliability on the South Coast cannot otherwise be guaranteed in the coming years.
One of the most sensitive areas has been the initial 8,000 feet of pipe leading from the outlet of the Tecolote Tunnel – a subterranean passage carrying water from Lake Cachuma to the South Coast. Rees and COMB's engineering consultant, Glen Hille, said a second, redundant pipeline is needed in order to restore the pipeline to its designed capacity of 70 million gallons per day. During dry summer months, she said, COMB has come close to running out of water due to the bottleneck, though it has been able to rely upon additional water from the Gibraltar Reservoir serving the City of Santa Barbara.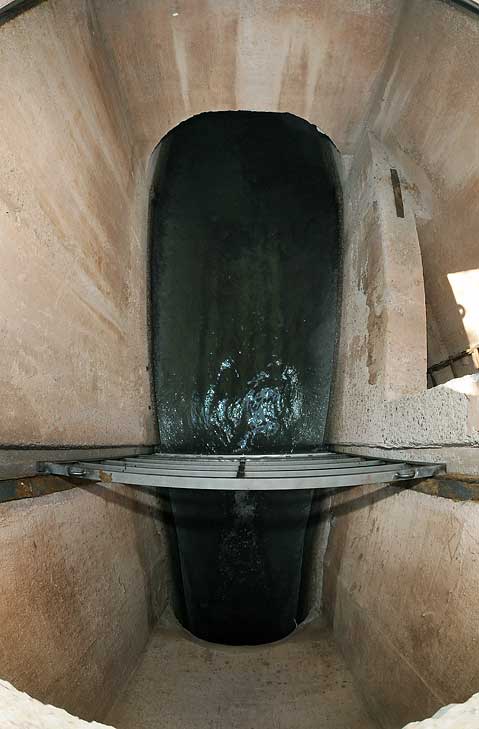 However, with Gibralter now at 30 percent of its original capacity, and dropping, Rebecca Bjork, the City's Water Resources Manager, indicated that she is not sure how much longer the reservoir can be relied upon. "During the summer – during peak demand periods – we are barely able to provide enough water," said Rees. "Right now, we are not able to give member agencies their full allotment."
Hille said the second pipeline, known as the "second barrel," is necessary to the continued reliability of the South Coast's water delivery system. A few months ago, participation by all four of COMB's South Coast members – the City of Santa Barbara and the Goleta, Montecito, and Carpinteria Water Districts – in a $16 million bond to fund the capital improvement projects looked more likely. The second barrel project alone is projected to cost $10 million. Not only has Carpinteria objected to the cost-sharing formula, which has been in place since the Cachuma project was built in the 1950s, which would have it paying 12.2 percent of that-it has no intention of participating in the second barrel project whatsoever.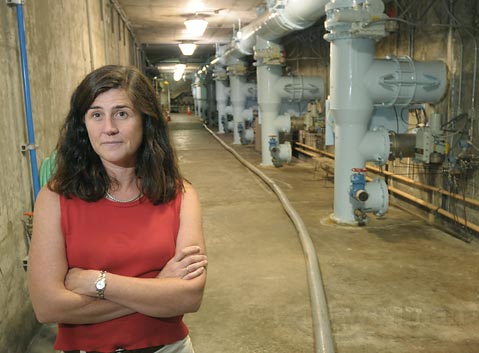 Carpinteria has been focused more upon its budget numbers than messages of imminent doom from the other agencies' boards and managers. Saddled with a heavy debt from buying what turned out to be twice as much State Water (delivered through the Tecolote Tunnel) as it needed in the early '90s, the district has been hounded by customers incensed about increasingly high water bills. A number of expensive projects designed to bring Carp up to the latest federal drinking water standards – two multi-million dollar covers for Ortega and Carpinteria Reservoirs, and a $3 million underground storage tank – has added to the district's financial woes.
The Carpinteria Water District's board of directors voiced concern that COMB's projects would only make matters worse. "The customers spoke. There's a consensus that Carpinteria Valley Water District doesn't need to do anything else to increase its debt burden," said Charles Hamilton, Carp's general manager. "I think what [the other districts] can do with the second barrel project is to address issues that affect Goleta and Santa Barbara." Montecito, which is also at the far end of the pipe leading from Lake Cachuma, regards the second barrel as a critical project for ensuring delivery of water from the Tecolote Tunnel to customers' taps.
"If Carp won't put up their fair share of the money, [the other three districts] will have no choice but to do it ourselves," said Bert Bertrando, Goleta's board president.
COMB has secured $15 million in grant funding through state Proposition 50, but that is contingent upon participation by all of member agencies using the conduit. The $3.2 million of that grant money allocated to the second barrel has been put in jeopardy by Carpinteria's refusal to participate in the project, according to other South Coast water managers. It is not yet clear whether the entire $15 million may be at stake, too.
Since Carp's November 4th decision, the South Coast water agencies have held several meetings, and although the second barrel is heartily supported by all of the other districts, funding the 12.2 percent that Carpinteria would have been responsible for could prove more than they are willing to do- or they may decide that they can't afford not to. "If Carp won't put up their fair share of the money, [the other three districts] will have no choice but to do it ourselves," said Bert Bertrando, Goleta's board president.
In a phone conversation with Montecito General Manager Tom Mosby-a call Mosby made in the midst of addressing the MWD Board of Directors on Tuesday, November 17-Hamilton told Mosby that he would recommend to his board that they approve paying a surcharge to use water transmitted through the second barrel. Hamilton said Carp would not accept interruption of its service when the original section of pipeline is shut down for repairs, which was the condition MWD had in mind for helping pay Carpinteria's share. "If it's a project built and paid for by the other agencies and it's the only way to get water, I think we should step up to the plate," said Hamilton of a surcharge, noting that the decision is ultimately up to his board. Jan Abel, Montecito's COMB representative, thought a surcharge was a reasonable alternative to denying service in the event of the first barrel being shut down. But the remaining three board members voting on the issue didn't see it that way: In exchange for MWD's financial help, the board voted 3-1 not to accept a surcharge, but to demand cessation of water delivery to Carp through barrel two when barrel one is not in service.
Meanwhile, as the process to revamp the South Coast's aging water delivery system becomes more complicated under conditions imposed by COMB's individual member agencies, the clock is ticking on the second barrel project. An $8 million construction bid has already been secured for the barrel two project, but it expires at the end of the year. Rees and other managers speculate that a new bid will be higher, as market conditions when the bid was submitted in September were as favorable for COMB as they have ever been. "If I were a customer in Carpinteria, I'd be very concerned," said Lauren Hanson, a director on Goleta Water District's Board of Directors. "I would really want the Carp Water District to explain its decision because it seems very short-sighted."