Angry Poodle
Case of the Wag Tailing the Dog
Poodle Barks at Pedro Nava
POLITICAL POTSHOTS: Pedro Nava's detractors have been quick to point out there's no place on the planet quite so perilous as between Nava-our man in Sacramento-and a TV camera. It's a good line, I thought, but maybe a little unfair. It's not that Nava was innocent of the charges, only that the competition for shameless grandstanding is fairly robust. In the past two weeks, however, Nava truly distinguished himself, leaving all competitors choking on his dust.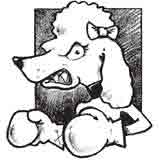 Two weeks ago, Nava jumped feet-first into the fray over medical marijuana, dispatching a three-page, finger-wagging tome to S.B. Mayor Marty Blum and her fellow councilmembers, sternly chastising them for letting pot dispensaries run amok. The very warp and weave of Santa Barbara's vaunted quality of life was on the chopping block, he warned in the most breathless Reefer Madness prose; schoolchildren were placed in harm's way, and elderly chemotherapy patients were heedlessly exposed to weed that may have been soaked in pesticide concentrations 400 times greater than the law allows. No one around City Hall could recall Nava ever inserting himself into a local matter with such intensity. Nor could anyone ever recall having been contacted by Nava or his staff on the subject. Others found the combination of Nava's hot zeal and cool aloofness strangely incongruous. But when you consider that Pedro Nava's name translates to "the stone who swims," it all makes sense. Well, only sort of.
Sometimes, as Sigmund Freud opined, a cigar is just a cigar. But sometimes, as Bill Clinton and Monica Lewinsky can attest, it's something else altogether. And Nava's sudden fixation on medical pot clearly belongs in the latter category. Nava is running to represent the Democratic Party in his quest to become the next Attorney General. To that end, getting tough on pot makes good political sense. But Pedro's charge that City Hall fiddled while Santa Barbara's schoolchildren toked up makes even more sense when you consider that Councilmember Das Williams-whose first name, incidentally, translates to "the" in German-chairs the city's Ordinance Committee, which has been working overtime on medical-pot dispensary regulation for many months now. It's that committee's effort, according to Nava, that's let down the citizens. No doubt it's just a coincidence that Williams is now running against Nava's wife, Susan Jordan, for Nava's Assembly seat in next June's Democratic primary.
None of this was lost on Mayor Blum-more inclined than ever to say what she thinks, now that she's a lame duck-who called out Nava for cheap political theatrics. But there's clearly a crowd in that theater. The concentration of dispensaries on the Eastside has given rise to concern that Milpas Street has become a "dumping ground" for pot shops. School officials have lashed out. A coalition of parents and 12-steppers appealed to City Hall to put a lid on the pot trade. It should be noted that the Ordinance Committee, chaired by The Williams, has come within an eyelash of passing tough, new rules that would have effectively put several of the eight existing dispensaries out of business and made it much harder for new ones to open. The "Just Say No" crowd is hardly mollified by such exertions. They've pointed out several recent court decisions that have ruled storefront dispensaries are illegal. They demanded an instant moratorium on new dispensaries, and this Tuesday they got just that, both from City Hall and the Board of Supervisors. I don't have a problem with the moratorium, so much as the hysteria animating some proponents.
As the father of two teenagers, I'm mindful of the challenges. Potheads are not known for focus, drive, or initiative. Certainly, there's nothing more obnoxious than the sniggering giggle fits common to stoners, except, of course, the emergency rooms filled with people suffering the ill effects of excessive booze. People who smoke too much tend to fall asleep, not get into fights. Liquor and its side effects account for about 5,200 annual arrests, citations, and calls for service by the Santa Barbara Police Department. Pot's demand is one-tenth that amount. In the current context, these observations are as irrelevant as they are obvious. Still, as you listen to the wailing about pot shops, you can't help but wonder at the total lack of proportion. Sooner or later, sanity will prevail and pot will be legalized. In May, Governor Arnold Schwarzenegger said this should be studied. Last month, the American Medical Association reversed its 72-year-old position that pot had less medical value than speed, cocaine, and Ketamine. The association suggested the federal government give marijuana a new regulatory designation so that its medical benefits can be studied with scientific rigor. In the meantime, however, judges are ruling with mixed minds about medical dispensaries. In this context, a moratorium makes sense.
In the midst of this, Nava struck again, acrobatically inserting not just one foot in mouth but both. Last Friday, he showed up at a breakfast meeting at Moby Dick Restaurant, hosted by the Council on Alcoholism & Drug Abuse. There, he exhorted the attendees to sign petitions he brought along in favor of the moratorium. He then mailed the signatures to city councilmembers and county supervisors, some of whom are still wondering why Nava has yet to contact them directly. This Monday, Nava dispatched yet another letter bomb to City Hall. Again, he blasted the council for allowing the "outrageous number of dispensaries." He lamented he could no longer walk his dog without being accosted by residents upset about the dispensaries. "They sought me out because they did not believe their concerns were being addressed," he wrote. In hindsight, Nava should have faxed the councilmembers an image of his middle finger in full salute. It would have made the same point but saved paper.
If this is how to win friends and influence people in Sacramento, little wonder nothing gets done there. Until then, I'd say watch out for swimming stones.