News
A Daily Battle
Citizen Fights for Understanding of the Mentally Ill, While Coping with His Own Disorder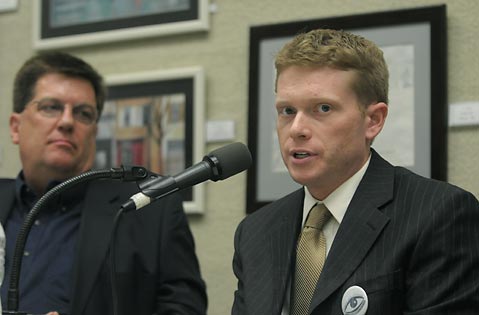 It's a Monday evening and the halls of Santa Barbara Cottage Hospital are beginning to quiet down. Up in psychiatric, patients have just been served their supper, accompanied by a slice of pie, chocolate milk, and coffee, on a tray in their rooms.
Roger Thompson, 28, is sitting in his room on his plain bed, while another bed sits unused. He is surrounded by pink walls, one of which has two paintings screwed into it. Wearing a white T-shirt and jeans, Thompson finds himself in a remarkably different atmosphere than just 72 hours ago, when he was sitting in the center seat of a six-person panel in front of a packed room at the Santa Barbara Central Library's Faulkner Gallery. There, dressed in a sharp suit, he addressed the 200 or so people in attendance, attempting to answer their questions about the mentally ill and the homeless in Santa Barbara County.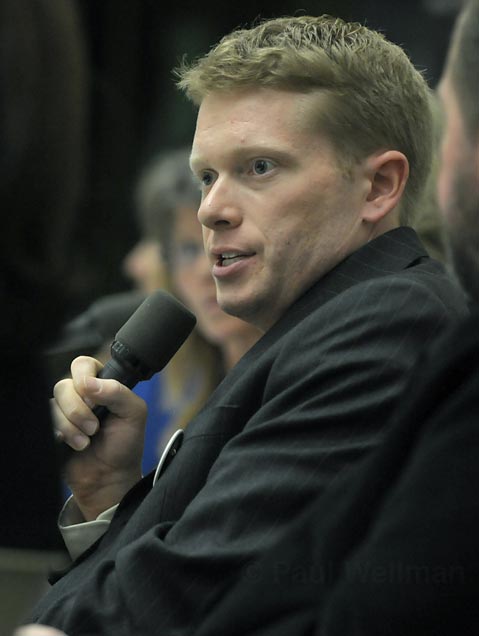 Thompson was doing the same in his hospital room Monday evening-despite the scenery change-filing and organizing note cards with audience questions from Friday's forum. Dozens of questions were written down on cards, but the forum only allowed for a handful to be answered. Thompson, diagnosed with bipolar disorder, had promised an answer to all the questions asked, and he was making certain he did. To both a hospital visitor and the packed forum he said the same thing: "We may not have all the answers, but at least we can start asking the questions."
The search for answers and reform has been behind Thompson's activities for the past year, as well as the formation of the Consumer Advocacy Coalition (CAC) -the group that put on Friday's town hall meeting. Thompson and CAC, which he helms as executive director, have been the face of a paradigm shift within the county's embattled and often beleaguered mental health realm.
Just Tuesday morning came news that yet another homeless man-the 28th this year- had died in the bitter cold brought about in recent days. And just as when Thompson began his fight more than a year ago, when services provided to him for his bipolar disorder were threatened, budgetary issues have put the squeeze on the state and the county, continually threatening treatment and funding.
Alcohol, Drug and Mental Health Services (ADMHS) officials were supposed to give an update to the supervisors Tuesday, but held off to try to get a better grasp on the financial situation. The county is playing catch-up from bad billing practices extending back to the 2002-2003 fiscal year, potentially to the tune of more than $30 million. Appeals are currently ongoing, as are negotiations with the state. And this comes after consecutive years of devastating cuts of millions of dollars to the department.
"If we only had to worry about the future, I'd say we'd be in much better shape," he explained.
Federal economic stimulus money, however, has provided a small boost, helping offset some of the cuts. Last year, ADMHS received about $3 million, this year it's expecting $4 million and will probably receive around $2 million next year in federal stimulus money, according to County Auditor-Controller Bob Geis. "If we only had to worry about the future, I'd say we'd be in much better shape," he explained.
CAC has been a bright light in the mental health community, leading the quest to reform and improve mental health services and inform the public about mental health issues. A nonprofit with a growing list of hundreds of members composed of both mental health clients and non, CAC spurred the opposition to Proposition 1E, which would have shifted money from the state's mental health funding to the state's general fund. It was CAC that made poetry, writing, women's, and computer groups for clients free after they had been cut because of cost. And it's CAC that has been holding forums about homelessness and mental health issues, keeping the discussion in the forefront. "My feeling is that it takes the entire community to address problems like this," said Thompson.
But at the vanguard of CAC is the belief that individuals with mental illness should be empowered, that they themselves can fight off stigma. It's a model of caring with the mentally ill instead of for the mentally ill. New levels of respect and understanding of the abilities of people with mental illness are being reached. And the idea, one of the first of its kind in Santa Barbara County, seems to be working.
That concept was on display Friday where dozens of volunteers, mentally ill or otherwise, showed what CAC had become. Panelists informed attendees about how getting people into permanent housing is a great way to combat homelessness, how public and private funding need to be utilized to offset the budget situation, and how a high percentage of homeless people have mental illnesses. Childcare, sign language, Spanish interpretation, and press packets were also made available to the 200 people who packed the Faulkner Gallery; it was standing room only on the night of the holiday parade just down the street.
Thompson understands, better than most, the challenges faced by the mentally ill in Santa Barbara County. The baby-faced Salinas native moved to Santa Barbara to go to UCSB on a regent's scholarship. He graduated at the top of his class, started a company, and purchased a home. Two years ago, at the age of 26, he was diagnosed as severely bipolar. He went through a divorce, a foreclosure, and abandonment. But now, collecting a check from the government and living in a small, subsidized studio apartment, Thompson is leading the charge even as he deals with his illness.
Those who know him say he does a good job at recognizing his illness and taking care of himself when he needs to, as he did this time, voluntarily checking himself into the hospital Sunday. "I became aware enough to recognize the symptoms," explained Thompson. For example, his first day on the Mental Health Commission, he had just gotten out of Ventura County's Vista del Mar psychiatric hospital. It was on the same day that mental health leaders held a press conference-the first in the state-opposing Proposition 1E. "He's fighting to grow this organization," explained Barry Schoer, executive director of Sanctuary Psychiatric Centers, "but at the same time fighting the daily trials and tribulations of his illness."
Though meant to oversee and regulate everything to do with mental health, the Mental Health Commission had in recent years become stagnant, providing only a rubber stamp approval of anything coming out of ADMHS, according to several observers, clients, and directors of community-based organizations.
In a much talked-about move, 3rd District Supervisor Doreen Farr chose Thompson for a commission position over long-time commissioner Ann Eldridge, who was also the South Coast president of the National Alliance on Mental Illness (NAMI). Farr said she was impressed with his story, his intelligence, his enthusiasm, and his drive, and his time on the commission has only reaffirmed her choice. "The Mental Health Commission has been reinvigorated by Roger's appointment as well as other people," Farr said. "There's no question he's been a great addition."
Thompson has kick-started the commission to start up defunct MHC committees, and serves on one dedicated to consumers. Most recently, a legal opinion from County Counsel was going to up the number of commissioners and alternates required for a quorum, making it more difficult for the commission to meet and make decisions. Thompson, however, sought out and obtained a legal opinion from a NAMI attorney, and County Counsel rescinded its opinion.
And so the discussion continues, but with advocates and empowered mental health clients speaking a little louder these days, the hope is that walls will be broken down and knowledge gained. "It's repeating the same message over and over and over until we drill the message into people's heads," Thompson said. "Once it's there, the stigma [that follows the mentally ill] will be reduced."