Angry Poodle
All Leash and No Dog
Poodle Barks at the Californian Hotel
SHOT ACROSS THE BOW: It's nice to see City Hall finally taking off the kid gloves with the owner of the Californian Hotel, a festering, oozing pustule of a municipal black hole. Whether it's all bluff and bluster, however, has yet to be seen.
The Californian has been the centerpiece of various development schemes for the bottom of State Street, each one more grandiose than the next. For various reasons, nothing ever manages to get built despite the fact that all the necessary permits were granted long, long ago. Instead, the city has a boarded-up four-story hotel just spitting distance from the beach as well as a collection of nearby parking lots, vacant lots, and the coitus interruptus equivalent of a construction site. In years past, city officials have said "please" and "pretty please," hoping to expedite the creation of something other than the Dead Zone. In response, the developer (Mountain Funding) and its predecessor (Bill Levy) have hemmed, hawed, dragged their feet, and pretended not to hear. Levy, it turned out, lacked the money to finance the deal he spent decades perfecting and was forced to declare bankruptcy. Mountain Funding, the lender who foreclosed on Levy, belatedly concluded that the timeshare condo project for which Levy won approval-and for which they had loaned roughly $30 million-made no sense economically. Oops. As a result, Mountain Funding is now hoping to persuade the powers that be to allow major changes to an approved project without having to submit new plans and start from scratch. As gimmees go, they don't come any bigger.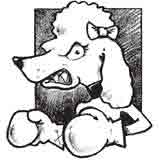 In this context, City Administrator Jim Armstrong has concluded he can afford to be a little more insistent with Mountain Funding. On November 17, a team of city inspectors-representing the departments of police, fire, building & safety, and planning-took a tour of the Californian, originally built back in the 1920s. Going in, the inspectors knew it wasn't going to be pretty. Let's face it, the Californian was kind of a scurvy place. My brother spent the night there just before it closed. While he enjoyed the cheap room rates, he wasn't so thrilled with the fresh blood on his sheets. Once upon a time, the Californian housed the famed Lei Lani Room, a quasi-tiki bar where Johnny Cash reportedly once brought down the house way back in his speed-freak days. It was in the Lei Lani Room back in the '70s where Bill Levy signed the first papers that got him going on what became his road to financial perdition.
Once inside, the inspectors found conditions much worse than expected. One member of the inspection party termed it "demolition by neglect." The Californian was ordered to be shut down in 1999 due to seismic safety considerations. Since then, it's provided shelter to several generations of squatters, homeless people, rats, and pigeons. About half the building still has electricity. The inspectors found buckets of human crap, evidence of cooking fires in several rooms, and a burnt cigarette on one pillow. All that suggests the possibility of a structure fire. But should such a fire occur, the inspectors concluded the premises themselves had become so dilapidated that they'd pose an imminent threat to any firefighters who responded to the call. The upper floors and stairwells were soft and spongy-suggesting wood rot-and appear much worse than when the building initially was condemned. Portions of the ceiling have fallen through; the roof had sustained serious water damage; the Californian's fa§ade might be pulling away from the building itself. Likewise, the structural integrity of many walls, ceilings, and floors-some of which are coated knee-deep in pigeon poop-is dubious at best. "The structure as it stands presents an extreme health hazard to first responders, whether or not a fire occurs. In the event of a fire, there is an extreme hazard to firefighters because of the potential for early structural collapse."
"Your expedient cooperation is solicited in the resolution and abatement of the public health and safety issues as noted in this directive."
Concluding a seven-page letter to Mountain Funding on his findings, George Estrella-City Hall's chief building official-wrote with a flowery degree of politeness, "Your expedient cooperation is solicited in the resolution and abatement of the public health and safety issues as noted in this directive." Prior to that, however, Estrella was considerably blunter. If Mountain Funding didn't get hopping, City Hall could impose fines of $250 a day per violation. Better yet, it could initiate criminal proceedings.
Or it could simply deep-six Mountain Funding's request to change the proposed design in fundamental ways. And that's what this game of chicken is really all about. Back in 2001, Levy got permission to build 62 timeshare condos. Mountain Funding is now proposing to build 114 hotel rooms. Seems like that could be a substantial difference. And that, by law, means the new plans cannot piggyback on the approvals that were bestowed on the timeshare project eight years ago. Mountain Funding insists, however, the difference isn't as big as it seems. Each of the timeshare condos were designed so that one could double as two hotel rooms. In addition, Mountain Funding's new plans promise to provide more open space, lower the building heights, and block fewer mountain views.
The $64-million question is whether Mountain Funding has any intention of actually building anything. Or is this an elaborate scheme designed solely to buy more time for a development project for which the building permits essentially have expired and can't be renewed another time. But if City Hall simply pulls the plug on Mountain Funding, the area will remain a black hole for years to come. And the city will lose out on all kinds of improvements for which the developer is contractually on the hook: new, wider sidewalks, new street lights, and a brand-new parking garage. In that light, Armstrong is trying to figure out whether he can condition his approval so tightly that not even Mountain Funding can weasel out. The flipside is that if Mountain Funding can't or won't build anything given today's harsh economic realities-new hotel projects just aren't getting loans-why prolong the misery? If we have to reboot, let's do it now. Personally, I've always thought Santa Barbara needs a good waterslide. Tacky, for sure, but it would bring people downtown. In the meantime, I'd be willing to bet-say about $64 million-the Californian gets new windows, new security, and a new coat of paint.