Voices
Railroad Futures
Warren Buffett's Acquisition of BNSF Railroad Speaks Volumes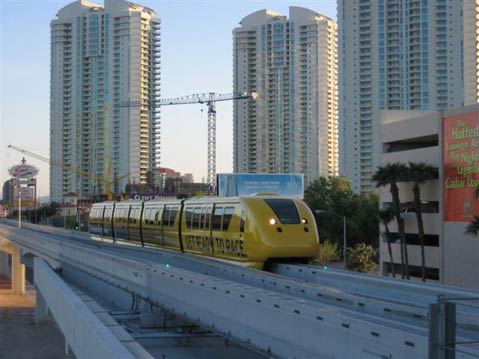 Mr. Warren Buffett sees a future that most people will not "see" for many years to come. Always ahead of the curve, his acquisition of the Burlington Northern Santa Fe (BNSF) Railway says a lot about where transportation is going in the years to come. The slow-moving wheels of government are mired in the old ways of providing mobility, but will eventually learn what the future has in store. Slow-moving traffic and high gas prices will help along the process.
While Buffett sees the beauty of the railroad system in terms of moving freight efficiently, moving people by rail provides the same cost-effectiveness. On my recent trip to Las Vegas, I found the easiest way to shuttle between hotels was on the monorail. This technology first appeared at Disneyland in 1955, but has yet to be a major player in the country's transportation infrastructure. While some see the Las Vegas monorail as a boondoggle, watching people slowly traverse the area by automobile makes it an easy sell to me.
It's hard to believe there is not a train to Las Vegas from Los Angeles, but there was until 1997.
Getting to Las Vegas is another matter, and traveling across the desert by car, you can often find yourself in a traffic jam where you wouldn't expect it. It's hard to believe there is not a train to Las Vegas from Los Angeles, but there was until 1997. It so happens that Union Pacific owns the tracks to Las Vegas, along with the coastal route through Santa Barbara. Union Pacific has no interest in facilitating passenger train travel on its tracks-though the recently retired head of the Capital Corridor service between Sacramento and the East Bay found a way to motivate the company. He pays Union Pacific a bonus if his trains are able to run on time over a certain percentage, say 92-93 percent of the time. That's a carrot Union Pacific can get its teeth into, and one that could be used elsewhere.
Politics will continue to drive transportation in this country, and in this county. While someone at Disneyland in 1955 might have figured there would be a monorail up and down the coast by 2010, oil, rubber, and auto companies created another reality. Currently, passenger rail transportation is in a squeeze between the freight railroads and reluctant government entities. When gas reaches $100 and beyond again, we will see the beauty of rail extolled by our "leaders," who will react to the "crisis" with their heroic efforts to provide rail service for people, and be lauded for their wonderful work. In the meantime, COAST, CoastalRailNow, and ASERT will continue to advocate for common sense in transportation until common sense happens. Santa Barbara County approved Measure A 2008, which includes $25 million for commuter rail service between Ventura and Santa Barbara. It's time for this to become a reality.