Opinion
Estelle Andrews Busch: Wildlife Advocate
1933 2009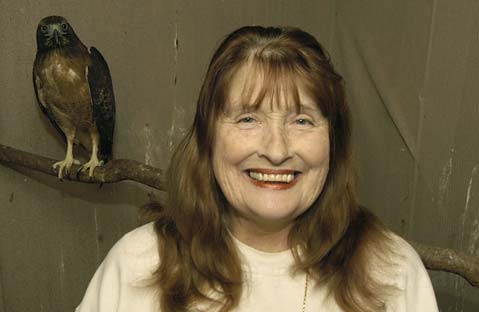 Santa Barbara lost one of its great wildlife advocates, educators, and rehabilitators to cancer this past Monday.
Estelle Busch, founder of the Birds of Prey Preservation Program, as well as co-founder and first president of Wildlife Care Network, passed away December 14, at Hospice. She had been diagnosed with pancreatic cancer in mid November. One month later, she was gone, peacefully.
Estelle Andrews Busch moved to Santa Barbara in 1959 from Mercer Island in the Seattle area and commenced what would become a 40-year career of activism, while beginning to develop her true genius in the area of wildlife. She was one of the leaders in the effort to stop the condo development on the property that is now Alice Keck Park Memorial Gardens. During that fight, Alice Keck Park passed away, bequeathing funds to the city to establish the botanical park. Estelle and many other activists had won an important victory, and the city received a wonderful gift for their efforts. That park is one block from Estelle's home, and she was one among the many who loved the changing seasons experienced through a walk in the park.
Mama 'Stelle, as she was affectionately known by some of her volunteers, began working with wildlife at eight years old. In Santa Barbara, those leanings would take wing and soar. She founded the Wildlife Care Network in 1986, and was its president. She was on the front lines of the cleanup of local seabirds after oil spills, notably those in 1987 and 1990. A recognized expert on this region's wildlife, she also received calls from up and down the state for rescues and advice. She even took calls from as far north as Alaska, because she was one of the few on the West Coast with expertise in working with eagles.
Estelle founded the Birds of Prey Preservation Program in 1996 to focus on the large raptors, which often need specialized help. When Birds of Prey was at its height, there would commonly be up to 50 hawks, owls, and kestrels on site. In the spring, Estelle and her volunteers would be deluged with babies: Great horned owl babies often came in droves, as did barn owls. Despite Birds of Prey's narrow focus, many other species of wildlife would be brought in for her to care for. Nearly every year, a litter of raccoon kits-sometimes two or three litters(!)-would turn up needing care and tending.
Estelle typically ended up with creatures that had their home in nature and their ruin in mankind. Raccoon kits become orphans when their mothers are run over, or are trapped and drowned by exterminators as a nuisance in someone's yard. Many of the maimed creatures Estelle tended had been hit by cars or trains. Hawks are often struck as they swoop across a road, zooming in on prey with single-minded hunter's focus.
Estelle had several birds on the premises that were too mangled to go back into the wild successfully on their own, so she used them for education programs all around the South County. Many schools featured Estelle and her large birds of prey on science nights. She taught generations of children about these animals, along with their parents, who might have heard an owl hooting, but hadn't seen one, or known which type of owl it might be.
Working at Birds of Prey could sometimes be a spiritual experience, especially when a hawk or owl had completed its recovery and was released back into the wild. To see the awesome power of these creatures of nature as they soar against the mountain backdrop, and know that you had a hand in returning them to their rightful place-it was Estelle's mission and spiritual practice to act as a helping hand to these powerful birds and to correct the injuries they received in their collisions with mankind.
Estelle trained an army of wildlife rehabilitators to carry on the mission; they will carry on the good work she started
A farewell ceremony for Estelle will be held by the pond at Alice Keck Park Memorial Gardens on Sunday, December 27, 2009 at 11:00 a.m., with a wake to follow at her home at 326 Arrellaga Street. Donations can be made to either Happy Endings Animal Rescue Sanctuary in Santa Ynez, or to Hospice Care of Santa Barbara.