Living
Ode to Sam Adams
UCSB's Beloved Track and Field Coach Passes Away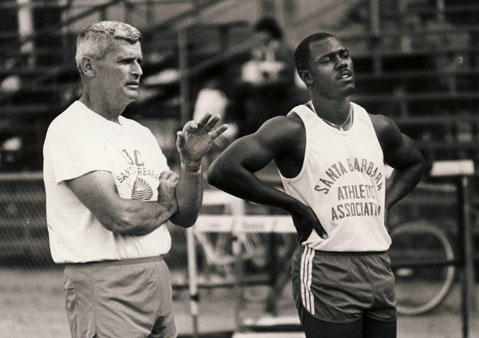 Sam Adams maintained there was just one pure sport—track and field—and everything else was games. For more than three decades, Adams oversaw the exertions of athletes at UCSB's track: Run. Jump. Throw. Faster. Higher. Stronger. It was so simple yet so profound to dwell in Sam's world.
I spent time there my freshman year, my last fling as a sprinter. I must have shown some strain during a workout. Sam picked up a fallen eucalyptus leaf and demonstrated how I should hold it between my thumb and index finger when I ran. If the leaf became bruised or crushed, I was too tight. That leaf would help me run faster with an optimal combination of effort and relaxation.
Multiply that lesson by many thousands, and that was Sam's life work. It did not matter to him if you were a world-beater or not. All that mattered was that you wanted to improve. He hardly had any scholarships to dole out, and he did not believe in them anyway—they attached strings to the coach-athlete relationship. One's motivation had to come from within. Sam would set the record straight at the beginning of practice: "Don't ask me what you have to do. You don't have to do anything. Here's what you get to do. If you don't like it, go somewhere else."
A few Gauchos had the talent to make it to the nationals, and Sam would help them get there, but the best the majority of his athletes could do was earn a place in the conference meet. Dissatisfied with the lack of championships, former athletic director Al Negratti once took the title of men's head coach away from Sam. He was given a new position as director of a postgraduate training program—international athletes and coaches respected his abilities—but many UCSB students continued to gravitate toward him. After Negratti moved on, Sam was restored to his old job. He retired in 1992.
Sam may have been the strongest man on campus. He had competed in the decathlon, and his best events were the muscular ones—shot put, discus, and javelin. He kept in shape by pumping iron. His adamantine physical presence gave force to his words—the few he chose to speak.
"He hardly said a bloody word," said Peter Allen, who came to UCSB from New Zealand and was a Gaucho track athlete almost 30 years ago. He remembers the days he spent with the coach as a deeply meaningful time of his life.
Sam Adams died on January 11. Allen said he has lain awake every night since then—and he's sure many other fellow athletes of his era are doing the same—thinking about Sam. How did this man leave such an everlasting impression on them?
One answer, Allen said, is that he cared about them as human beings. "He was so genuine," Allen said. "Other coaches could bring out the best in you as an athlete, but Sam also brought out the best in you as an individual."
Long after they had hung up their spikes and discarded their discuses, dozens of Sam's athletes would remember him on his birthday in July, some of them coming across the country to attend an annual reunion. The coach was becoming older, slower, and weaker with Alzheimer's disease, but they hardly noticed.
"It didn't make any difference," Allen said. "I still saw him as the same man who spent time on my hurdling form. The things we remember about Sam will never fade away."
A memorial for Sam Adams will take place Saturday, January 23, at 11 a.m. at Trinity Episcopal Church. "I'm looking forward to it," Allen said. "There will be a load of people there who love Sam."
GAMES OF THE WEEK: San Marcos High's gym has been known as the Thunderhut, but Friday (Jan. 22) at 6:30 p.m., before the Royals' basketball game against Ventura, it will officially be named Maury Halleck Gym in honor of the school's winningest basketball coach, and the floor will be named after retired volleyball coach Jon Lee … Winning at home is a necessity if UCSB hopes to finish at the top of the Big West men's basketball standings, and the Gauchos have a big game at the Thunderdome Saturday night against Cal State Fullerton. Also playing at home that night will be Westmont College (against Vanguard) and SBCC (against Hancock College) … A rain-proof outdoor event is UCSB's swim meet Saturday (Jan. 23) at noon against UNLV.