Living
Where the Homeless Are
More Churches Open Doors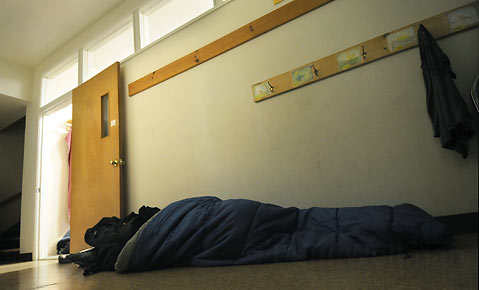 Considering the hard rains, pelting winds, and plunging nighttime temperatures, two South Coast churches opened their doors to the homeless as short-term temporary shelters. That's in part because Santa Barbara's the main shelter, Casa Esperanza, had maxed out at 200 people four nights in a row; according to its conditional use permits, Casa cannot legally accept more than 200 guests.
In response, the Unitarian Church in downtown Santa Barbara opened its "warming shelter" Sunday night, accepting 25 overnight visitors. Because of space limitations, some were turned away. Monday night, another 25 stayed, but none were turned away. Some slept outside under the eaves. One had walked shoeless—wearing only socks—from the County Jail, where he'd been released earlier that night.
The rains pose a special challenge. Since a homeless man, Freedom, froze to death in December, many serving the homeless—both in and out of government—have been acutely concerned that no one else suffers the same fate. But many homeless people want nothing to do with the confinement and rules imposed by any shelter. Some of the people showing up at the Unitarian Church typically stay out of any shelter unless forced to by the extremity of weather conditions. The University Religious Center in Isla Vista has also opened its doors to the homeless during the rains.
Within the homeless service community, there's considerable discussion about who and what government entity should be providing this short-term emergency care. According to some activists, volunteers, and medical care providers, the County of Santa Barbara is legally responsible for providing emergency shelter. But thus far, the county has been content to let others make the necessary arrangements of finding shelter and securing volunteer nighttime staff. Part of the issue stems from the fuzziness of a "protocol" hammered out three years ago. Under the terms of this arrangement, the county would intervene only when all existing shelters exceeded their capacity.
But that hasn't happened yet. While the Casa is full, the Santa Barbara Rescue Mission has yet to fill all its 134 shelter beds—110 for men, 24 for women. There is a belief among some in the homeless community that the Rescue Mission requires guests to subject themselves to religious indoctrination in exchange for shelter. Nothing could be further from the truth, stated Rolf Geyling of the Rescue Mission. "To me it's unconscionable that some would extract a religious confession from some of the homeless at a time of acute need," he said. "We do not do that here." Geyling said the Rescue Mission did have rules, but that religious participation in chapel services was strictly optional. "We offer it," he said, "but no one is required to attend." Geyling added that the Rescue Mission could squeeze more than 134 guests in, if need be; the Rescue Mission chapel could provide a warming shelter for about 30 people.
—