Angry Poodle
Dog from Planet Nine
Poodle Barks at Republican Spending
ME TOO!: Whatever you do, don't vote for me. I mention this only because Republican Scott Brown's recent upset victory in Massachusetts, the über-blue state, has created such a powerful political windstorm that I may find myself — unwillingly — forced to run for political office.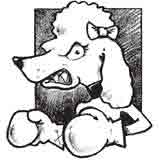 Clearly, I am uncommonly qualified. That's because the car I drive — a 1988 Volvo wagon — is older than most graduate students coming out of UCSB. Given Brown's success in Massachusetts, possession of a clunker clearly is a prerequisite for public office. It speaks volumes about a candidate's everyman street cred, not to mention innate frugality and disarming lack of pretense. Say what you want, but Brown changed the fundamental plotline and narrative arch deployed by candidates everywhere to convince voters that they're one of us. He had a tough childhood: divorced parents, broken home, rough financial times, short-lived teen delinquency. Despite this — and a nude spread in Cosmo — he achieved success. Still, he drives an old beater pickup truck — upon which he has inflicted many optimistic, manly, open-road miles. It's like the movie just opened and already we're inundated with sequels. Up in Santa Maria, for example, a Republican insurance broker named Dave Stockdale is vying for the privilege of diving head-first into the political wood chipper that is Lois Capps, S.B. congressmember and de facto Democratic Party juggernaut. Sure, Dave owns his own insurance company, but he can't be that obese of a fat cat if he's still driving around a 1990 Ford van with a bubbletop, as his web proudly tells us. Likewise, in Thousand Oaks, Republican John Davidson — a financier and insurance executive — is itching to take on Lois. Stockdale's homepage didn't see fit to tell us how ancient his wheels are, but we did learn that John and his two sibs were raised by a single mom with no marketable skills.
It's nice to see Republicans scrambling to reconnect with their roots. I'm not talking about the Party of Lincoln or even the Party of Reagan. Consciously or unconsciously, Republicans are now embracing their inner Richard Nixon. (And people think two men kissing is gross?) Nixon famously saved his career — when Eisenhower wanted to dump him from the ticket — by saying on national TV of his long-suffering wife, "Pat doesn't have a mink coat. But she does have a respectable Republican cloth coat. And I always tell her, she'd look good in anything."
I'm gratified to learn that Republicans are only willing to stoop so low when it comes to donning their respectable cloth coats. Take, for example, the gathering of about 25 Republican state senators and assemblymembers, plus staff, spouses, significant others, and concupiscent concubines at the DoubleTree in downtown Santa Barbara this past December. The ostensible reason for this unseemly three-day group grope was for party members to get away from it all, bond, and think big, lofty thoughts, presumably about new and improved ways to bankrupt the state. Personally, I'm thrilled the event brought business to Santa Barbara. But I can't get over the $120,000 spent by oil and tobacco companies to make everyone so comfy and cozy.
Even by Sacramento's notoriously loose standards for moral turpitude, this seems excessive.
The politicos reportedly paid for their own hotel rooms, using their hard-earned campaign contributions to do so. But the lobbyists paid for food and drinks, not to mention the trip to Reagan's ranch and a speech by the party's dark knight, strategist Karl Rove. They also paid for the complimentary gift bags ($299), the complimentary briefcases ($150), and the complimentary cufflinks and charm bracelets. Even by Sacramento's notoriously loose standards for moral turpitude, this seems excessive. (By contrast, Dems last year held a similar retreat for which lobbyists paid $14,000. But eight Republicans were allowed to attend.)
At a time when state parks are getting closed, schools are getting axed, and UC tuitions are going through the roof, I don't know that I'd want lobbyists from Big Oil and Big Tobacco buying me drinks and swag bags to the tune of $40,000 a day. It looks especially unseemly when you consider how many times in recent years oil and tobacco companies successfully rebuffed Democratic efforts to raise revenues — that might have preserved these and other middle-class programs — by taxing their profits. Although Tony Strickland, Santa Barbara's representative in the State Senate, lobbied to have the event held here, he told the L.A. Times, "I didn't know who paid for it." The important thing, he added, was that the financial details be made public so people can decide what to think about it. Having spent a half-hour searching the Secretary of State's quasi-impermeable Web site detailing campaign donations, I remain baffled how people would ever know the event took place, let alone what stench factor they should attach to it. Tony's most recent financial filings, for example, date back to last summer and illuminate nothing. And if you like the way politics is financed in California, then you'll love the changes wrought by the Supreme Court, which last week struck down 100 years' worth of legal precedent limiting corporate donations in federal races. In the realm of campaign financing, it's hard to imagine things getting much creepier. But just wait.
As for my unique qualifications to run for higher office, I think I'll stay on my bike. I may get hit by a car, but it's still safer. To date, the people of this country have not seen fit to elect anyone who appears in public wearing a bicycle helmet or a fanny pack.