News
Green Well's Offering Spurned
School Rejects Pot Shop's Donation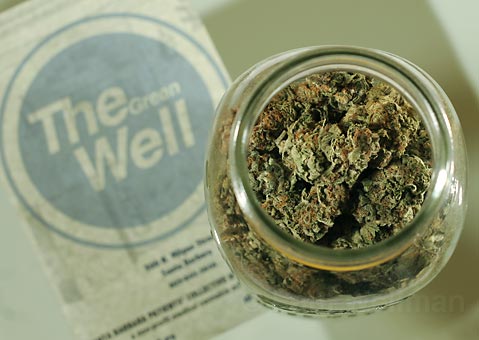 "No good deed goes unpunished," said Nat Reinke, owner and operator of Green Well. He was speaking of the medical marijuana dispensary's attempt, on Tuesday, February 2, to present a donation of gardening materials to El Puente Community School, which the school refused to accept. What was intended as an act of community-spirited good faith turned out to be nothing short of a fiasco that left both sides scratching their heads, trying to figure out what went wrong.
El Puente High School, which serves at-risk students—including those who have been expelled from regular schools, or referred by probation officers, or who are transitioning back to school from juvenile hall—had been seeking grants to fund a campus garden project. Spearheaded by an AmeriCorps volunteer who serves at the school, the effort was met with seemingly good news when Reinke's partner, Green Well owner-operator James Lee, contacted the AmeriCorps member and explained that he was part of a community nonprofit organization that would like to donate soil for the garden venture.
This, it appears, is when communication between El Puente and Green Well broke down. According to Lee and Reinke, the two never explicitly told the AmeriCorps representative that they were a medical marijuana dispensary, only that they were nearby nonprofit and wanted to help. "It just didn't come up," said Reinke. "We told them that our business was called the Green Well, but I guess they didn't do their homework."
County School District Public Information Officer Wendy Shelton said of the conversation, "[The AmeriCorps member] recounted that she was only told the Green Well was a local nonprofit, and assumed it was an education nonprofit. She may not have asked specifically what kind of business they were, which maybe she should have."
To Reinke and Lee, it had seemed like a great way to demonstrate their sense of civic responsibility. "It was a chance to not only give to a school, but to give to a school in our neighborhood that is struggling financially," said Reinke. "It was a perfect opportunity to show our commitment to the community." Ever since it opened on Milpas Street about a month ago, the Green Well has marketed its collective as one of the only legal, completely conforming dispensaries in the city, and the proprietors say that one of its main objectives is to perform philanthropic acts throughout Milpas area neighborhoods.
After getting the green light from the AmeriCorps volunteer a month ago, Green Well members began accumulating the gardening materials that Lee and Reinke attempted to gift on Tuesday. However, when they showed up at the school, the two owners — along with a media contingent that had been alerted to the presentation ceremony by Green Well press releases — were met by school staffers who were decidedly surprised to discover the source of the gift.
According to County Superintendent of Schools Bill Cirone, "We had no idea that a medical marijuana dispensary was in anyway connected to a donation of soil for a community garden. We would not have accepted the donation had we known that was the case, and we are extremely disturbed by the way this action took shape." While school officials claim that they were never even notified of the media-attended ceremony, Reinke asserts that he and Lee spoke multiple times to the AmeriCorps member about the exact time and day they were to arrive.
Cirone, for his part, is claiming that there was an element of deception, saying Lee and Reinke purposely didn't reveal their business's nature. "We have grave concerns about the subterfuge that was involved, and the underhanded manner in which an event was staged for credit that was undeserved," said Cirone in a written statement. "We would not have accepted the donation had we known the source, and it seems clear that the Green Well CEO had anticipated such a reaction or else he would have made the true source of the donation known to us from the beginning."
Adding to the drama was the fact that the supplies were delivered in a truck owned by Jay's Landscaping, which has since attempted to distance itself from the event. Claiming to have no idea that its truck was being used for such purposes, Jay's Landscaping stated that the truck was taken without its approval. Reinke admitted that one of Green Well's patients, who runs his own landscaping company, used the truck and that there was no official collaboration with Jay's.
Although El Puente staff initially accepted the gardening supplies at the event, school officials have decided to give the soil and other materials back to the Green Well. "We just think it's cleaner and more straightforward to proceed this way," said Shelton. "There are a number of businesses that schools don't accept donations from, including tobacco and alcohol businesses, so this is not something we would have accepted in the first place had we known where it was coming from," explained Shelton.
Cirone echoed the sentiment, writing, "I am on record as opposing these dispensaries, especially in connection with schools, and it is simply incredible that the CEO of Green Well would think that this would be an acceptable step to take."
Looking forward, Reinke said that he and Lee will document any future donations in writing in order to avoid and possible confusion. They are also considering making donations anonymously from now on.