Film & TV
Conquerors of the Useless No More
180° South Climbs, Surfs, and Road-Trips to Environmental Redemption
No matter who you are or how much you like to think you have things figured out, spend six months on the road beyond the boundaries of your comfort zone and you're guaranteed to grow to as a human being. Better yet, spend that time journeying into the wilds of this great planet and you cannot help but have nature work on you — the rhythmic and raw dance of sunrises, sunsets, and everything in between rearranging your internal totem of life priorities into a much simpler order.
Such was the experience in 1968 when Yvon Chouinard, the Buddha-like founder of the Patagonia clothing company, and his mountaineering buddy Doug Tompkins loaded up a VW bus in California and started driving south to Chile on a climbing, surfing, and skiing road trip of epic proportions. And it happened again some four decades later, when camera toting adventurer Jeff Johnson re-imagined their journey and purposely retraced their path to Cerro Corcovado National Park, only this time swapping the V-dub for a sailboat. The film 180° South: Conquerors of the Useless — which has its world premier this Wednesday, February 10, at the Santa Barbara International Film Festival — is not only a simultaneous celebration of both these journeys but, more importantly, succeeds as a cinematic love poem to the Mother Earth-minded evolution of consciousness earned along the way.
Directed by Ojai-born and Gaviota-based filmmaker Chris Malloy, 180° marks a hard-earned departure of sorts for the once-upon-a-time pro surfer turned movie maker. An undeniable heavyweight in the world of surf filmmaking (Thicker than Water, Shelter, and September Sessions to name a few), Malloy had the road trip adventure thing with cameras rolling down pretty good long before production on 180° began. But a purpose-driven documentary — which 180° very much is — was uncharted territory for the 38 years-young goofy foot.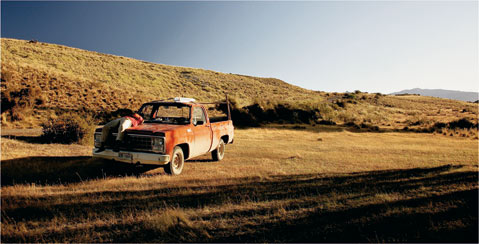 "This film, at least for me, was as much a learning experience as it was a film experience." summed up Malloy late last week in between surf and chanterelle harvesting expeditions along the Central Coast. "With surf movies, you don't really have to tell a story or even put names on a screen. You just get a crew together, follow hunches, pick out some spots, and go for it….This was quite different. This was a long arduous run. It was a lot to pull together."
In fact, to hear Malloy tell it, the seeds for 180° were planted nearly 10 years ago when he was living on the North Shore of Oahu, chasing big waves, and flossing his brain during flat spells with the adventure and environmental books lining the shelves at the Patagonia store in town. It was there that he was first turned on to the unbridled and often untouched beauty that is the Patagonia region of Chile as well as the preservation work of Doug Tompkins and his Patagonia Land Trust. "Right then, I was like, 'I'd do anything to there and just spend some time,'" recalled Malloy. And, when his buddy Jeff Johnson came across some old footage of Chouinard and Tompkins trip to the region — a journey that proved paramount in forming both the Patagonia clothing line and land trust — the idea of a modern reinterpretation of the trip began to percolate. Now, after a couple extended-stay trips to Chile over the past five years — including Johnson's mast-busting, six-month ride via sailboat and one particularly memorable oceanside clam-eating session with Chouinard that Malloy recently described as "one of the most magical evenings on a trip I have ever had" — and more than a year in the editing bay, the dream has been realized. And the result is much more than just your average explorer documentary.
Like wrapping a pill in a piece of delicious tri-tip so your dog will happily munch his medicine, 180° South uses timeless adventure on both land and sea, a world-class and mostly original soundtrack by the likes of Modest Mouse and Mason Jennings, stunning cinematography, and the reflective, often revealing ramblings of Chouinard, Tompkins, and Johnson (whose narration is actually a boiled down stew of his and Malloy's journals) to disguise what is actually a hardline environmental documentary about the the triumphs of preservation in Patagonia as well as the perilous pitfalls facing such efforts today.
"This is really a film about the place and the people and their stories." said Malloy, before adding almost defiantly, "And the message isn't that we all need to write a check to the Land Trust….It is about protecting where you are from."
4•1•1
Showing as part of SBIFF 2010's To the Maxx sidebar, the world premiere of 180° South: Conquerors of the Useless is at the Arlington Theatre on Wednesday, February 10, 8 p.m., at the Arlington Theatre.