Bottles & Barrels
Fun Flows in the Funk Zone
Municipal Winemakers' New Tasting Room
Making wine accessible and enjoyable is an important part of Dave Potter's mission. The owner of Municipal Winemakers has gone to great lengths to create a casual, creative environment in his new Funk Zone tasting room at 28 Anacapa Street, just behind the Kunin/Westerly tasting room. "Wine is fun and social," he said. "It's about enjoying life and the people you're with."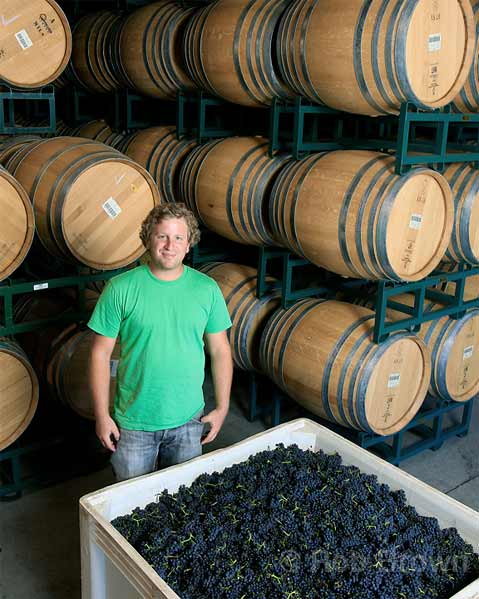 The tasting room's interior reflects this lighthearted and functional approach with movie-theater marquees depicting the wines and a collection of file cabinets-turned-glassware storage. And everything—from the wood-burning stove in the corner to the light fixtures overhead—is repurposed. The clever cellaring are wood pallets cut in half to accommodate bottles of Municipal Winemakers' latest releases.
Potter's winemaking philosophy is simple: Source high-quality grapes from selected vineyards and creatively handcraft small lots of wines that are balanced and deliciously interesting. After studying oenology in Australia—"where the surf is better than Davis"—Potter worked at a number of world-class wineries in both hemispheres and currently is a member of the winemaking teams at Fess Parker and Epiphany Cellars. It's clear after tasting his lineup of wines that while Potter draws upon his extensive international experience, it is his own innovative style and artistic expression that make his wines so delicious and unique.
Among those wines are the Bright White, a crisp, citrusy, dry riesling; the Bright Red, a spicy Côtes du Rhône blend; Potter's sumptuous '08 Syrah; the Dark Red, a rich shiraz-cabernet blend; and the FIZZ, a sparkling shiraz that strikes a jubilant balance of deep ruby fruit and effervescence.
Municipal Winemakers' grand opening is on Saturday, February 20, from 2-6 p.m. With $10 tastings, treats provided by Whole Foods Market, and a sunny deck where you can sip al fresco, it's a great way to have a little fun in the Funk Zone. For more information, visit municipalwinemakers.com.