News
Embezzler Gets Eight Years
Defense Claimed Gambling Addiction Prompted Theft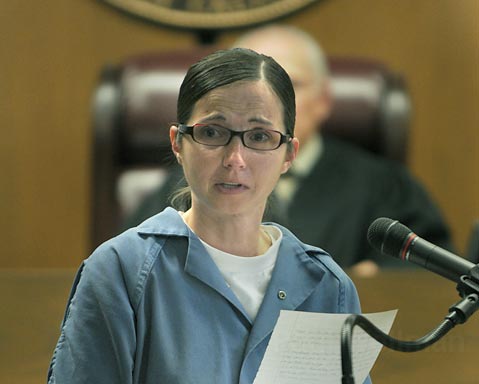 Though she snuck under the radar for roughly two years at the Santa Barbara Olive Company — embezzling more than $500,000 from her employers — Cathy Latou learned this week that indeed crime does not pay.
In fact, after being sentenced on Tuesday by Santa Barbara Superior Court Judge George Eskin, the only things Latou has to show for her years of deceit are an eight-year prison sentence and an order to pay hundreds of thousands of dollars in restitution, a task that will likely take the rest of her life.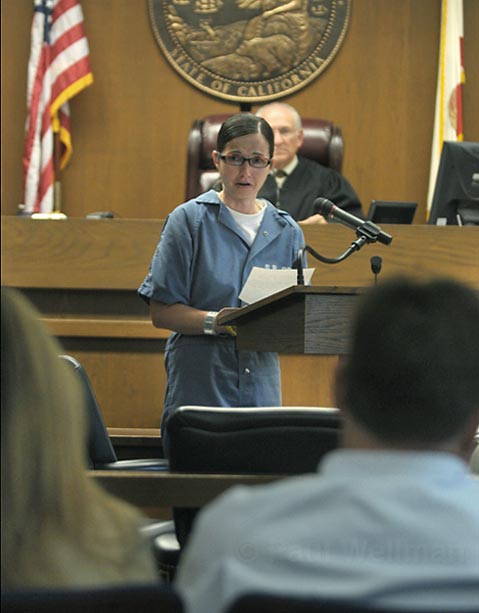 Latou, the former controller for the onetime locally owned family business — which has garnered worldwide acclaim for its products — pleaded guilty to one count of felony grand theft and 20 counts of felony forgery before the case even proceeded to trial. She was described by her victims — who asked that she receive the greatest punishment possible — as deceitful and dangerous, manipulative and calculating. The judge, to a certain extent, agreed. "Her overall conduct … reflects a callousness in my view that's indescribable," he said.
"She changed our internal controls in the guise of saving us money," Cynthia Makela said.
Latou, under the guise of strengthening the company's accounting books by rearranging bookkeeping procedure, did away with checks and balances that would have kept her accountable. She forged checks and used a company credit card to steal a total of $517,649.84 from the Santa Barbara Olive Company, authorities determined, beginning just months after she started her job there and continuing up until days before she was caught. She registered her personal phone number — with a Santa Ynez computer modem as the secondary, backup number — as the number credit card fraud companies would call to inquire about strange credit purchases. "She changed our internal controls in the guise of saving us money," Cynthia Makela said. It wasn't until a wary Chase credit card agent saw that the number listed on the company Web site didn't match the phone number registered with Chase that Latou's scam was revealed.
In the sentencing hearing, which began last week and continued Tuesday, Latou's attorney Bill Makler brought in clinical and forensic psychologist Dr. Katherine Emerick, who had reviewed letters and police reports and talked with Latou herself. Emerick said that though Latou had gambled socially for years (she apparently had slot machines in her basement), a series of stressors, including depression and financial issues, led to a gambling addiction which she fed by embezzling the money. "The money was available," Emerick explained.
At the Chumash Casino, Latou had gambled $449,021 in 2007, $2.2 million in 2008, and in 2009 — when she was arrested in March — she had already amassed a gambling volume of $691,465, according to authorities. She had a complex mental disorder that started with abuse as a child and was dealt with later in life by stealing and gambling, the doctor asserted, an explanation that prosecutor Greg Boller and Santa Barbara Olive Company employees didn't buy. As Olive Company human resources manager Debbie Niday explained, "I know two people who went through unimaginable things at the hands of relatives and caregivers in their childhood and are very successful individuals and upstanding citizens, so this defense for Ms. Latou just doesn't work for me."
According to a probation report, Latou had charged $361,127 on an Olive Company credit card in 217 transactions, some of the money being spent at linen and clothing stores, Las Vegas casinos, and restaurants. Additionally, she forged 20 checks to pay off credit cards, vehicle loan payments, and mortgage loan payments.
While Eskin was certainly sympathetic to the fact Latou had problems, he also recognized the sophistication of the crime, the magnitude of the theft, and the impact it had on employees at the Olive Company. The company had to reduce employee hours, decrease retirement contributions and medical benefits, and had to ultimately cut nine employees from the payroll. According to Cynthia Makela, the company had a profit of $173,000 in 2005, which plummeted to $161,000 in losses in 2007 and $387,000 in losses in 2008, numbers that "almost correlate to the money she stole." The Makelas themselves took pay cuts, and even loaned the company $100,000 out of their personal 401(k), but eventually had to sell the business — which at one time brought in $10 million a year — for only its assets. Additionally worked into the sale were jobs for the Makelas. What I really got [from the sale] was employment for five years," Craig Makela said.
Eskin, who told the court he struggled with this case for months — even taking it with him on vacations — was almost in disbelief at Latou's actions. "How she could be stealing $25,000 and then coming to work and discussing layoffs … is just incomprehensible to me," he said.
"I'm deeply sorry for the pain and betrayal this has caused you both," the petite, brown-haired, 39-year-old Latou told the Makelas Tuesday. "My heart is filled with shame."