News
Police Brace for $3-Million Cut
Union Chief Blasts Impending Pink Slips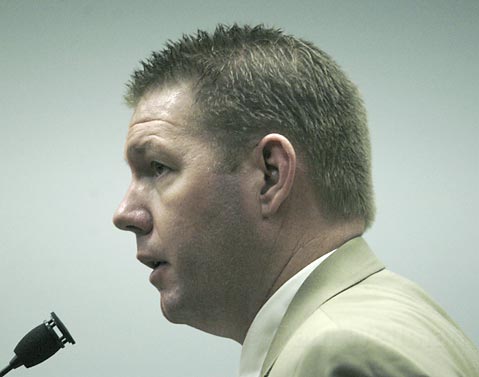 Even under the best of circumstances, relations between City Administrator Jim Armstrong and Sgt. Mike McGrew of the Police Officers Association (POA) are cautiously wary. But with the city's Police Department facing $3 million in budget cuts, circumstances are hardly ideal. McGrew claims that as many as 23 positions within the Police Department are now on the chopping block. And he's angry that city administrators will soon notify sworn police officers they might be getting pink slips at the same time City Hall is asking the union for wage and benefit concessions up to 10 percent. "It's a strong-arm tactic," McGrew charged. "They're saying, 'If you don't do this, we're going to cut all these cops.' That's just bad leadership." McGrew, head of the politically powerful police officers union, said he's rallying his members for an informational meeting later this week. The POA's contract with City Hall expires at the end of June; negotiations have not officially started.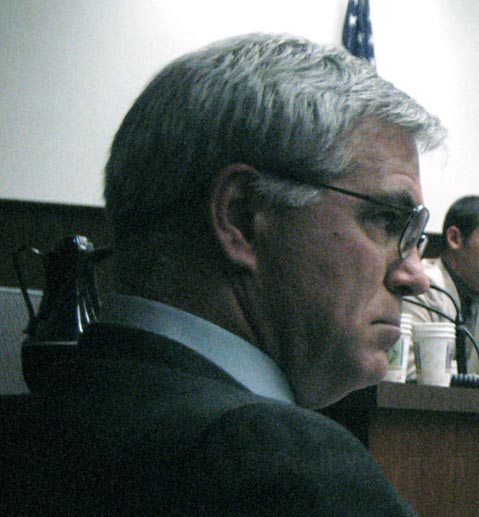 Armstrong is equally emphatic that no decisions have been made about the number of police positions that might need to be cut. He said City Hall is confronting a $9-million shortfall; accordingly, he's asked most department heads to outline ways to cut their budgets by 12 percent. By contrast, the police and fire chiefs were asked to cut by 10 percent. "We discussed the magnitude of the problem," Armstrong said, describing a meeting he had with McGrew. "And I implored the board of the Police Officers Association to make wage and benefit concessions." Armstrong said he's making the same pitch to all the unions representing city employees.
In a note to the City Council, Armstrong acknowledged that his office has already begun notifying employees who might be getting pink slips — estimated at approximately 50 — and that the notification process could continue another two weeks. "We will be stressing that, at this point, no decisions have been made," he stated. Ultimately, how many pink slips get issued, he said, depends on what kind of concessions the city's bargaining units are willing to make.
McGrew expressed alarm that public safety would be compromised should such cuts come to pass. Programs popular with the public like DARE, PAL, and the bike patrol could be eviscerated, he said. So, too, could the gang task force and even the detective bureau. "Everybody will be back in the black-and-whites," he said. McGrew argued that Armstrong should look at dipping into the city's reserves — provided by City Hall's $160 million in investments — before hacking public safety. Armstrong countered that of the city's total investment portfolio, only $17 million was legally available to the general fund, which pays for cops, firefighters, and a host of other city programs. And of that, he said, $15 million had already been set aside in case of natural disasters. The problem is, he said, that the police and fire departments consume 70 percent of all tax revenues the city generates, and those revenues have been steadily and dramatically sinking.
When push comes to shove, McGrew said the cops were willing to make some concessions, but nowhere near 10 percent. "That's where our members can't pay their mortgages," he said. Whatever happens, the city's other major unions will be paying close attention. If the cops don't make significant concessions, other unions will be far less inclined to make them, as well. Already, negotiators with the Service Employees International Union feel they've made significant concessions not matched by either the police or the firefighters.
One area where significant wiggle room may be found is in retirement payments. Of the $15 million a year City Hall pays out in retirement benefits, $6.4 million goes to the future retirement funds of current active-duty cops. If active officers agreed to reductions in their retirement benefits, they might be able to alleviate some of the pressure to reduce their take-home pay and benefits. McGrew stressed that he and the POA members have not discussed numbers yet. Such discussions, he said, need to take place before contract talks begin. But in a way, they already have. This was just the first salvo.