Columns
The Laid-Back University
A Case Study on "Brazilian Time," Among Other Amusing Cultural Points
Now that Carnival, summer, and weather suitable only for beach-going have ended, Rio is getting back down to business for 2010. But slowly — on Brazilian time.
Take my university, for example. Classes technically started on Tuesday, March 2. However, as a rule, this "starting" process will take almost a month. I remember well the traumatic late December evening that was the deadline for signing up for classes. I anxiously struggled to navigate the completely Portuguese Pontifical Universidade Católico (PUC) website in search of classes, their subject matter, their intensity, their times, their locations. It was impossible. Lazy and lacking willpower, I ended up throwing a bunch of random class titles into a chart, thinking "here goes nothing!" and clicking submit. Good thing. Those who worked hard to secure for themselves well thought out schedules did so in vain.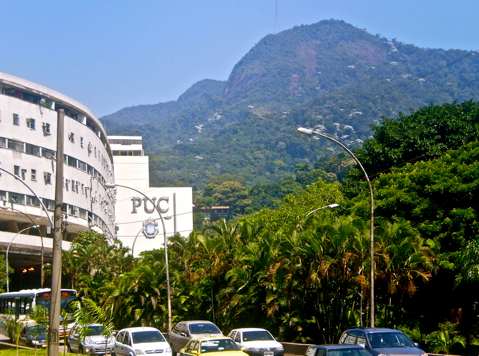 The new date is March 17. I am taking zero percent of the classes in which I originally enrolled. Or at least I will be. Half the classes I want are mysteriously not starting until next week. Why, I don't know. But according to the authorities, I'm in. The fact that my name is not on any lists and I have not sent any emails to professors is irrelevant. All I have to do is go to the class at some point before the 17th, and register — for real this time — on March 17. March 17 is the date to "de-para," or "drop-add." This funny little system is PUC's equivalent to the UC's online schedule-fixing system. But it's funnier.
All PUC students need to go to the same office, on the same day, at two specific times, in order to finalize our schedules. We are meant to bring a piece of paper with a list of classes we're adding — the ones we've been attending — and the ones we're dropping, which we probably never had any intention of attending. Why we had to add the classes only to drop them is a mystery.
Also mysterious is the concurrent add-dropping of everyone. Because all of this is simultaneous, the number of students who end up in each class seems unpredictable and unmanageable.
In fact, I've got until March 17 — three weeks after classes begin, even to show up to said classes.
As a side note, the division of PUC's student body into halves on "de-para" offers various amusing details. First names beginning with letters A-J go in the afternoon, and K through Z in the morning. For some reason, attendances, registration lists, or any official sort of alphabetized collection of names at the University is based on the first name. There goes my life-long privileged position near the top with a name like Bachman. Additionally, there are so many Brasileiros named "João" that they had to cut the alphabet not in half, between M and N (Mike and Nick) but quite lopsided. Between João and everybody else. (That the schedule puts the beginning of the alphabet later and the end earlier is just the icing on the crooked crazy cake.)
Professors who actually held class the first week treated the two-hour time slots a little like parties. They were fashionably late, and chatty as can be. A half an hour into the class they might introduce themselves. And if we were lucky, a syllabus would appear. Toward the end they take a list of students who aren't yet enrolled, expecting it to change by next meeting. They also read their list of enrolled students, expecting no response. Mostly they chat, and then end class early.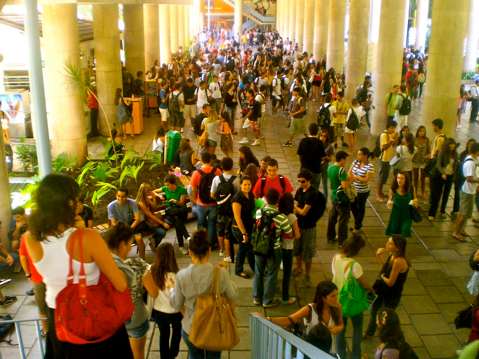 Students treat the meeting almost the same way — like a party held by their parents. They wear their most chic outfits. They are too cool for everything. Eyes are rolling everywhere. They pull their fancy new notebooks and pens from their fancy new backpacks, and proceed to text the entire time.
In one of my classes, the professor mentioned a book we need to buy for reading and homework. When a freshman asked where and when to buy it, the professor laughed. "Tranquilo, tranquilo!" In other words, don't worry about it. And that was that. Procrastination on my part is equal to being ahead of schedule in Brazil.
The one exception I've detected is the Portuguese for Estrangeiros classes. While their exact attendances and the levels of each student require a couple weeks to settle, the class itself actually meets, and subject matter is discussed. Because Portuguese class is not an option, all exchange students go. It's nice to get a glimpse of what serious school might be like, once the Brazilian university system gains a little more momentum.
But you never know. "De-para" is not for another two weeks, and we are free to shuffle classes until then. The possible outcomes are endless!
Regardless, every way I look at it, "de-para" day looms in the future as long, frustrating and tedious. It's going to be another one of those days where we all say, "Brazilian bureaucracy," and shake our heads. It will be reminiscent of the visa application process, registering with the federal police, applying for a Brazilian Identification card, going to the bank or post office, or even paying for groceries. Why should registering for classes function under a more efficient system? Hell, we've got nowhere to be.
Timely preparedness and tidy schedules are for North Americans!