Environment
The Big Ship-Out
Santa Barbara Channel Traffic Mutates and Air Quality Improves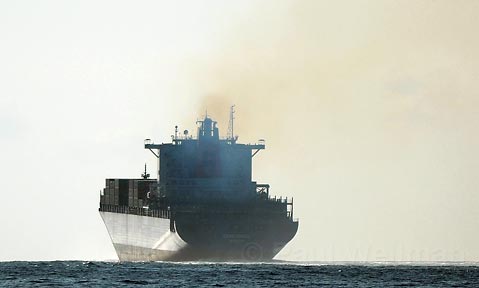 If you've been breathing easier on the South Coast of late, it might have something to do with the big boats that travel through the Santa Barbara Channel or, more specifically, the lack of large vessels running through the channel these days. For a couple years now, the folks from the county's Air Pollution Control District have considered the emissions from large shipping vessels motoring through our aquatic backyard to be public enemy number one in the local fight against human-caused air pollution. Now, thanks to an unintended side effect of a recently implemented fuel regulation for shipping vessels by the California Air Resources Board, the Santa Barbara Channel is seeing a wholesale reduction in thru traffic. While it appears the air we breathe is all the better for it, the story is far from over.
In July of last year, a new rule went into effect that requires all shipping vessels traveling within 25 miles of the California coastline to use a "cleaner," 2 percent sulfur content fuel mix. Made with an eye on the environmental side of things, the change also had an economic impact as the 2 percent fuel is markedly more expensive for ships to run, and as a result, many vessels are trying to minimize the impact of the new clean fuel standard on their bottom line. "[Shipping] being a business and all, ships have to watch their money and, especially in these current economic times, that is exactly what they are doing," said Captain Dick McKenna, executive director of the Marine Exchange of Southern California, earlier this week.
Specifically, many ships looking to skirt the rules are now charting new courses in their approach to Los Angeles and Long Beach harbors that keep them further off California's coastline for a longer period. According to McKenna, before the fuel rules went into place, roughly 65 percent of all the traffic coming in or out of Los Angeles and Long Beach—which are two of the busiest harbors in the United States—was traveling, at some point, through Santa Barbara Channel waters, while 7 percent of traffic at the ports was approaching or departing to the west. Now, in the eight months since the rule change, 50 percent is coming from the west (i.e., traveling on the seaward side of the Channel Islands chain) and 17 to 18 percent is still using the channel. "It has been a drastic change," summed up McKenna. Moreover, as Santa Barbara County air quality honcho Terry Dressler sees it, this shift means the historical average of 18 to 20 large shipping vessels using the channel every day (which, based on a 2007 study, accounted for more than 40 percent of all the county's manmade air pollution problems) is now down to five to six ships a day, a reduction of approximately 70 percent. Even better, as Dressler put it this week, "A 70 percent reduction [in vessel traffic] essentially means a 70 percent reduction in air pollution."
But it isn't all on the upside in the shipping traffic switch. In fact, the Channel Islands National Marine Sanctuary Advisory Council—the multifaceted stakeholder group that keeps its fingers on the pulse of anything and everything sanctuary related—has been working for the last five years to better understand the habits and impacts of the vessels that travel in and around America's least visited national park. The ongoing traffic study, which had been ratcheted up in 2007 after four blue whales were killed in channel waters (possibly as the result of collisions with shipping vessels), is once again a hot topic for the council. Besides the air quality issues, there are inherent safety problems related to having so many ships now traveling in a body of water that has no official shipping lanes: Who goes where? How quick can emergency responders get there if an accident occurs? And so on.
And, while the latter is of particular concern to the United States Coast Guard—they are slated to begin an official investigation of the new patterns later this spring—there is also a safety concern with folks from the United States Navy, who frequently conduct missile testing and various other activities in the region. There is also a major liability issue for the vessels themselves, as most insurance policies typically require big boats to stay within identified shipping lanes in order to remain fully covered. Last but not least, there remains the issue of ship versus whale collisions, as all research done since the deadly 2007 migratory season was based on studies within channel waters.
The Advisory Council will be hearing presentations on the issue from various stakeholders at its regular meeting on March 19.