News
Shoot-Out at the Bulb-Out Corral
Planned Curb Extension Survives, Just Barely
By the time Santa Barbara City Council members got around to voting on a solitary bulb-out proposed for the northwest intersection of Milpas and De la Guerra streets, about the only thing they hadn't witnessed was someone taking off their shoe and pounding it on the speakers' podium. Short of that, they heard nearly four hours' worth of dire warnings by proponents and opponents of the controversial six-foot curb-extension that developer Jarrett Gorin agreed to build—at City Hall's suggestion—in front of the mixed-use condo project he recently won approval to build.
When the dust settled, the solitary bulb-out still stood, having narrowly survived—by 4-3 vote—an appeal waged by Rick Feldman, owner of the Eyeglass Factory, and James Westby, a retired General Motors executive who has emerged as a politically influential critic of bulb-outs, traffic circles, and other "traffic calming devices" favored by alternative transit advocates.
Westby and Feldman contended that the intersection was already safe, that the bulb-out would put pedestrians and bicyclists in harm's way, and that the bulb-out could be built only by cannibalizing the space now occupied by a right-hand turn lane on De la Guerra Street as it intersects with Milpas Street. City traffic engineers insist that the third lane would remain. No, they acknowledged, there were no pressing safety concerns at that particular intersection, but bulb-outs, they stressed, were called for in the city's pedestrian master plan.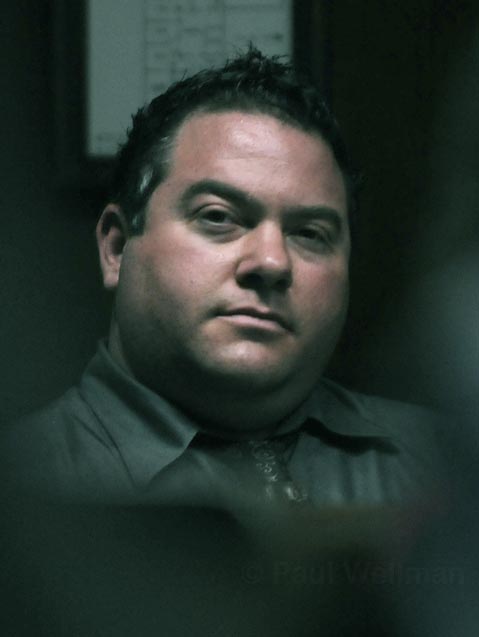 The curb extensions gave pedestrians greater sight lines when crossing Milpas, one of the city's busiest streets, and reduced the distance that pedestrians needed to traverse to get to the other side. Caught in the crossfire between the warring bulb-out tribes was developer Jarrett Gorrin, who said he was "100 percent neutral" on the question of bulb-outs in general, but emphatically opposed to the appeal. Gorin noted this was the first time he'd seen a development challenged on the grounds that it complied with existing city policies. Usually, he said, it was the other way around.
Favoring the appeal were councilmembers Dale Francisco, Michael Self, and Frank Hotchkiss, all of whom have campaigned against bulb-outs. Opposing the appeal were Mayor Helene Schneider, and councilmembers Das Williams and Grant House, who have argued that bulb-outs can serve a useful function.
Occupying the hot seat was newly elected Councilmember Harwood White, who lived up to his advance billing as the swing vote on an otherwise ideologically divided council. During the recent campaign, White explained, he'd been moved by the passion of complaints he heard about bulb-outs and the "Big Brotherly way" City Hall had of imposing them from on high. But this was different, White stressed. "We have our educational core advocating mightily for it," he said. White and the other three council members insisted they would not allow any traffic lanes to be lost to accommodate the creation of the new bulb-out.
The length and intensity of the council's deliberations are perhaps more significant for what's in store than what actually transpired. If the council finds itself so split over a minor detail—one bulb-out—of a relatively small development project, how can it hope to negotiate the storm of controversy about to be unleashed by Plan Santa Barbara, an epic planning document that hopes to chart the city's development course for the next 20 years?
Proposed in the fine print of this plan, officially released last week, are aggressive changes in how City Hall seeks to control traffic congestion. Free on-street parking, for example, could be replaced by metered parking. To discourage downtown workers from parking in either of the city's two commuter lots, monthly rates could increase to prohibitive new levels. By reducing the availability of affordable parking, motorists could be discouraged from driving downtown and be strongly urged to start walking, biking, or taking the bus instead.
Propelling such proposals is an assessment that under any growth scenario City Hall examines—no-growth to intense growth—congestion at key intersections will remain at unacceptably high levels. Only by dogged pursuit of "transportation demand management" strategies, city consultants concluded, can the congestion be ameliorated. Many of these strategies have already been blistered by members of the council minority as "social engineering."