Angry Poodle
Dog Daze in the Afternoon
Angry Poodle Barbecue
DON'T CALL ME, I'LL CALL YOU: It seems that the folks running the county's Mental Health Services — officially known as Department of Alcohol, Drug, and Mental Health Services — have embraced their inner "Never Explain, Never Complain" modus operandi, first popularized by former auto magnate Henry Ford II, who allegedly coined the phrase while drunkenly driving through Santa Barbara and crashing his car — not a Ford, by the way — while in the company of a woman conspicuously not his wife. A car wreck, it appears, is an apt metaphor for Mental Health Services, which despite the heroic efforts of many dedicated employees over the years, has long been the poster child for bureaucratic euthanasia. In recent years, the situation there has gone from bad to unbearable. The rate of turnover among top managers is enough to induce whiplash, and money flies out 20 times faster than it comes back in. Even without the convenient excuse of the state budget meltdown, Mental Health has had its own independently generated fiscal nightmare — to the tune of $25 million. This stems from hyper-optimistic billing practices that allowed delusional department managers to think the state would be paying them a whole lot more than they were entitled to. Actually, it's even worse than not getting money that you expected. It's having to pay back what you did get. If that wasn't bad enough, Mental Health executives announced — halfway into this year's budget — they had sprung a $3.3-million budget leak. Somehow, costs had to be controlled. If I were running that show, I certainly wouldn't want to talk about it. And even less would I want to talk about new treatment protocols I'd devised for the poorest of the poor — chucking them overboard. Presumably, if these can float, then they're cured. And if they can't, I guess we won't have to listen to them screaming and hollering up and down State Street anymore.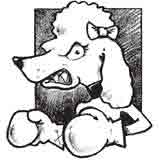 With a conspicuous lack of fanfare or even a modicum of public notice, Mental Health executives enacted a series of cuts two weeks ago designed to save the department $2.4 million. They did not ask. They did not tell. And certainly, the county Supervisors never approved these cuts. In the process, up to 900 indigent mentally ill found themselves either cut off from services they'd previously received or had those services curtailed in significant fashion. Lara Cooper of Noozhawk did an excellent job reporting how Mental Health administrators cut the county's allocation to secure desperately needed mental health beds in Ventura's Vista del Mar facility by more than half. Normally, Santa Barbara reserves 12 beds for Santa Barbara residents in desperate need. Translated into actual lives, that means 236 of the 400 people whom Santa Barbara typically sends to Vista del Mar every year will now be at loose ends when they reach their breaking point. Where do you suppose they will go when that happens? If we're lucky, they'll have the good sense to check themselves into the Cottage ER. But if we're not, the SWAT team could be busy.
Likewise, Mental Health has put a serious lid on treating people with both substance-abuse and mental disorders. Or, as one county social worker put it, "If you blow numbers, they won't do 5150 assessments anymore." The code 5150 refers to the state policy allowing involuntary psychiatric holds on individuals who pose a threat either to themselves or to others. "Blowing numbers" refers to testing positive for drugs or alcohol. Given that people in extreme distress are inclined to medicate themselves into obliteration, this new policy is clearly problematic. It's not so much a case of closing the barn door after the horses have gone as it is of locking the barn door with the horses inside, while the barn is burning down. Last time I spent any time hanging around the Cottage ER, it seemed plenty busy and plenty eccentric already. Beyond that, Mental Health Services officials have decided to stop providing services for low-income people too messed up to apply for Medicaid assistance. This is a universe of several hundred troubled souls.
Budget cuts of these magnitudes easily qualify simultaneously as "turd-in-the-punch-bowl" and "skunk-at-the-garden-party." At a minimum, people should have been alerted that they're happening. Better yet, maybe somebody should have been consulted before the fact. The cuts were implemented effective March 15. One day later, the county's Mental Health Commission convened somewhere in the Santa Ynez Valley, mutually inconvenient to almost all the stakeholders involved. Strikingly, the issue never came up. The advisory commission appointed by the county Supervisors to give advice on mental health concerns was never told or asked about the cuts. Is it possible that was an oversight? This Tuesday, the Mental Health Commission met again, also in the Santa Ynez Valley. I don't know what happened. But the timing couldn't have been more piquantly propitious. It turns out that at the same time, the Santa Barbara City Council had scheduled a discussion of some 12-point program to deal with the aggressive panhandlers, the chronically obstreperous, the habitually inebriated, and others disinclined to go quietly into anybody's long good night. Given that the indigent and mentally ill feature prominently in this population, many of the key mental health stakeholders found themselves intensely conflicted as to where they should be. Was it possible that was a scheduling oversight, as well? Some in the mental health advocacy community don't think so. But of course, they could just be paranoid. And unfortunately, with all the not-so-quiet cuts being made to Mental Health Services, it's not likely they'll be getting the treatment they need. And when that happens, the least of our problems will be aggressive panhandlers. In the meantime, how 'bout spare change for the mentally ill?