Sports
The Painting Punter
UCSB Hall of Fame Inducts Former NFL Star Dave Chapple, Now an Esteemed Artist
There are no punters in the Pro Football Hall of Fame. Dave Chapple, who set an unofficial NFL punting record, has no problem with that. "There are guys who aren't going into the Hall of Fame who had a lot more impact on games than I did punting four or five times," Chapple says.
Chapple roomed with two such players during a preseason camp with the Los Angeles Rams: defensive end Fred Dryer and linebacker Jack "Hacksaw" Reynolds. Not only were they great players, Chapple says, but "I didn't need a TV, those guys were so entertaining."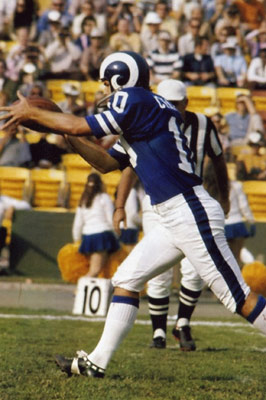 Despite his misgivings, Chapple is proud to be going into the UCSB Intercollegiate Athletics Hall of Fame. For one thing, it brings recognition to the abandoned Gaucho football program of the 1960s. Chapple not only punted but also scored points on field goals and conversions as a placekicker. Moreover, it was in Santa Barbara that Chapple began to dream about his future—not as a pro football player, but as an artist.
If he had not gone to UCSB, Chapple wonders if he would be making his living as a painter and sculptor today. "USC, Cal, and Oregon all talked to me in high school," says Chapple, who showed some athletic prowess at Arcadia High. "I didn't have the confidence to think I could play in the Rose Bowl. UCSB sent me a letter, and I followed up on that."
He thrived on and off the field as a Gaucho. "The experience of small-college football was wonderful," Chapple says. "You had camaraderie while being involved in something bigger than yourself, but it wasn't so controlled that all you did was play football. I had freedom because of the setting."
Chapple's freedom enabled him to take a part-time job at the Santa Barbara Museum of Natural History. "I collected specimens and did bird taxidermy," he explains. He was so taken by the beauty of the feathered creatures that he began painting them in detail. Waldo Abbott, the museum's curator of birds, became his critic. "He'd point out my mistakes," Chapple remembers. "Everything was in place to help me learn."
He was productive for the Gaucho football team, kicking 10 field goals during his sophomore season in 1966. "The national record was nine," Chapple says, "but that year, Jan Stenerud of Montana State kicked 13." He also boomed his punts, achieving a career average of 41.8 yards.
A highlight of the 1967 season was the first Gaucho football game at Campus Stadium (previously they played 12 miles away at La Playa Stadium): a 64-3 victory over Cal Western. "It was a beautiful field," Chapple says. "It was like falling down on a mattress." Later named after Spud Harder, a former UCSB football coach and administrator, the stadium is now a noted soccer venue. It will be the home of the 2010 College Cup, the NCAA soccer championship, next December.
Chapple's football teammates are spearheading an effort to build a gateway to the stadium and name it the Curtice Gate in honor of their late coach, "Cactus" Jack Curtice. "I think that's very appropriate," Chapple says. "Jack Curtice gave everything he had. It wasn't about himself as much as the program. Coaching was only part of it. He put phenomenal energy into things outside of practice." Among those things was building the stadium.
After his last season in 1968—three years before UCSB, citing budget concerns, scuttled the football program—Chapple was the first kicker taken in the NFL draft by the San Francisco 49ers. "I was supposed to replace Tommy Davis as their placekicker and punter, but I slipped a disc in my back," Chapple says. "I didn't play for two years; then I signed with the Buffalo Bills." In the meantime, he became strictly a punter. "You use different muscles," he says. "You can't do both [punting and placekicking] over 20 games."
Chapple's best years as a pro were with the Rams. In 1972, he averaged 44.2 yards a punt, and even more remarkable was his net average (subtracting yardage from returns and touchbacks) of 42.1 yards. He was a Pro Bowl punter that year. After net average became an official NFL statistic in 1991, Oakland's Shane Lechler was the first punter to surpass Chapple's performance, in 2007.
In a Sports Illustrated article about punters last December, John Ed Bradley wrote: "Despite the punter's demonstrated strategic importance, he is often pegged as a pasty, emotionally challenged team pariah … "
Chapple did not feel that way with the Rams. Early in the 1972 season, he pounded the football against the Chicago Bears at Soldier Field—his five punts sailed an average of 50 yards. "On the flight home," Chapple recalls, "Merlin Olsen said, 'Get back here. You're part of the defense.' They considered me one of them."
The Olsen brothers, Merlin and Phil, became good friends of Chapple's. He was surprised and saddened by the death last month of Merlin, the great Hall of Fame tackle. "He was as fine a person as you'd ever want to meet," Chapple says. "He never said a word about his cancer. It hit me hard. I think of the dinners we'd have out. Some of those evenings, you'd laugh so much you were sore."
Punting and painting were Chapple's twin pursuits until 1975, when he retired from football and devoted himself to art full-time. He began with wildlife depictions, but now, he says, 80 percent of his work is California landscapes. He works in his Irvine studio six days a week, 10 hours a day. "I don't have a computer, and I don't have a radio on," he says. "I want it quiet."
He has been commissioned to do several works of public art, including a larger-than-life-size bronze sculpture of the late Olympic sprinter FloJo (Florence Griffith Joyner) at the entrance to the Saddleback Memorial Medical Center in Laguna Hills.
Chapple's induction into the UCSB Athletic Hall of Fame will take place Saturday evening, April 24, at the Thunderdome. Seven other Gaucho greats are slated for enshrinement: Kim Bryson (swimming), Colman Conroy (track and field), John Dobrott (water polo), Christa Gannon (basketball), Jason Lezak (swimming), Jean Okada-Mueller (tennis), and Todd Rogers (volleyball). Unfortunately, prior commitments will prevent Lezak and Rogers, the 2008 Olympic gold medalists, from appearing in person. For information on the ceremony, call Hazel Ando at 893-8320.
HALLS GALORE: Bob Dinaberg, former Santa Barbara City College coach and athletic director, has been inducted into the halls of fame of five institutions. Count them: the Santa Barbara Athletic Round Table, the California Community College Football Coaches Association, the National Association of Collegiate Directors of Athletics, the National Association of Two-Year College Athletic Administrators, and the California Community College Athletic Association (CCCAA). The CCCAA—which honors students, as well as coaches and administrators—has a star-studded Hall of Fame. Besides Dinaberg, the Class of 2010 includes Michael Cooper (Pasadena CC), the former Lakers star, and the late Pete Rozelle (Compton College), the legendary NFL commissioner. They were honored last week in Ontario.
IT'S ACADEMIC: Nine local high school teams will be applauded at Angel Stadium in Anaheim on April 27 before the Angels take the field against the Cleveland Indians. They are the recipients of CIF-Southern Section Team Academic Awards. There are four winners each from Dos Pueblos (girls cross-country, girls soccer, softball, and girls track and field) and San Marcos (boys cross-country, girls swimming, boys volleyball, and wrestling). Carpinteria High's girls golf team also achieved the highest grade point average in the section and will be presented with a $500 grant from the Women's Southern California Golf Association Foundation.