Bottles & Barrels
A Glass for Every Grape?
Glassware Evolution Brings Wine to Artistic Heights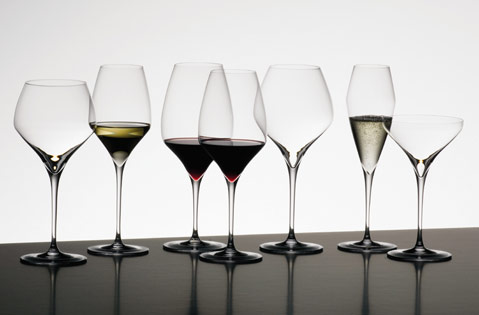 Astronomer Galileo Galilee once proclaimed, "Wine is sunlight, held together by water." Following that poetic logic, such a remarkable liquid should be sipped from a vessel no less resplendent. And wine glasses, like lucent picture frames showcasing works of art, enhance the essence of their contents with total transparency.
Throughout the centuries, the basic elements of wine glass design—the clear bowl, stem, and foot—have not changed a great deal. In fact, the glasses depicted in Bonifacio Veronese's famed 16th-century painting "The Last Supper" look surprisingly similar to the glasses used as instruments on YouTube to play "Ode to Joy." But in recent years, scientific innovation and subtle modifications in shape, size, and construction have fine-tuned and improved the performance of stemware tremendously.
Much of this advancement can be attributed to Clause Josef Riedel who, in the 1950s, discovered that the shape, volume, rim diameter, finish, and thickness of the glass determine how aromas strike the nose and where precisely the wine touches the palate. If you consider the map of the tongue's taste receptors—sweet on the tip, tart on the sides, savory in the middle, and bitter in the back—it makes sense that directing the flow of wine to a particular spot might enhance the tasting experience.
I recently attended a stemware seminar sponsored by Classic Party Rentals at which a representative from Riedel Crystal guided our group through numerous side-by-side tastings of the same wine in a variety of glasses. We first appreciated the appearance, aromas, and flavors from the appropriate glass, and then poured the remaining liquid into glasses that were either of lower quality or designed for another varietal. The results were astonishing.
We quickly learned that the bowl's size and curvature alter the arrangement of aromas, which are layered according to their density and specific gravity, and influences the order in which these aromatics are experienced. The shape can also highlight particular flavors, such as fruit or spice, by directing them to the appropriate taste receptors, a principle that's also effective in minimizing a certain grape's less desirable qualities. Bowl width also increases the wine's rate of oxidation, allowing the tannins to integrate better and for the complexity to be drawn out. That's why wide-bowled stemware is ideal for red wines that require plenty of air to reveal their full flavor.
Inspired by Riedel, many wine glass producers have developed varietal-specific stemware. Do you need to purchase a different glass for each grape? That depends on your budget, usage, and cupboard space, but professional opinions on the topic vary greatly. Wine Spectator's James Laube claims that a simple burgundy glass is all that he requires, and Santa Barbara's Bob Wesley of The Winehound takes a similarly no-nonsense approach. "While it's important to use quality glassware to help focus aromas and flavors," he said, "you really don't need a varietal-specific glass to enjoy your wine." Though he sells the entire line of Riedel stemware, he recommends purchasing a good burgundy glass with a deep bowl that allows for "maniacal swirling, without spilling wine on the carpet, couch, or nearby pets."
In contrast, David Cable of East Beach Wine Company encourages oenophiles to invest in an array of top-quality stemware in order to maximize the flavors of the wines they purchase. "You don't get the full experience of what a wine has to offer, especially the nuances, by drinking it out of the wrong glass," he claimed. Cable offers the entire Riedel stemware line at his La Arcada store and even sells Eisch glassware, which are "breathable" wine glasses from Germany made with high-tech, oxygenated glass.
I enjoy the ceremonial aspect of selecting the glassware most suitable for a particular wine and have four glasses—burgundy, bordeaux, white wine, and champagne—that I use for every sipping situation. But I also feel that so much creative expression and work goes into a bottle of wine that I can't imagine pouring it into a glass that didn't honor that effort by showcasing the wine's finest attributes. And as I settle down this winter with an enigmatic pinot, framed in a beautiful, crystalline burgundy glass, I'll know that I'm savoring the full spectrum of the wine's color, aromas, and flavors—and celebrating it as art.