News
Too Much of a Good Thing
Have Animal Protection Laws Gone Too Far?
The Humane Society of the United States recently named California as having the strongest animal protection laws in the country. Here in California, we have regulations that protect animals from cruelty whether they are owned pets, farm animals, or wildlife. We scored 45 on a 65-point check list for laws governing conditions on farms, in shelters and in laboratories. California is one of the few states in the nation that outlaws the use of animals in product testing when there are other alternatives available. We also give students the right to forgo animal dissection in schools. Likewise, our state prohibits all forms of animal fighting and the keeping of primates, venomous snakes, bears, wolves, and big cats as pets.
California also outlaws force-feeding of geese for the production of foie gras, battery cages for egg-laying hens, and tail-docking of dairy cows. Just this week, the California assembly voted to close a loop-hole in federal law that allows many fur products to go unlabeled. Current law requires labels only for garments that have $150 or more worth of animal fur. The bill now goes to the state Senate for consideration. If it's signed into law, California would become the sixth state to impose the labeling requirement.
As an animal welfare advocate, I'm proud of the achievements California has made with regards to animal protection. But recently, certain proposed laws have me thinking, have animal protection laws gone too far?
California Senator Dean Florez just introduced a bill that he says would help ensure the safety of California's animal and human residents. If passed, SB 1277 would require criminals convicted of cruelty to animals to be listed on a public registry. So far this sounds good to me. Requiring convicted animal abusers to register would prevent countless animals from being abused by alerting law enforcement and the public to their whereabouts and by allowing animal shelters to thoroughly screen potential adopters for criminal histories. I know from first-hand experience that animal shelters cannot always screen as heavily as we'd like when adopting out animals.
The registry, which under the law would be posted on the Internet, wouldn't just include names. The bill calls for photographs, home addresses, physical descriptions, criminal histories, known aliases, and other details to be made public. Animal abusers would essentially be tracked like sex offenders. I have no problem with this bill in theory; my gripe is how California is going to fund it. The tool is estimated to cost between $500,000 and $1 million to launch, and to pay for it, the bill calls for both fines on animal abusers and a new tax on pet food. That doesn't sit well with the pet food lobby, since it argues the tax punishes the very people who are trying to help, not hurt, their animals. I would also argue that at a time when pet owners are being forced to surrender their animals to shelters due to economic reasons, taxing pet food would just exacerbate the problem.
Other countries are also making strides to protect animals. Switzerland has some of the toughest animal laws on the books. For example, pet owners may not crop the tails of dogs or use sandpaper to line the bottom of a birdcage. Puppies may not be separated from their mothers before they are 56 days old. Birdcages must have horizontal bars so that the birds can climb. Horses must not be tied up and must be kept in close enough proximity to other horses to be able to see, hear, and smell them. Hamsters must be kept in groups; ideally, owners should keep two or more females with one neutered male. Keeping only female hamsters is discouraged as they tend to fight without the presence of a male. Similarly, owners of parakeets must keep at least two of them. It is preferable to have even numbers of the birds, as they tend to fight if kept in odd numbers. Using choke collars on dogs is forbidden. Cats must have contact with humans each day. If that is not possible, they must have contact with other cats. Bird cages and aquariums must have at least one opaque side to make the occupants feel safe. Their animal cruelty law even specifies how to put down a sick fish: with a sharp blow to the head, or immersed in water mixed with clove oil dissolved in alcohol. You can't just flush them down the toilet. Serious animal cruelty is punishable by three years in jail. I personally think these are great laws.
However, recently, an attorney in Zurich went to court in defense of a 22-pound pike that had fought a fisherman for 10 minutes before surrendering. Antoine Goetschel wound up with the pike as a client when animal-welfare groups filed a complaint alleging animal cruelty. Goetschel argues that this shouldn't be legal when other animals have to be slaughtered in a humane way. Mr. Goetschel handles about 180 animal cases a year. He points to stiff fines he has won—such as an 8,800-franc ($8,200) fine for a farmer who kept a dozen sheep underfed and without water. He even secured a 1,050-franc fine for a woman who abandoned two kittens in the street soon after buying them. As far as the pike, Mr. Goetschel lost the case last month, but is considering an appeal. Unfortunately for the pike, any further court action would come too late as it has already become someone's dinner.
Several weeks ago, the British government proposed legislation that would force dog owners to microchip and take out insurance for their pets. Although postal workers were delighted, opponents complained that this would impose a financial penalty on innocent pet owners. I thought the microchip aspect of this proposal would be helpful in tracking owners of stray dogs at shelters; however it seems the main objective of this proposal is to use the microchips to trace the owners involved in dog attacks, while insurance would mean that the victims of dog attacks are compensated for their injuries. This would explain the excitement of the 6,000 postal workers who are bitten each year in Britain. This proposed legislation won't be decided on until June 3. A host of European countries —including Switzerland, Austria, Norway, Croatia, Italy, and Portugal—have introduced mandatory microchips in recent years. Mandatory dog insurance is in place in parts of Switzerland and Germany. Many Londoners supported the idea of microchips for their pets.
No matter where you stand on these recent animal protection proposals, one thing is clear, as Gandhi once said: "The greatness of a nation can be judged by the way its animals are treated." I couldn't agree more. For more information on animal cruelty and how you can take the pledge to fight animal abuse, visit aspca.org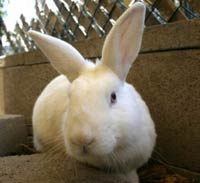 Adoptable Pet of the Week
Wiley is a good bunny. He enjoys being pet and will snuggle with the best of them. Wiley is house trained and spayed/neutered. And good news for adopters, B.U.N.S. has knocked $5 off the adoption fee!
Bunnies Urgently Needing Shelter (B.U.N.S.) is a volunteer organization that cares for abandoned rabbits. B.U.N.S is located at the Santa Barbara County Animal Shelter, 5473 Overpass Rd., Santa Barbara. B.U.N.S. works to find bunnies permanent homes, and educates the public on caring for a companion rabbit. For more information, visit bunssb.org.