Columns
Nothing Like Last Year
But Floatopia 2010 Was Not Bad
You have to admit the idea of getting a group of friends to meet up at the beach and party together is a pretty attractive scenario for many students. Now multiply the guest list until you have about 12,000 students partying, drinking, and doing whatever else. That was Floatopia 2009.
After last year's event, the word Floatopia became a dirty word. It became synonymous with debauchery, and disrespect for the environment. It's true that not all students at Floatopia last year were to blame. There were many who acted responsibly, and took their trash with them when they left the beach. However, there were too great a number who didn't. There were also all the alcohol–related problems, and near-deaths.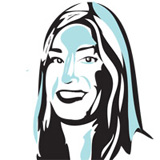 The outrage in the community after Floatopia last year was great. And so were the costs. Since Floatopia was a spontaneous, Facebook fed-event, there was no one to be held accountable. But who ended up paying for the costs of all that fun? The citizens of Santa Barbara County, of course.
When this year's Floatopia, the second annual, was publicized on Facebook, and the confirmed guest list started to grow by the thousands, the county had to decide what to do.
They took their first step toward preventing another Floatopia debacle by banning alcohol on the beaches below Del Playa Drive. But as the day approached, officials didn't seem to think that the alcohol ban would be enough to stop the hordes of people who were planning to congregate on the beaches this year. So the county and UCSB decided to take the extreme step of closing off the beaches on the day of the proposed event.
Longtime locals fired off emails to each other discussing what they thought of the proposed closure. While there was outrage over the fact that the beach would be cut off to responsible citizens, there were quite a few who felt that the benefits would outweigh the inconvenience.
Students, meanwhile, instead of taking the beach closure lying down, decided to turn Floatopia into a Del Playa block party. By the day of the event, the list of confirmed guests on Floatopia's Facebook page numbered more than 11,000.
So last Saturday, officials, locals, and UCSB students met the cloudy morning with a range of feelings, from trepidation to eager anticipation. The community held its collective breath. Would things get crazy?
But, overall, things turned out well. Police, who barricaded beach access and monitored party-goers along Del Playa, ended up arresting more than 30 people and issuing more than 100 alcohol-related citations. But the event could be called peaceful, and even enjoyable.
"It was pretty fun," said UCSB student Abby Theodros. She didn't spend much time roaming around among the tons of people walking up and down the street, but ended up at friend's house on Del Playa with an ocean view.
Jessica Andrews, a UCSB student who attended last year's celebration also, said she had at a good time at this year's event. She too spent only a little time on the street. She took a stroll down Del Playa with the masses, but then ended up at a neighbor's house to hang out with her friends and listen to a deejay. While Andrews enjoyed Floatopia 2009, she hadn't liked the aftermath. She brought trash bags to the beach and took her refuse with her. But others had not. "I felt that a lot of people were super irresponsible," she said.
If you had visited downtown I.V. last Saturday, you would have seen a lot of drunk people, but there didn't seem to be a lot of problems. There was a long, long line outside Freebird's—it took about 30 minutes to get close enough to order—but the people in line didn't seem bothered. Everyone seemed to enjoy seeing people and being seen. They were also planning for the next part of their night, which, if the lines at the liquor stores were any indication, involved a lot of drinking.
This year's celebration might not have been like last year's, but it seems to have been an okay alternative for students, community members, and officials.
While it feels wrong to close off beach access for any reason, other than a toxic spill or something of that nature, it seems to have helped I.V. dodge a bad situation. Maybe in the future there will be a way for students to have a big beach celebration without causing damage to the environment, or threatening public safety.