News
Give to Shelters, Not Panhandlers
City Unveils Money Texting Campaign
Santa Barbarans and visitors alike are being urged to text donations directly to homeless care providers rather than give spare change to street panhandlers. The new campaign, unveiled Tuesday, borrowed its slogan "Real Change, Not Spare Change" and some of its other elements from existing anti-panhandling programs elsewhere in the country, but the texting twist — inspired by the Haitian earthquake relief efforts — is a first. By texting "ChangeSB," sidewalk philanthropists can donate $5 — minus a 10-percent administrative fee — to the Casa Esperanza homeless shelter, where it will be used to bankroll outreach workers paid to connect homeless people with the appropriate social services. Casa director Mike Foley estimated Santa Barbara panhandlers take in roughly $600,000 a year and said much of that buys drugs and alcohol.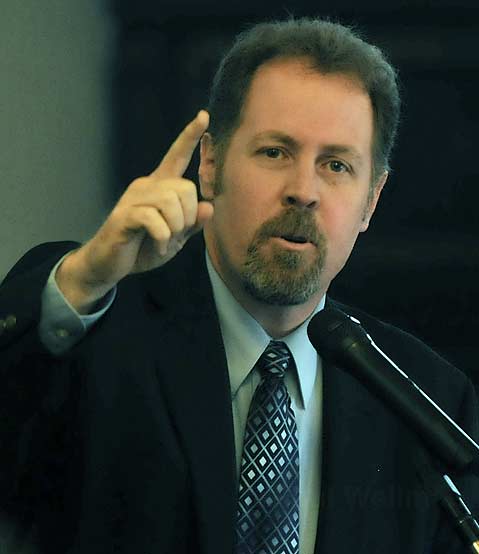 The first phase of the anti-panhandling campaign is largely promotional; posters, brochures, public service announcements, and a few advertisements will be purchased, using $75,000 provided by the city's Redevelopment Agency. Downtown businesses will be asked to place "alternative giving" receptacles in prominent places where patrons can drop donations. Down the road, organizers are hoping to place recycled parking meters along State Street, as is done in Denver, for such donations. The real bucks, however, are to be made selling sponsorship to those meters. Denver reportedly generates about $110,000 a year this way. Thus far, however, similar proposals have met only resistance from City Hall's design review boards.
This "compassionate alternative" — part of a political tit-for-tat orchestrated by the previous City Council — was required to pass a tougher anti – aggressive-panhandling ordinance, which went into effect last December. Homeless rights advocates, spearheaded by several liberal clergymen and women, threatened to oppose the aggressive-panhandling measure if there was no alternative-giving campaign. If the measure was successful, they worried that homeless people might find themselves cut off from the funds needed to sustain their self-medication and substance abuse. Such fears have yet to be born out by fact. Thus far, only three citations have been issued for aggressive panhandling since the ordinance went into effect. And according to Officer Keld Hove, in charge of the department's restorative justice program, the number of panhandlers has remained steady.
Regardless of its ultimate impact, the new law was intensely lobbied for by members of the downtown business community, who charged that tourists and locals were staying away in droves for fear of being accosted — and intimidated — by the unscrubbed seeking a handout. But support among business leaders for the compassionate-giving campaign had been tepid at most, even when linked to the aggressive-panhandling measure. Santa Barbara's new mayor, Helene Schneider, a strong advocate for better-coordinated homeless assistance, led the charge to bring businesses into the fold. At least superficially, it appears to have paid off. On hand for the announcement of the Real Change campaign — held at the offices of the Santa Barbara Foundation, one of the South Coast's highest-powered philanthropies — were representatives from the Downtown Organization, the Chamber of Commerce, the Conference and Visitors Bureau, and the Lodging and Restaurant Association, waxing enthusiastic about the new campaign's possibilities.
Officer Hove, however, cautioned that the program might have limited impact on the number of panhandlers. Hardcore substance abusers who can earn $20 an hour panhandling — more if accompanied by a dog or small child — will find it exceedingly difficult to walk away from a reliable income stream, he said. A street musician named Reign, traveling through town, expressed opposition to the new plan. "It only helps people who stay here," he said. He disputed the notion that all panhandlers use the money to get stoned. "I play guitar and I can't do that if I'm high," he said. Another panhandler named Lucky expressed mixed feelings. "I think it will take food out of our mouths," he said. In the meantime, Mayor Schneider said the challenge will be to increase the number of detox beds available to the homeless from the 12 now at Casa Esperanza.