News
May Day Rally Against Racial Profiling
Protestors Shout Out to Volleyball Tournament-Goers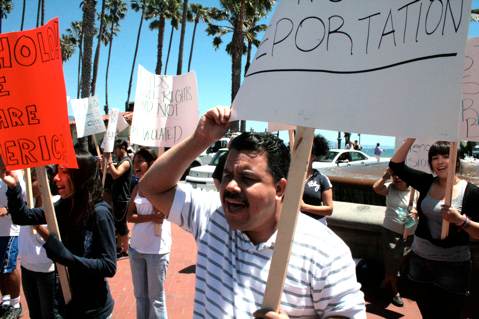 Santa Barbara didn't see the large-scale May Day activism some might have expected, especially considering Arizona's new hotly-contested anti-immigration law as well as potential local gang injunctions. However, a contingent of about 50 protestors picked a highly-visible and heavily-trafficked spot this Saturday, May 1, to speak out in the name of civil liberties.
Gathered in front of the dolphin fountain at the entrance to Stearns Wharf, the group lambasted SB 1070 (which allows Arizona police to actively hunt down, prosecute, and deport illegal immigrants) and called for Santa Barbarans to recognize what it described as an injustice and a step backward in the national struggle for immigrant rights. Organized by Osiris Castañeda and his YouthCinemedia group, the event was attended by not only young members of the Latino community but also by a cross-section of ages and nationalities.
While the demonstrators waved handmade signs and chanted slogans such as "Sí se puede!" ("Yes we can!") and "Arizona, ya basta!" ("Arizona, enough!") — all the while being filmed by YouthCinemedia videographers — many a passerby honked or waved in support. Due to the demonstration's close proximity to the AVP Nivea Santa Barbara Open volleyball tournament, hundreds if not thousands passed the small but impassioned party. One couple stopped and joined. "We're concerned about immigrant rights and outraged by the Arizona law," they said. "We've supported immigration rights in Santa Barbara for a while now, and are happy to lend our voice to the cause."
There were, however, a few angry shouts of "Illegal!" and a number of middle fingers waved out of passing cars. One man, who said he recently relocated to Orange County from Santa Barbara, was overheard shouting "Idiots!" "They can't even speak English!" he exclaimed, in reference to some of the slogans chanted in Spanish. "They come here, don't learn our language and culture, and break our schools, neighborhoods, businesses, and medical care," he said when pressed for the root of his belligerent hostility. "It's called Balkanization; it's nothing new. They come here but they don't want to assimilate."
Unfazed by the racism-laced taunts of some angry detractors, Castañeda took the time to speak with a handful of folks who respectfully approached him to debate the issue more sober-mindedly. Castañeda explained that while there will be future forums for the purpose of creating dialogue among community members, Saturday's event was more of an opportunity to show Santa Barbara that the immigration issue is at the forefront of many people's minds and that recent events necessitated a visible — though peaceful — call to action. "This is a venue to get voices together," said Castañeda, "to show [Santa Barbara] that we are here and that we are in opposition to this racial profiling of non-European immigrants."
The group eventually marched down State Street to De La Guerra Plaza, while a hundred miles or so south 100 Santa Barbarans — bussed down to Los Angeles by P.U.E.B.L.O. — took part in the 50,000-person MEGA-March for Immigration Reform rally. On May 15, P.U.E.B.L.O.'s immigration committee will host a forum addressing, among other issues, how the Latino community is treated by the police force, and the county's adoption of the federal Secure Communities Program.