News
Worried About the Water
Marine Scientist Weighs in on Response to Gulf Oil Disaster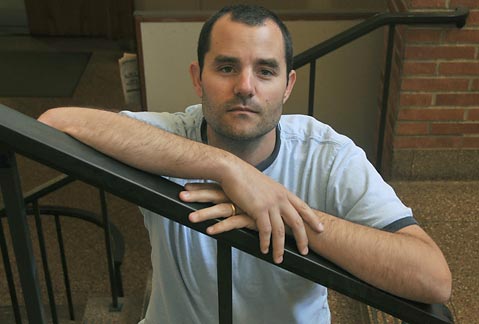 Dr. David Valentine had a strong inkling that BP's first major attempt to control the flow of its ruptured oil well wasn't going to work. And the UCSB earth science professor was recently quoted in the Los Angeles Times saying just that, more than a week before the concrete and iron vault was lowered over the Gulf of Mexico's seabed gash to halt the oil gushing since the Deepwater Horizon platform blew up on April 20.
Valentine, who's an expert on marine geochemistry and methane's behavior in water, warned that a combination of the device's size—coupled with low water temperature and high pressure at 5,000 feet below sea level—would likely cause methane ice (hydrate) to form inside and screw up the whole operation. Not only that, Valentine said, he did a few calculations after learning of BP's initial plan and figured that the 100-ton, four-story-tall contraption needed to be at least twice as heavy to stay flush on the sea floor should it fill with a large amount of methane which is escaping from the vent.
As the world now knows, the contraption did fail because of those reasons, and BP scrambled to come up with a new plan. But the latest scheme, to cap the leak with a much smaller and lighter "top hat" device—which will hopefully this time, explained Valentine, stay warm enough from the hot jet of oil to keep methane ice from forming— gives the professor pause as well. "I haven't seen the exact design," said Valentine, "but I received some specs from a reporter who got them from BP. I did a worst case scenario where this thing clogs with hydrate at the top and fills with gas, and it actually seemed a bit light to me."
Like a knife wound to the carotid artery, Valentine explained, the busted well has so far allowed almost 4 million gallons of oil to shoot into open ocean. Released from the pressure of more than two miles of earth that had previously sat atop it, the reservoir—described by Valentine not as a big open space but an area of rock and sand fissures between which the oil sits—is violently spewing out thousands of gallons of crude a day.
As such, the "top hat" solution, said Valentine, may not work well either. "The problem is that something so small is easily going to allow to oil to escape." The original plan was to cover the entire hole with the large vault, but now, said Valentine, "The jet is going to shoot out and stuff is going to be all over the place. It's going to be tricky to link it up and flow it up that pipe in a quantitative way." The smaller device, which will be anchored to the sea floor with pipe, is four feet in diameter and five feet high, BP said.
Also keeping Valentine up at night is the fact that BP—in a last-ditch effort to stop the massive oil slick from reaching the coastline and wreaking havoc on sensitive marsh and marine life from Louisiana to Florida—has dumped more than 300,000 gallons of chemical dispersants into the region. Sprayed from airplanes and injected near the ocean floor, the dispersants are designed to dilute the oil so instead of globbing onto the seashore it diffuses into deep Gulf waters.
BP has snagged the United States' entire supply of dispersants (which was manufactured by about a half-dozen companies) and plans to disperse 200,000 gallons more, Valentine claimed. But, he said, there's no way to know what the end result will be of such an unprecedented and desperate move. "It's an experiment. It makes me nervous. Hopefully it'll keep the oil off the beach, which is definitely a positive thing. Where it ends up, though, and what it ends up doing to the oil, that's a whole different issue."
"It could end up being a problem with the deep ocean," he went on, "one that's pretty well-hidden from the sight of economic cares. But it's still an ecosystem, so that still could potentially be problematic." Dispersant manufacturers, like Nalco Company (whose stock initially spiked when BP began buying up its product), say their chemicals have been properly tested and vetted by the EPA. No one at BP could be reached for comment.
While Valentine doesn't purport to have all the answers—"If I had the magic bullet I'd be in Houston," he said—he raises points worth mulling, considering the platforms just off our coast. While our rigs are sedentary, have tapped into reservoirs that are well-mapped and studied, and are drilling at much shallow depths (all characteristics that many Gulf rigs don't share), they are also susceptible to methane bursts like the one that reportedly destroyed the Deepwater Horizon. The 1969 spill, for example, was the result of a methane bubble that shot up a pipe, destroying the platform and splitting the ocean bed. In Gulf recent disaster, said Valentine, workers on the rig would have witnessed seawater and pipe material shooting 124 feet into the air before the methane reached the surface and ignited.
The commonplace danger has been dealt with for the most part with technologies like blowout protectors that cope with the rising of rogue methane bubbles—a phenomenon known as "kicking"—but clearly all factors and situations have yet to be considered. "There have been thousands and thousands of wells drilled without this happening," said Valentine. "But now companies will have to take into account this potential scenario. This was the unforeseen scenario."