Sports
The Big Game
Dons and Royals Alumni Fight for the Pigskin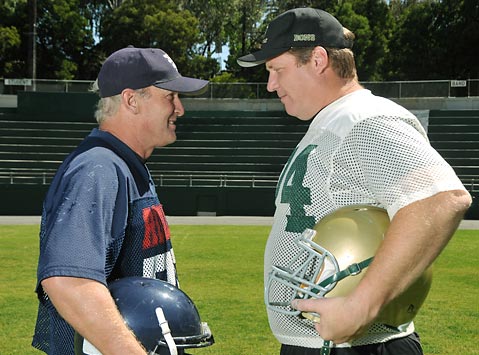 The Best of Times (1986) was writer/director Ron Shelton's first foray into sports movies. It starred Kurt Russell and Robin Williams as two frustrated football players who get a chance to play for their old high school in an alumni game against a rival team that had beaten them 13 years earlier. Shelton said his script was inspired by the intensity of the "Big Game" between the Santa Barbara High Dons and San Marcos Royals, a community drama that made an indelible impression on him when he was an SBHS student in the '60s.
Dons and Royals of yesteryear will replay that rivalry at 3 p.m. Saturday, May 29, in the Alumni Big Game on Santa Barbara's field. Billed as "Pandemonium at Peabody Stadium," it is a rubber match between the schools, which split a pair of alumni games in 1979 and 1985. Upwards of 80 graduates on each team from as far back as the '70s have been working out on the practice field. While they may hope to settle some old scores, their main purpose is to help out their schools' football programs. Each player is paying $300 to cover the costs of insurance and equipment and to contribute to the cause.
"It's going to be a good thing for the school and a lot of fun," said Bobby Bisquera (SBHS '88). "I can still recall the smell of the grass in November at my last high school game. I never thought I'd suit up and play football again. In those days, we didn't like everything about San Marcos. Now we're older and wiser, and we know they were players like us. I still want to hit them hard."
Bisquera, whose grandfather (class of '25), father, and son all graduated from Santa Barbara, is a co-captain of the Dons alumni along with Poncho Renteria, Preston Maloney, Torlando Bolden, and Sam Cuellar. When they led the team through calisthenics last week, several wives and children looked on. "I've never seen so much school spirit," said Samantha Georges, with her year-old daughter Eliana. Her husband, Michael Georges ('99) "has been practicing since February," Samantha said. "You hear it all the time: 'Once a Don, always a Don. Once a Don, always a Don.'"
Lineman Brad Emerson ('81) watched his daughter Tessa play for the Dons basketball team this year, and now she gets to see him in action. "A victory for me will be walking off the field and not being carried off," Emerson said. He was a member of the 1980 team, led by quarterback Randall Cunningham, that went 13-1. Santa Barbara will retire Cunningham's number Saturday, and the three-time NFL Most Valuable Player is expected to appear at the game. "I'd like to see him punt for us," Emerson said. "He's a fantastic punter."
The Dons and Royals played their 50th Big Game last fall. The series record stands 27-23 in favor of Santa Barbara, but in the last 30 years, it's been 15-15. Tradition is no longer the sole province of the Dons. "This game is about brotherhood," said Royals grad Matt Johnston ('80), the alumni team's co-captain with Phil Alliano, Norm Kittle, and Danny Ramirez. "Ten of our players have come back to coach here," Johnston said. Alliano ('72), a noseguard, is the game's senior citizen at 57.
A number of military veterans will be playing. Jahir Garcia (San Marcos '96), a Marine Corps recruiter in Chicago, is a 12-year veteran. He served in Iraq when the war was at its worst, and small wonder the alumni game will be like a vacation for him.
San Marcos has produced some outstanding linemen and linebackers. Two who will play for the alums are center Caleb Brown ('94) and linebacker Chris Janeway ('04), who both went to UC Berkeley. Janeway will be making tackles for the first time since he blew out his knee in Cal's 2005 spring game. "It's a swollen mess, but I'm going to play," Janeway said.
Sarah "One-for-One" Harbison is a special player for the Royals. She suited up for the varsity as a placekicker in 1999 and made good on her only PAT attempt. Harbison is now a San Marcos teacher, and she came out to a practice this week after dissecting pigs in a biology class. As she put it: "From pigs in the classroom to pigskins on the field."
Two experienced head coaches—Bob Archer (San Marcos) and Lito Garcia (Santa Barbara)—will be roaming the sidelines and smiling a lot more than when their charges were 17-year-olds.
Tickets to the Alumni Big Game cost $10 for adults and $5 for children 12 and under. They are on sale at both schools. Gates to the stadium will open Saturday at 1 p.m.