News
Political Sludge Match
Williams, Jordan Clash Over Oil in Assembly Race
The sixty-four-million-dollar question confronting environmental activists and liberal Democrats is how three little letters could have morphed into such an inflammatory four-letter word. The letters in question are PXP, the acronym for Plains Exploration & Production Company, the Houston-based oil company whose complex and controversial offshore drilling plans have generated a toxic rift among former friends and allies in the environmental movement. Fallout over this split has defined the Democratic primary for the 35th Assembly District, pitting two solidly liberal Democrats with otherwise impressive environmental credentials — Santa Barbara City Councilmember Das Williams and 15-year coastal advocate Susan Jordan — against one another. Were it not for PXP and the competing waves of backlash it's generated, it's doubtful there would have been a Democratic primary contest at all. Certainly, it would not be this one.
By any reckoning, this year's primary ranks as the nastiest intra-party slug-fest over the South Coast's Assembly seat in many decades. Last week, Jordan bombarded the mailboxes of likely Democratic voters with a glossy flyer accusing Williams — the most aggressively green member the S.B. City Council has ever seen — of supporting "the first new oil drilling in 40 years." Inside, the mailer contained color photographs of BP's burning rig in the Gulf of Mexico, a photo of a smiling Williams, and a newspaper headline reading "Oil and Money." Other versions included images of oil-soaked birds, as well.
About 35 local activists with the Democratic Central Committee — solidly behind Williams — responded angrily. They accused Jordan — at a courthouse press conference Monday afternoon — of violating a signed commitment not to go negative. Jordan, they charged, misrepresented Williams's lifelong opposition to offshore oil drilling. Not only that, they complained, she slimed him personally. If Democrats beat themselves bloody during the primary, they argued, it will be much harder come the fall to unify against the Republican nominee.
Neither Williams nor Jordan were present at the event, though a contingent of about 15 sign-wielding Jordan supporters — mostly union activists from Ventura and Oxnard — were also on hand. In an interview afterward, Jordan said she had no intention of backing off. "The photos of the birds are powerful, but this is the reality we face if there's a spill," she said. If PXP were approved, the chance of spills increases from 5 percent to 10 percent, according to an environmental assessment. "That's 100 percent," Jordan said. She insisted her mailers did not violate the clean-campaign pledge, that her ads are factually accurate, and didn't misstate Williams's record. "It is unfortunate and undemocratic that some feel telling the truth is somehow 'negative campaigning,'" Jordan said. "I strongly disagree."
PXP Ping-Pong
In April 2008, PXP — an oil company currently operating in federal waters off the coast of Lompoc at a place called Tranquillon Ridge — announced it had signed a historic agreement with traditional environmental organizations Get Oil Out!, Citizens Planning Association, and the Environmental Defense Center (EDC), groups with 120 years of combined experience fighting any and all oil development off the coast. PXP wanted their support for a plan to extend its drilling from federal waters into oil reserves a little closer to shore and under the jurisdiction of the California State Lands Commission. If approved, this would constitute the first new oil lease approved in state waters in 41 years. In exchange, PXP was willing to pull the plug on its operations 14 years after pumping commenced. This was unprecedented. To date, no oil company has ever agreed to such a condition. In addition, PXP also agreed to remove the onshore pipelines, processing facilities, and other infrastructure upon which their offshore oil development depended. For attorneys with EDC, this was the lynchpin to the deal. Without such onshore support facilities, future oil companies would find the challenge of tapping into the petrochemical wealth buried beneath the Santa Barbara Channel prohibitively expensive, if not practically impossible. The deal was first announced during an incongruously joyous display of hand-holding by oil company executives and their longtime adversaries in the environmental movement.
Almost before the ink had dried, however, serious disagreements surfaced. Susan Jordan, then a major player in coastal protection political circles and a close personal friend of EDC attorney Linda Krop, voiced profound reservations. At a time when the administration of George W. Bush was seeking to eliminate the long-standing moratorium on offshore oil development off California's coast, Jordan argued, environmentalists could not afford to send mixed messages about offshore oil. To approve PXP, the State Lands Commission would have to overturn a hard-fought tradition, 40 years in the making, opposing any new oil leases in state waters. That, in turn, would set a perilous precedent that could threaten the entire coast of California. And she questioned whether the deal was even legally enforceable. PXP's operations were based in federal waters and PXP had a contract with the federal government to drill. If PXP stopped drilling before exhausting the oil reserves found in its federal offshore lease, the feds would lose royalty revenues. Because of this, Jordan argued, the federal government would kill the deal. (To date, the federal agency in charge of offshore oil operations has declined to render an opinion on the matter until faced with an actual application.) And finally, Jordan argued that the terms and conditions of the agreement should not be kept secret, but be made public. (Subsequent drafts of the deal have since been made public, but, initially, the agreement was kept confidential, reportedly at PXP's insistence. The agreement, the company thought, contained proprietary information that could help its competitors. Opponents of the agreement seized upon this confidentiality requirement to great effect.)
For Krop, a revered figure in the South Coast environmental movement, the PXP deal constituted the single most difficult, creative, and constructive accomplishment in her nearly 30-year career. It was also the most risky. While Krop and Jordan battled over the particulars, Krop maintains Jordan agreed not to come out against the project. Jordan says that she agreed merely not to testify or write letters against the proposed deal "out of respect for Linda." When the State Lands Commission met in Santa Barbara in January 2009 to determine PXP's fate, Jordan did not testify against it. Nor did she sign any letters of opposition. But oppose the project she did, and very effectively, marshalling many of her colleagues in the statewide coastal protection movement to come out in force. The deal went down to defeat, and despite at least two backdoor efforts by Governor Arnold Schwarzenegger to revive it, the proposal remains lifeless. Two months ago, Congressmember Lois Capps held a press conference to sing the praises of a slightly revised version — written to address some of the concerns articulated by Jordan. But in the wake of the Gulf oil blowout, even Schwarzenegger has withdrawn support.
Krop felt personally and politically betrayed by Jordan. But that was nothing compared to the profound sense of violation she felt at the hands of Jordan's husband, Assemblymember Pedro Nava. Krop insisted that she kept Nava and his office notified of her negotiations with PXP on an almost weekly basis throughout the entire course of the deliberations. Never once, she said, did Nava or any of his assistants at those meetings ever voice an objection to the deal. Yet shortly before the State Lands Commission hearing, Nava circulated letters of opposition among his colleagues in the Legislature, asking them to jump on board. Many did. In subsequent interviews, Nava denied ever endorsing the proposed deal and expressed bafflement that Krop thought he had. Krop and many of her allies in the South Coast environmental community remain convinced that Nava sold them — and the PXP deal — out for political gain. No one hoping to secure higher office could afford to vote for an oil development; that was political reality. Krop and her allies understood this well. After all, they had helped create that reality.
In the two years since, the debate surrounding PXP has grown only more complex, polarized, and bitter. For example, when the terms of the confidential agreement were made public four months ago, it was revealed that PXP had agreed to pay EDC $100,000. EDC also had agreed to testify and lobby on PXP's behalf. Jordan and Nava wasted no time taking EDC to task for this. Krop responded that public interest law firms routinely exact payment from their adversaries when settlements are achieved. Given that Nava is an attorney by profession, Krop said, he of all people should know this.
Self-Made, Self-Named
PXP is not the only issue in the race. It just seems that way. There is, of course, the state's $19-billion budget deficit. By any calculation, the amount of pain about to be inflicted — either via cuts, tax increases, or a combination of the two — promises to be intense and immense. But given Sacramento's proven propensity for partisan posturing, wrangling, and foot-dragging, it's little surprise that the State Legislature's approval ratings have plunged to 14 percent.
As Jordan and Williams duke it out for a district that runs from Oxnard in the south to Buellton in the north, it should be acknowledged that a Republican primary is also taking place. Mike Stoker — a former Santa Barbara County supervisor and now a staff member for State Senator Tony Strickland — is heavily favored in his race against Ventura County blogger and small-business owner Daniel Goldberg. Because Democrats enjoy a 20-percent advantage over Republicans in registered voters, however, the 35th District is regarded as a very safe seat for Democrats. And compared to the ever-oscillating Republican politics of Mike Stoker, the differences separating Jordan and Williams are dwarfed by their shared values. On many issues, their positions are nearly identical, differing mostly in terms of style, temperament, and life experience.
Both fundamentally believe that government can be part of the solution and is not the problem. They both are appalled by cuts made to public education, health care, and programs designed to help the sick, poor, and needy. Both have pledged to plug corporate tax loopholes — worth about $2 billion — approved in the last two years with the blessings of Governor Schwarzenegger; both would support the creation of an oil severance tax — which would generate $1.4 billion a year. Both support an increase on the taxes charged for tobacco products. Where Jordan talks about reforming Prop. 13 to allow the state to tax increased values in commercial — but not residential — properties, Williams advocates taxing liquor sales. Jordan expressed hesitation about a liquor tax, arguing it might impose an undue hardship on small-business owners already reeling from the recession. "We're talking a nickel a beer and 25 cents on a bottle of wine," Williams rejoined. "If it's a choice between that or increasing class sizes, to me that's an easy decision."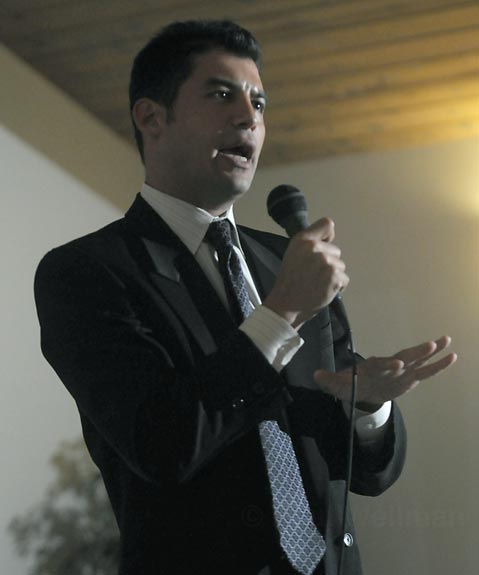 Brash, charismatic, and driven, Williams is a political pro who emerged out of the social-justice/environmental-activist wing of the Democratic Party. For years, Williams has been tagged as the proverbial "young man in a hurry." At age 35, Williams may not be quite so young anymore, but he remains very much in a rush. What many perceive as raw political ambition, Williams describes as an impulse to serve. He noted that his first name — which he gave himself at age four — means "to serve" in Sanskrit. Williams said he hopes to have kids one day; when that time comes, he'll no longer be able to put in the 13-hour workdays he says a political career demands. Politics came to Williams, he said, as "a calling, a mission." That this happened the same time he found his religious faith, Williams said, "is not accidental." At the time, Williams — born and bred in Santa Barbara — was a 15-year-old homeless high school dropout living in a vehicle at Leadbetter Beach. The first campaign Williams worked was former 3rd District supervisor Bill Wallace's last, in 1992. Wallace "lost" that race by eight votes, but then "won" it after an exhausting recount by a razor-thin margin of five votes. The lesson Williams gleaned was the importance of hard work and door-to-door campaigning. By all accounts, this is a lesson he's learned exceedingly well. By his own estimation, Williams has worked on 26 election campaigns, one of which was for South African leader Nelson Mandela.
Seven years ago, Williams won his first quest for city council. From the dais, Williams has been a dynamic presence — engaging and irritating to both friend and foe — pushing effectively for solar energy projects, tenant protections, and affordable housing. At the same time, Williams worked to build the infrastructure of a party machine capable of sustaining like-minded candidates. Two years ago, he ran for county supervisor over the objections of many Democrats, and lost. Critics are quick to note that he's now embarking on his fourth campaign in just seven years.
Two years ago, it appeared Williams's political career had hit the skids. That's when Assemblymember Pedro Nava — whom Williams then regarded as a political friend, confidante, and supporter — notified Williams that Susan Jordan (Nava's wife) would be running for Nava's Assembly seat. For Williams — who is precluded by term limits from seeking another council term — this was devastating. His interest in seeking statewide office had been an open secret; Williams had banked on having Nava's blessing and support.
Initially, Williams responded by endorsing Jordan's candidacy in July 2008, well before she ever announced. As for his own future, Williams speculated about possibly teaching at a girls' school in Afghanistan once his council term expired in 2011.
Williams got a new lease on political life after the State Lands Commission rejected the PXP proposal the following January. With so many — though not all — South Coast environmental and elected leaders furious with Nava and Jordan, Williams began to recalibrate his options. Having alienated a key constituency, Jordan might be vulnerable. Up until the State Lands Commission hearing, Williams had been uncharacteristically low-key about his support for the PXP proposal. Speaking now of the PXP vote, Williams said, "It gave me the courage not to get pushed out of the race."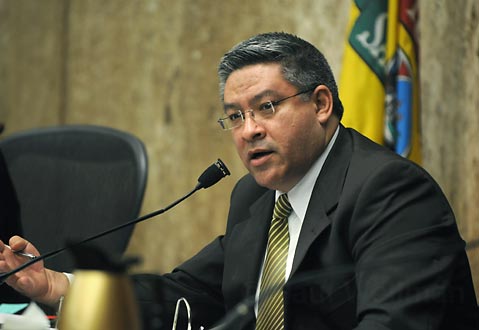 So, too did 1st District Supervisor Salud Carbajal. Then, as now, Carbajal was a formidable political force. Popular, hard working, and painstakingly moderate, Carbajal boasted a campaign war chest of $360,000. That's big money. He had connections in Sacramento and in Washington, D.C. Not only had Carbajal supported the PXP deal, but he intensely disliked Pedro Nava and was not shy about saying so. At a major event hosted by Get Oil Out! almost immediately after the State Lands Commission vote, Carbajal made it crystal clear to anyone within earshot that he was looking for a candidate to back against Susan Jordan.
Relations between Carbajal and Williams had never been great. Both were big fish swimming in the same small pond. But it was more than that. Where Carbajal hewed to the political middle, Williams was unapologetically populist. Where Carbajal took pains not to rock the boat — at least not in public — Williams had no aversion to a high-profile showdown if that's what it took. Where Carbajal was a creature of Santa Barbara's Democratic, slow-growth political establishment — carefully recruited, coached, and nurtured — Williams forced himself upon the body politic, unbidden and uninvited, by virtue of his grassroots prowess and organizing skills.
Carbajal and Williams met and talked. They concluded their future goals overshadowed any past differences. With significant fanfare, Carbajal announced he was backing Williams against Jordan. He'd provide money; he'd make phone calls; he'd open doors. Whatever heavy lifting was required, Carbajal would do.
According to conventional wisdom, Williams should fare better in Santa Barbara County, Jordan in Ventura and Oxnard. Given there are more registered Democrats in Santa Barbara County and that Santa Barbara Democrats tend to vote more consistently, this gives Williams a definite advantage. While both have amassed impressive endorsements, Williams enjoys a clear edge there, having out-hustled and out-muscled Jordan for the Democratic Party's official nod. Likewise, Williams has raised significantly more money, though the most recent campaign statements won't be released 'til later this week.
Fact Finder
Jordan's political origins, though less mythic than Williams's, are rooted in her New York childhood. The second daughter of a hardworking single mom, Jordan was born after her father had already left. She grew up in a Catholic household where hard work and discipline were the order of the day. Her mother started out as a clerk for Ideal Toy Company and worked her way up into the executive suites. Jordan would not have a room to herself until she hit college age. In grade school, Jordan was always the shortest kid in the class. She was also one of the smartest, excelling at academics. Along the way, her mother remarried, and Jordan's stepfather — a trade union activist — left an indelible imprint on Jordan's development. "Whenever we'd fight at the dinner table, he'd say 'What are the facts?' He didn't want to know what my opinion was; he wanted to know what the facts were," she reaclled. Throughout her many careers, Jordan has relied heavily upon her research skills. "I don't exaggerate. I'm very accurate," she said. "If I say something, I can back it up."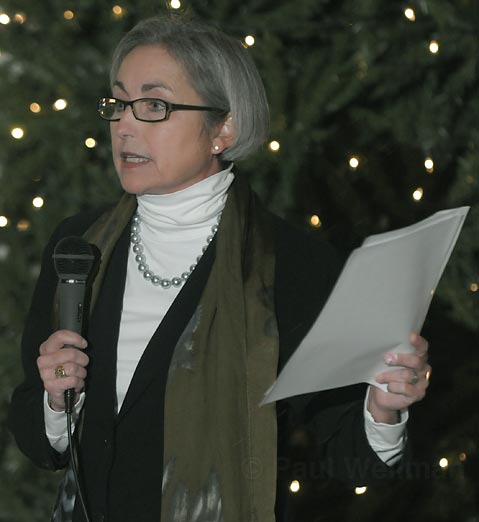 In 1989, Jordan moved to California with her previous husband, with whom she had a son. For a while, she kept her job with a high-powered New York consulting firm, handling corporate accounts. In 1990, she worked on the campaign to pass a statewide initiative, the Crime Victims' Bill of Rights. By 1997, Jordan had created a new political action committee, Vote the Coast, with Sara Wan — an outspoken preservationist on the California Coastal Commission — to elect environmentally minded Democrats to the State Legislature. That year, she was asked to run for the Legislature herself, but being a single mother raising a nine-year-old son, she declined. About the same time, Jordan started Coastal Protection Network and cut her teeth by limiting the development opportunities available to heirs of the Hearst Ranch. She eventually succeeded by changing four words in the fine print of state law.
When Pedro Nava was appointed to the Coastal Commission, Jordan said she was appalled. At the time, Nava was an attorney specializing in malpractice lawsuits who had friends in high places. "He had no environmental credentials," she said. Her work and Nava's coincided on a regular basis. In 2000, she moved to Santa Barbara. In 2002, Jordan and Nava got married. That same year, Jordan was appointed to the County Planning Commission by then supervisor Susan Rose. There she served for three years.
In 2007, Jordan got involved in the fight to stop the world's biggest mining company from installing a liquefied natural gas (LNG) terminal off the coast of Ventura County. Joining her in that effort was Linda Krop of the EDC and the Sierra Club. Even though the LNG project had been backed by the George W. Bush White House and Governor Schwarzenegger, opponents managed to kill it at the State Lands Committee. "When I started, LNG was 'cheap, safe, and reliable.' When we got done, it was 'risky, dirty, and dangerous,'" Jordan said. A year later, Jordan was locking horns with Schwarzenegger again, this time over a proposed toll road he was pushing through the San Onofre State Park. The proposed toll road met the same fate as the LNG terminal.
There's nothing easy or obvious about making the transition from behind-the-scenes activist-wonk to political candidate. In the first race of her life, Jordan finds herself running against an experienced veteran. The learning curve has been steep and at times painful. Jordan said she was motivated to run by the economic pain inflicted by the current recession. Women and children, she said, are paying the price disproportionately. Not coincidentally, Jordan said, women are notably underrepresented in Sacramento. Ever since 1997, Jordan also said, she's had an abiding itch to run. Now that her son just graduated from college and she's about to turn 59, she can reset the compass of her life's direction.
The Contest Continues
In the meantime, the debate over PXP will continue unabated probably into the fall. Jordan expressed sorrow at losing close personal friends over her stand, but no regrets. "It's been a defining moment for me," she said. "I had to make a decision not based on who my friends were or what the political establishment thought, but what the facts were. The facts back me up."
Williams is not conceding any ground as to what the facts actually are. If people want to shut down an existing offshore oil facility, he said, it does little good to just say no. If oil spills are the fear, he argued, it makes sense to shut down existing platforms sooner rather than later. "But it's also about listening to your constituents," he said. "I'm not an environmental attorney, and neither is Susan. But Linda Krop is. She's managed to terminate existing offshore oil leases. That's amazing. If Linda tells me this is the best way to get oil out of the channel, I'm going to listen."