Voices
Goleta Beach 2.0
Back Again from the Drawing Board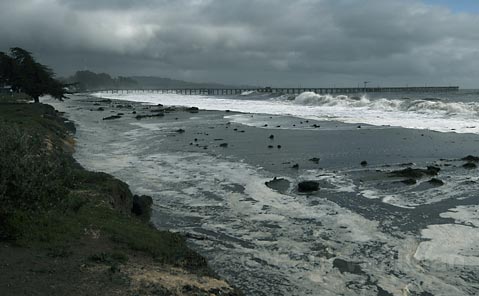 Goleta Beach County Park is an invaluable community treasure. The most visited park in the county, it boasts easy access to a safe beach, a pier for fishing and sightseeing, picnic facilities, bike paths, trails, horseshoe pits, swimming, barbecues, and acres of clean, sandy beach for sunbathing and relaxing.
For the last decade, however, the future of Goleta Beach County Park has hung precariously in the balance as community groups, engineers, county planners, and even the California Coastal Commission have grappled with how to protect the beach.
Between 2000 and 2005, storms threatened some of the parking areas and the sewer, gas, and utility lines, which were placed dangerously close to the sea. The county spent more than $2 million trying to protect the park facilities in place. However, it has become clear that leaving the sewer line and other facilities in the critical erosion zone is a losing battle and a recipe for disaster.
No one wants to see a sewage spill on Goleta Beach. Simply armoring the coast with seawalls or coastal groin structures, however, as direct as that proposed solution seemed, would deplete the sand supply and cause our beaches to wash away. The Coastal Commission soundly rejected such an approach last year, by a 9-1 vote. The commission gave clear guidance that moving the sewer line and parking is the preferred approach to protecting Goleta Beach County Park. It is good planning and makes sense to move the at-risk lines out of the critical erosion zone and out of harm's way.
The county's new plan for Goleta Beach, dubbed "Goleta Beach 2.0," does just that. The plan is endorsed by many local groups, individuals, and coastal engineers and geologists. They realize that the only way to protect Goleta Beach as a recreational amenity over the long-term is to work with nature by reconfiguring the park's amenities. The plan relocates threatened pipes and parking farther inland to protect them and preserve the park.
Goleta Beach 2.0 will add a full acre of sand to the beach, through natural accumulation. It will add new trails and realign the bike path away from Sandpit Road to increase bicyclist and pedestrian safety. A new drop-off and turnaround for vehicles is planned. Kayak rentals will be offered, and the county will expand the park, fishing, and pier host programs. The restaurant and the adjacent Goleta Sanitary District wastewater outfall will be maintained where they are now.
This plan protects and improves our community park in a way that complies with state environmental laws. It is a win-win, proving that through persistence and research, we can preserve the park and enhance the beach. It deserves the support of the entire community during its July 6 hearing before the Santa Barbara County Board of Supervisors.