News
Sending Mixed Marijuana Messages
Council Okays Three Dispensaries; Puts Ban on Ballot
The Santa Barbara City Council has gotten so into the habit of arguing about medical marijuana — 23 hearings in the last year — that even when there's nothing left to squabble about, councilmembers still find reasons to argue. Tuesday's hearing was especially painful in this regard, as the council spent more than an hour bickering over whether to include two additional words — "collective" and "or" — into the ballot title for the proposed dispensary ban the council voted to put before voters this November. To some extent, the testiness of the exchanges was inspired by the fact that four councilmembers — a majority — actually oppose a ban. In fact, four councilmembers are on record in support of a more restrictive ordinance allowing dispensaries.
In part because five votes are required, the pro-dispensary majority was forced to swallow a compromise not to their liking. As part of that compromise, hatched two weeks ago, the council majority agreed to place a ban on this November's ballot; in exchange, the three anti-dispensary councilmembers agreed to support an ordinance that in the meantime would allow no more than three dispensaries citywide. At least two dispensaries with clean operating records will be forced out of business as a result, a reason cited by pro-dispensary councilmember Grant House for voting against both measures.
The councilmembers' frayed feelings became apparent almost as soon as they began deliberating whether the ban-dispensaries ballot heading should read "medical marijuana dispensaries" or "medical marijuana collectives or dispensaries." City Attorney Steve Wiley had proposed the former; Mayor Helene Schneider, a foe of the ban, pushed for the latter, insisting the added verbiage made the ballot language "clearer and consistent" with the ordinance language just adopted by the council. Under the city's new rules, dispensaries must be collectives. But Wiley argued the insertion of "collective" was "neither here not there" when it came to voters assessing whether medical pot dispensaries should be banned or not. He worried that if the ban passed, some dispensary owners might argue the election results did not apply on the grounds that they weren't part of a collective.
When Schneider didn't back down, Wiley — normally even-keeled — grew visibly flummoxed. Councilmember Michael Self — a proponent of the ban — suggested that perhaps Schneider was seeking to confuse voters as part of a subliminal electoral strategy to get them to vote against the ban. Voters have a tendency to reject measures they find confusing. Schneider shot back, "To suggest I was trying to manipulate something, I don't appreciate." Councilmember Dale Francisco — a staunch proponent of the ban — suggested that the pro-dispensary councilmembers were violating the good-faith spirit of the compromise by tinkering with the ballot language. Councilmember Das Williams — one of the council's strongest dispensary supporters — said he found it "disturbing" to be lectured to by Francisco, given that the council spent months deliberating over the definition of pot collectives only because Francisco had insisted. Francisco responded, "It's equally disturbing to be lectured by you, Mr. Williams." Eventually both sides backed off making any changes to Wiley's proposed text and the measure passed with only House voting against.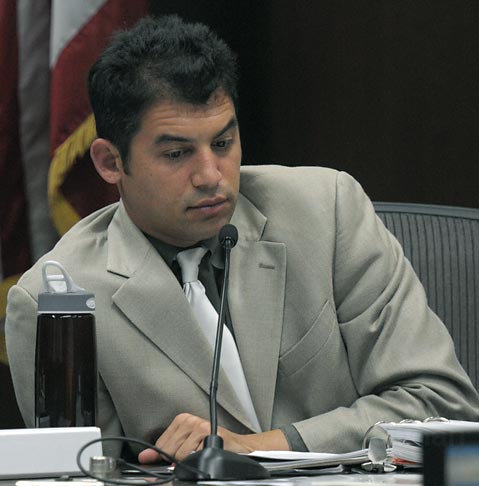 Three weeks ago, Mayor Schneider and Councilmember Bendy White proposed putting two dueling pot initiatives — one allowing five dispensaries and another banning them outright — on the ballot this November, in part to settle what seemed to be an increasingly irreconcilable public controversy. The other motivation was to politically de-fang the pot issue by keeping it off the ballot for November 2011, when the next city council elections are scheduled. Francisco, who had opposed all proposed compromises to that point on the ground that retail dispensaries violate state law, said he'd support a more limited ordinance — allowing three dispensaries as opposed to the five initially proposed — if his council colleagues would agree to let voters decide on just a ban.