Cover Story
Stayin' Alive
A Look at the People Who Power Santa Barbara's Nightlife
Merrymaking might as well be Santa Barbara's official civic sport. Our city's oldest and biggest annual event is called Fiesta, our university is recognized nationally for its celebrative spirit, and we're one of the most popular places on the planet to throw a wedding, also known as the most important bash in one's life. But most telling is that the heart of our city morphs from a shopper's Shangri-La into a party­er's paradise every weekend evening, as droves of Santa Barbarans mix with the steady stock of tourists to eat, drink, and dance the night away. Altogether, the bacchanalian pleasures of nightlife are deeply woven into Santa Barbara's social, cultural, and economic DNA, and that will never change.
The epicenter for this revelry must be the 500 block of State Street, where patrons bounce between such hotspots as The Sandbar, Madison's, Statemynt, and S.B. Brewing Company. But there's plenty happening on the 400 and 600 blocks, as well, with Whiskey Richard's recently undergoing an extensive remodel (complete with inviting patio), Sharkeez always attracting the crowds (especially on Monday's international night), and the so-called "Tonic Empire" — a partnership that's connected to Tonic, Blush, Marquee, Indochine, Arch Rock Fish, and the not-yet-renamed-but-sure-to-impress-when-reopened Q's — continuing to expand. Meanwhile, the scene continues to spread out in all directions, whether that means a trip to the Funk Zone — where former coffeehouse Reds recently morphed into a cocktail lounge and Union Ale serves up hard-to-find pints — a jaunt to Alcazar on the Mesa, a stroll to West Beach for The Brewhouse and The Neighborhood, a slide up and off State for the Sportsman, Hungry Cat, or Milk & Honey, a visit to the Old Town Tavern in Goleta, a romp down Linden Avenue in Carpinteria, or a completing "The Loop" through Isla Vista's varied drinkeries.
Despite the steady weekend crowds, though, it ain't easy running a nightlife joint in high-priced Santa Barbara, even when it's not the middle of a recession. As such, turnover happens with tremendous regularity, and even the seemingly successful clubs often struggle to make basic ends meet. Those who do manage to persevere run almost solely on passion for the work and the joy of seeing the smiling faces of patrons each night.
For this, our annual nightlife issue, we've decided to celebrate these survivors, so what follows are profiles of 12 longtime bar and club owners from across the broader Santa Barbara community.
Dargan's Irish Pub & Restaurant 18 E. Ortega St.
Owners: Paul Dargan, Brendan Searls, and Liam Sherlock (cofounder John Lamb)
Opened: November 1997
Vibe: Irish pub serving good food
Counties Collaborating: Cork, Tipperary, and Tyrone
"The game plan was that, even if we had no customers, we were going to save money because we were four good customers ourselves," said Paul Dargan of himself and his Irish comrades, who met through S.B. soccer leagues and opened Dargan's with their own money when a bank wouldn't take their cars and golf clubs as collateral for a loan. Though joking that "he won the arm wrestling" match to name the bar, Dargan's grandfather did open an eponymous pub (and grocery) back in 1927 — that's the spot on the front of their menus — so he's followed in the family footsteps, adding a pool room onto the bar in February 2001 and opening another bar in Ventura in November 2004. "We're a nice warm, cozy place to go hang out, have a drink, and socialize with the family," said Dargan, who believes that quality, Irish-inflected food is what sets them apart. "Really, our age group is 2 to 90. It really is. Hopefully, that'll keep us going." When asked about the old man in the photograph to the right of the main bar, Dargan explained it was a random moment captured by his friend back in Cork. "People think it's me, Mr. Dargan," he laughed. "But it typifies our pub and the atmosphere it conveys."
The Press Room15 E. Ortega St.
Owner: James Rafferty
Opened: April 14, 1995
Vibe: Tourist-free and friendly pub
In the Rafters: World Cup country flags, to be auctioned off for charity on July 11
"Blind ignorance and luck" are a publican's keys to success according to James Rafferty, who left his home in Manchester, England, traveled the world, and decided to open The Press Room as his means of staying in Santa Barbara. His first manager, Kevin Illes, "taught me how to bartend, basically," said Rafferty, who's since focused on hosting each and every important soccer game in the world all year 'round, opening at 4:45 a.m. for the English Premiere League and hosting jam-packed World Cup showings that are "like a festival."
"We were the only bar in California that showed the World Cup live when it was in Korea and Japan," said Raff, but he's most proud of upholding the central tenets of the pub by offering a comfortable place where everyone from Montecito CEOs to downtown plumbers can hang. "The pub is the social center," said Raff. "Everyone's looked after."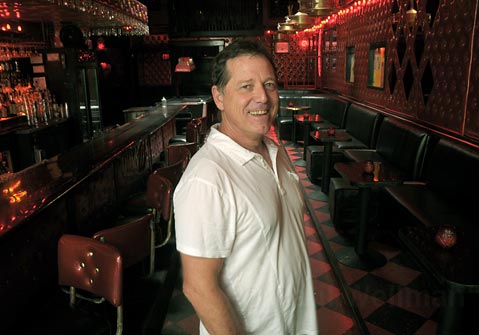 Wildcat Lounge 15 W. Ortega St.
Owner: Bob and Dawn Stout
Opened: 1992
Vibe: "Get your dance on."
Weekly Affair: Gay Night on Sundays, doubling as Industry Night
"We just wanted to come up with some sort of martini lounge that had an element of cool and artsiness to it," says Bob Stout of his original team's notions for the Ortega Street mainstay back in the early '90s. "Since then, other places have certainly taken up the mantle on that!" The club, which burned down in 2000 and then endured 18 months of remodeling (right after having been renovated, no less), offers a little something different every night of the week, including karaoke Mondays and no-cover Fridays. "We really put a lot of effort into the production side of things to create as many different nights of entertainment as possible," said Stout, who also prides himself on throwing fashion shows that involve his salon neighbors. When asked why this is the place that Stout — who was behind the openings of Sojourner Café, Zelo, Blue Agave, and Velvet Jones — chose to make his home, he explained, "The Wildcat allows us a great sense of artistic freedom. We get a bang out of putting a lot of effort into always creating something new. Customers appreciate that we aren't just resting on our laurels."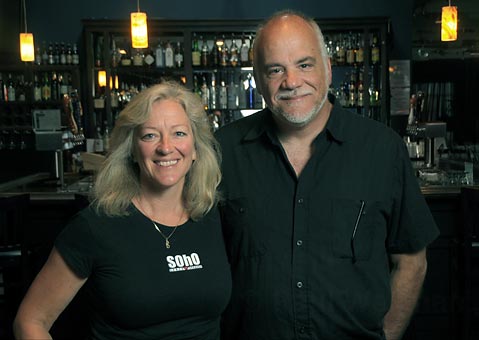 SOhO Restaurant & Music Club 1221 State St.
Owners: Gail and Bob Hansen
Opened: 1994
Vibe: Upscale downtown fine dining and live music
Signature Menu Items: Blood Orange Margarita and the Braised Wild Boar Shank
Whether you're looking to enjoy a little jazz piano over dinner, or get your groove on to some of the world's best reggae acts, SOhO has you covered. Since opening its doors in 1994, the Victoria Court staple has gone from a restaurant and showspace to the lone seven-night-a-week music club in S.B. And with a warm, familial vibe perpetuated by husband-and-wife proprietors Bob and Gail Hansen, it's no wonder why. "I think we've stuck around this long because we're owner/operators," said Gail. "We're here all the time, we know our staff, and we know what's going on. And we're booking all genres of music." Aside from hosting stellar live acts, the Hansens are frequently and happily opening their doors to the community, hosting a bevy of the area's talent, as well as events for schools and nonprofits on an almost weekly basis. "We put our hearts and souls into this place, and I think it shows," said Gail. As for Bob, the reason people keep coming back is simple: "It's Gail."
Velvet Jones 423 State St.
Owner: Craig Jenkins
Opened: December 2000
Vibe: Live music every day
Myriad music: Indie on Monday, punk on Thursday, reggae on Friday, hip-hop on Saturday
As one of the town's few sound engineers in the early '90s, Craig Jenkins "paved [his] own way" into Santa Barbara's nightlife, later learning the ins and outs of security, bar backing, audio tech, and more from stints at the Madhouse, Wildcat, Orange Whip Recording Studios, and Toe's Tavern. "I was the utility guy," said the Red Bluff native, whose former boss Bob Stout offered him the chance to either run the Wildcat or open his own bar. Jenkins chose the latter, dedicated his efforts to fostering the live entertainment scene of Santa Barbara, and bought out his partners a year later. For the past decade, Jenkins's club has ridden the "sin curve" of music popularity, a challenging route that's not without sacrifice. "Because we took the road less traveled, we don't have regulars," said Jenkins. "We're more of an event bar than a destination bar." About two years ago, Jenkins opened his place for all ages and 18-and-up shows, a move that he says is double the work for less money but has managed to sustain his club, which is also supported by the entrepreneur's ownership of Santa Barbara DJs and Bill's Bus, which shuttles Isla Vista residents downtown and back. "As long as I keep coming up with ideas, I'll be here," said Jenkins. "It helps keep the live-music thing going in this town."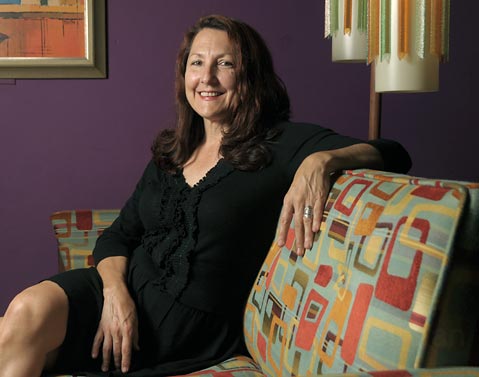 Mercury Lounge 5871 Hollister Ave., Goleta
Owner: Dawn O'Brien
Opened: August 1995
Vibe: Relaxed and classy, with cutting-edge music
For what ales you: Delirium Tremens on tap
Meet owner/proprietor Dawn O'Brien and you'll understand where the Merc gets its style. Since opening the Goleta watering hole almost 15 years ago, O'Brien has maintained a level of sophistication and retro cool that simply can't be argued with. Tucked into a nondescript space in Old Town, the Mercury looks and feels like a well-kept secret. The décor fluctuates between antique chic and mid-century modern. The pool tables are pristine. The beers and wines (there are more than 60 of each) are hand-selected with love. And the music? It's being spun on vinyl by some of the coolest bartenders in town. "We've had some of our bar staff for eight or nine years," said O'Brien. "And patrons love that family feel: It's comfy; it's homey." On top of the epic atmosphere, the Merc also doubles as a showspace and has played host to rock 'n' roll heavyweights like John Doe and Mike Watt. If you're looking for the full experience, head up on a Wednesday for happy hour (complete with fresh snacks) and stick around for reggae night, spun by KCSB's DJ Villet.
The Creekside Bar 4444 Hollister Ave.
Owner: Jane Moss Ericson; managed by Jules Ponzini
Opened: 1990
Vibe: Neighborhood roadhouse
You Might Run Into: Cat Cora on her birthday
"If someone doesn't tell you about it, and you don't know about it, how are you gonna find The Creekside?" laughs manager Jules Ponzini while overlooking the notoriously horseshoe-pitted back zone of the Noleta joint that she says was "just dirt" when the owners took it over 20 years ago. Other than the no-capacity, literally creek-side out-of-doors, it's the tunes, Ponzini — who essentially took an oath to stay in charge when the owner's husband died a few years ago — believes, that have kept the Creekside relevant. "The Creekside kept true to its roots with the live music scene," she explained. "There are so many local bands that are so friggin' good!" But Ponzini must admit that Wednesday's country night — a three-year-old tradition that draws two-steppers from all around — and Thursday's new dubstep extravaganza don't hurt either. Plus, the old team from Deano's Pizzarama now runs the Creekside kitchen. "It's important to know that you can get really good pizza at the Creekside," said Ponzini. So now you know.
The James Joyce 513 State St.
Owner: Tommy Byrne
Opened: July 1996
Vibe: Traditional Irish pub
Stable Soundtrack: Ulysses S. Jasz, playing every Saturday night for 11 years
After the Galway boy with a "family-bar background" ran Toucan Tommy's in New York City for long enough, he drove 25,000 miles back and forth across the States in search of a new home. He liked San Diego but then came to S.B. "I found Santa Barbara to be the gemstone," said Byrne, who first put in work at The Press Room. "I met more people here in an hour than I met in San Diego in a month." So he set up shop to offer our "first proper pint of Guinness, 20 ounces" and deliver what he believes is a traditional Irish bar, with plenty of live music, peanuts you toss on the floor, a fireplace, darts, and his two sweetly accented sisters. "There's a nice camaraderie between bar owners in town," said Byrne. "It's a good place to call home, for sure."
Old Kings Road 532¹/² State St.
Owners: Don Zaccagnino and Chris Faitel
Opened: December 1999
Vibe: London pub, care of former owner and consulting Brit Ross Cathie
Noggin Knocking: Trivia Night on Wednesdays
When he owned The Brickyard in the mid '90s, Don Zaccagnino used to hang at King's Tavern, the exact site of his current venture. "It always felt comfortable to me," said the San Clemente-raised kid who came to town when his brother attended college here. So when the lease came up, Zaccagnino and his former partner Ross Cathie (a verified Brit and continuing consultant) "basically made a go of it" with $18,000, and it's been steady, rewarding work ever since. "We've been building it one customer at a time," said Zaccagnino. "We just take care of our regulars. They're good people, they don't cause problems. They behave, and, if they don't, we send them down the road real quick." Soccer, English ales, darts, and a pool table don't hurt either, nor does Zaccagnino's affiliation with the other British and Irish bar owners in town. "As far as the pubs go," said Zaccagnino of his supposed competitors, "we're all just a family."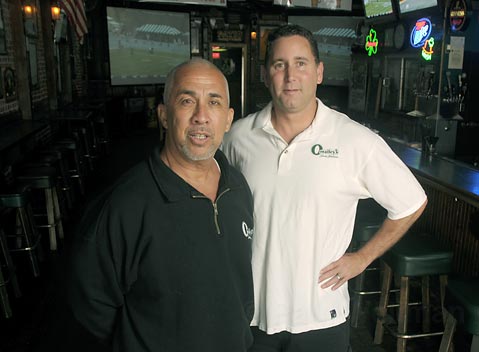 O'Malley's Bar 523 State St.
Owners: Jimmy Smit and Dan Baham
Opened: 1988
Vibe: Sports bar that lets loose later
You Didn't Know: Named after Smit's dog
Whether it's Michael Jordan pouring drinks during Fiesta, special cocktails to sip upstairs, or cold beer to chug on the back patio, O'Malley's has always offered a little bit for everyone. "We try to appeal to as many demographics as possible," said Dan Baham, who came on as an O'Malley's owner six years ago but started working at the bar in 1991 with the "tricky" challenge of accommodating the shifting desires of the general public while keeping the original O'Malley's concept alive. And that concept is live sports. "If you're looking for something, we're gonna have it," said Baham, whether that means hockey and basketball or rugby and UFC. "We want to make sure that if someone wants to see a sporting event, we will find it." While Baham, who graduated from UCSB in 1985, is happy to nearly be accepted as a local, his partner Smit never had to wait. "He owns the house he grew up in," said Baham. "He walks down the street and everyone says hi. He should run for mayor."
Muddy Waters Café 508 E. Haley St.
Owners: Bill and Dave Lewis
Opened: 2000
Vibe: Bohemian colorful
Popular eats: Hot Roast Beef Sandwich or Muddy Salad
Since being purchased by the Lewis brothers in 2006, not much about Muddy has changed. That is unless you show up after daytime hours. The quirky Haley Street haunt has long been known for serving a great cup of Joe, but it's Bill's love of all things music that has turned the shop into a veritable live-music hot spot. "When I moved here from San Luis, this was one of the only places I felt really comfortable, and I wanted to preserve that local vibe," said Bill. And preserve he did, helping fill the all-ages venue void after the fall of the Hard to Find by booking the crème of the S.B. band crop (oso, Verna Beware, Gardens and Villa) and a now-healthy smattering of touring acts (ranging from up-and-comers like the Morning Benders and Port O'Brien to super talent like Mike Watt and Dave Navarro). "I don't see our role as the small place that can pull the big bands," he said. "I'm super keen on a few things, and I just want to book what's good."
Elsie's Tavern 117 W. De la Guerra St.
Date Opened: 1993
Owners: Pete and Robbyn Degenhardt
Vibe: Relaxed casual
Who's There: Graduate students, artists, and musicians looking for a quiet night out
Despite changing hands back in 2001, Elsie's has and continues to be the hangout of choice for bar hoppers looking to escape the State Street crawl. "It's the alternative to the typical bar scenario," says owner Pete Degenhardt. Nestled inconspicuously off of Chapala, the cash-only beer-and-wine bar boasts 15 taps and more than 30 bottled brewskis. In addition, the watering hole plays host to monthly contemporary art exhibits (many including works by their own patrons), pool, and some of the hipper clientele, décor, and music in town. (Think antique sofas and under-the-radar tunes from the likes of Future Islands and Atlas Sound.) Despite being sandwiched between recent residential constructions like Paseo Chapala and One Twenty One, Degenhardt promises not too much has changed. "We've had to be somewhat accommodating with the noise level and the music, which, in a way, is sad, but it also makes things more predictable," he said. "Now we've become more of a lounge where people can come and drink and talk to each other."