Columns
Faces Officially Rocked
Jeff Matson and Jason Hallows Make Us Face the Music
Each fall when KCSB's membership drive comes around, the station can always rely on Jeff Matson to remind listeners of the station's irreplaceability. Attending Santa Barbara High in the 1980s, Matson tuned into KCSB as a musical lifeline, a means of learning about the best new punk and garage rock as well as the genre's (then still relatively recent) classics. Like many local youngsters who happen across 91.9 on their radio, he had his musical life changed forever. He's still being shaped as a rock connoisseur by KCSB today, though now as a deejay, well-tattooed and clad in a T-shirt with his show's official logo.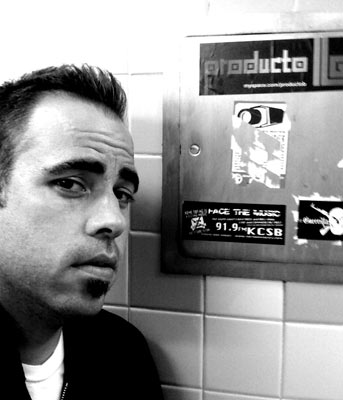 Despite his years of close listening, Matson long remained under the false impression—and it's one that persists for many even today—that you had to be a UCSB student in order to be a KCSB broadcaster. As soon as he learned this wasn't the case, he got the wheels in motion to secure his own time slot. Bringing into the studio the knowledge and enthusiasm built up in all those years listening to what people were putting out from it, Matson started his garage and punk showcase Face the Music in the early 2000s.
After having looked for a way into radio for quite some time, he found KCSB an ideal venue for the sort of show he wanted to do. "I got an internship at this Top 40 station, Y97, in 1993, 1994," he told me when I sat in on the show one Friday night. "They had me handing stuff out at a Star Trek movie premiere. I tried to approach KJEE a bunch of times, but they wouldn't let me in the door. I kept thinking about KCSB, where I was always hearing stuff you couldn't hear anywhere else." Now he's put in a decade playing stuff his listeners probably wouldn't hear anywhere else.
"Just eleven minutes in and we've already rocked your faces off," he announced to them, launching into a few minutes of between-song banter with his cohost Jason Hallows. Matson piloted Face the Music solo through its early years, then began bringing in buddies. Hallows, who first came to Matson's attention as a crank caller, became a fixture three years ago. The two trade off picking songs: Hallows cues his up on his laptop, using a program with an interface of a virtual pair of turntables, while Matson sticks mostly the control room's pair of real ones. "It's definitely different than when I was by myself," Matson said. "I did more interviews back then. Now there are more layers. There's more goofing around."
The duo's generally similar but specifically different musical tastes keep the playlists just unpredictable enough to be exticing. "We like … " one of the hosts began, " … most of the same stuff," finished the other. "Jason likes all the sappy songs," Matson elaborated, "but I tend to lay a little heavier." "Jeff's got a punk rock reputation to protect," Hallows added. "I'm not afraid to play a good song by a bad band." Their musical as well as verbal back-and-forth leads to occasional bouts of entertaining one-upsmanship, where the one host breaking out a "trick song" — say, an elaborate piece of 1980s hair metal—will lead them both to craft a miniature sets on the fly.
In addition to the emergent themes, Face the Music also regularly features planned ones. The death of respected metal vocalist Ronnie James Dio this May brought about a show dedicated to his genre. The program has even strayed as ostensibly far afield from the garage-punk axis as outlaw country. "I've always felt it has the same attitude and lyrical content as punk," Matson explained. It seems that both metal and country always fire up their fans. "I'm always surprised how many metal heads come out from under the rocks," observed Howells. Variations and trends in their personal listening habits also tend to find their way onto the show. Howells' recent collection of records from keyboard rock bands, for instance, has ensured that listeners get a taste of them as well.
Though he grew up in Arizona, Howells latched onto KCSB almost immediately after he moved to Santa Barbara 15 years ago. "My college station only played jazz, so I hadn't done any radio," he said. "I loved KCSB but heard it was an extensive process to become a deejay. I listened to Jeff's show and kept calling him, requesting the worst songs ever." Doing the show together, they've continued to discovered both new music and older music that's new to them. "We try to stay within the genre, especially when we play new stuff," Hallows says. "Sometimes we have the goal of playing all new stuff."
Despite working next door to one another during the day and having significant others who happen to be sisters, most of the hanging out Matson and Hallows do is on the air. This guarantees the quip-trading, kick-back-and-enjoy-some-tracks feel that has become Face the Music's trademark. The hosts have carved out a place for the kind of radio they've always loved but no longer get anywhere else. "I was pumped on KJEE when I first moved here," Hallows remembered, "but then they got so programmed." "As far as regular radio," Matson said, "it's a done deal. The last time I was stoked on radio was the early '90s, when there was one punk show on KTYD."
Hallows put his finger on it neatly: "What sucks most about radio these days is, there's nothing live or dangerous about it." And Face the Music is certainly one of the most live-feeling shows around, even by KCSB's standards. Matson and Hallows share records they're newly thrilled about, they bust out their all-time favorites, they put callers on the air ("Sometimes they just hang up"), and they take requests, though, as Hallows remarked, "If it totally sucks, we'll blow 'em off. But I think people respect that. They call back later asking for something else."
Most importantly, they always get excited about the music itself, and unfailingly make listeners feel like they're getting in on a seriously good time. It's a fine example, though perhaps a daunting one, for KCSB's more recent recruits. "Sometimes the kids in the time slots after us come into the studio and just clam up," Matson said. "We walk out of here saying, 'Wow, that guy must be shy!' But then we think, hey, he's eighteen, and here he saw these two guys in the station, almost 40 years old … " "Yeah," added Hallows, "and they're spinning all this dated music!" But theirs is infectious enthusiasm. They're having so much fun that, even if you don't care about punk rock, you'll appreciate how much they care. And if you don't like punk rock, you might start.
4•1•1
Face the Music airs Fridays from 10 p.m. to 12 a.m. on KCSB, 91.9 FM. For more information, visit ftmradio.com.