Columns
Funk, Part 2
Big Butts, Big Guns, and Neon
I've already discussed how modern Carioca funk came to be. From its origins in American soul of the 60s, it evolved to Rio-exclusive funk antigo. In the 80s, the fusion of funk antigo and Miami bass left the music full of dirty words, societal critiques, and praise of butts. Its violent phase of the 90s, with bailes de briga (fighting dance parties), was quickly subdued by socially conscious anti-violence funk songs. Since the 90s, when Carioca funk first became internationally known, it has grown immensely in popularity, and branched into many sub-genres.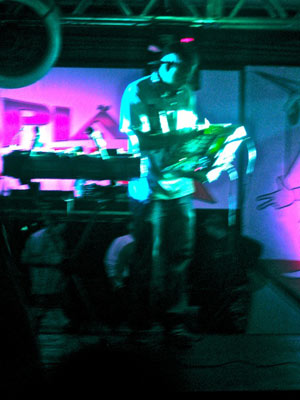 Today, funk leaves Rio de Janeiro with an unmistakable, raunchy subculture, expanding from kids to elders, from Zona Norte to Zona Sul, and from bailes to popular clubs and house parties. It holds a prominent position in Rio culture, especially in favelas. Here's the low-down on the implications of its prominence.
As for dancing funk, it's not too complicated. Guys are the coolest dancers in the baile. They get in lines, either following one another in a train-like formation through the dance hall, or holding their ground, all facing the same way. Fancy footwork, springing from the floor to standing position quickly and repeatedly, and foot shuffling and skipping are main features of male funk dancing. The most effective groups of guys are those who coordinate: At a baile, they'll line up all facing the crowd and show off their jumpy, fast-paced, unified masterpieces. Think dirty favela line dancing. When the boys decide to scope the scene (they often do), they do it in style. They make a train and, ever coordinated, roam the crowds like a cool, tap-dancing caterpillar. I imagine groups of three to eight guys, from 14 to 24 years of age, practicing dance moves in unison in front of the giant mirrors at the jiu jitsu gyms when classes aren't in session.
Funk dancing for women is an entirely different story. It is simply sexual. The most basic women's dance move is to bend over, put your hands on your knees, stick your butt out as far as you can behind you, and rotate it from the waste. Moves advance when drops down to the floor enter the mix. These are sort of like a deep knee bends on fast forward. Like the boys, girls enhance the power of their moves when they line up next to their friends and dance in unison. Unsurprisingly, their clothes, unlike those of the guys, are key. At least it's easy to remember the fashion rules of a baile: neon tube top, heels, high-waisted short skirt – good to go.
Each weekend presents a series of bailes from which to choose. In Rocinha alone, up to four bailes occur every weekend. The two that are the safest and most organized both near an entrance to Rocinha in a venue called Emoções (which means "excitements"). And here's the difference: one's for kids. Sunday nights, the venue fills up with children until about midnight. No wonder there's not a single awkward dancer at the bailes – they practice since childhood.
When the kids leave Emoções, it fills up with the older kids and adults. The baile always features a well-known funk DJ, and usually accompaniment in the form of female dirty dancers. It is unique in two significant ways. First, it has security guards (one of whom is my English student), so the party is devoid of guns-carrying bandidos, and picture-taking is a go. Second, it ends. Emoções shuts down at 3:30 a.m., instead of going until sunrise and beyond. I guess the fact that most people work on Monday has something to do with the closing time. But the fact that the party doesn't get poppin' until around one can be attributed to the same factor. For example, some friends and I went out to dinner on Sunday night before the baile. Our waiter and a colleague told us they had planned on going to Emoções after work. Working in a restaurant doesn't exactly allow for early nights out.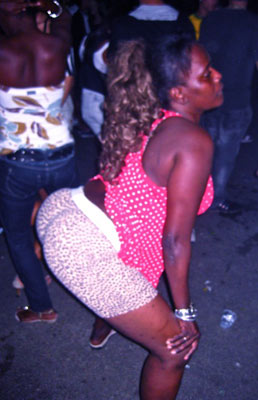 Other Rocinha bailes are organized primarily by and for bandidos. These are the parties of those affiliated with the criminal drug trafficking factions that run the favela. These bailes occur themselves deep in the favela, surrounded by becos (a complicated network of alleys), or near the top of the mountain. This way (with regard to the former) if the military police or rival gangs randomly enter looking to slice off the top of the bandido hierarchy with their giant machine guns, the crowds can disperse into the becos for protection. As for the latter, it's simply such a hike to the top that by the time enemies make their way up there, lookouts detect them, warn partying bandidos via two-way radios, and begin to attack and repel them, while those up top can escape into the jungle above or the becos below. (This happens extremely rarely; frequenting these parties is not suicide.)
Outsiders from both extremes of the Carioca societal spectrum frequent bandido bailes. Because Rocinha is controlled by the criminal faction Amigos dos Amigos (Friends of Friends), or ADA, any bandidos who come to these bailes must be from favelas under the same control. And because the presence of the drug trade is so prevalent at these parties, upper class kids looking for all-nighters fueled by drugs hit up the bocas (where drugs are sold) in the becos, get high, and stick around for the music and dancing.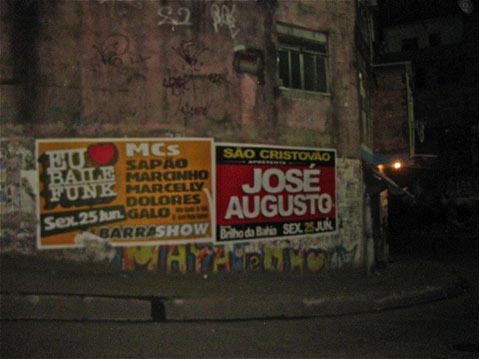 But the locals – bandidos included – generally don't share the same drug-using tendencies as their upper class customers. Their bailes are primarily fueled by Red Bull, whiskey, and beer. They feature crowds of men sporting thick gold chains and enormous machine guns. You know the party is popping around four in the morning when masses of colossal guns thrust into the air to the beat of the music in celebratory fashion. These bailes are free, and they don't stop until well after sunrise.
Whatever the motive of whatever person—whether it's a little kid who just wants to dance, a bandido who just wants to take a break from the stressful, scary life of vending drugs in a criminal faction, or some girls who just want to rock their heels and neon tube tops and shake their booties—the baile's got something for everybody.  And since it's fueled by Carioca music, no wonder that's the genre that's found its way to supreme cultural prominence.