Living
Patrick Lindsey
Wall Street Trader, Professional Racer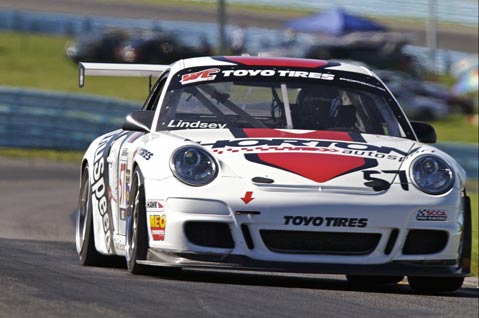 Driving 90-miles-an-hour down the freeway, weaving through traffic, might make you feel like a race-car driver, but it's nothing compared to the real thing. Just ask Santa Barbaran Patrick Lindsey, who has made a name for himself on the international racing circuit.
The 28-year-old is currently competing in his first season of the World Challenge GT series. On July 17, Lindsey achieved fourth place in the Honda Indy Toronto, which is the most watched sporting event in Ontario, Canada. Lindsey balances his weekend occupation of tooling up his Porsche 911 in a Santa Barbara garage, with his day job as a trader of stocks and bonds on Wall Street. Lindsey is a commodity in short supply.
Lindsey had an avid interest in motorsports as a kid, according to his bio, and he spent many hours poring over technical books on race-car engineering. Lindsey used his acquired knowledge to modify the engine of his '97 Chevy truck, which lent him the advantage over other racers. His engineering talents and racing panache served him well, and Lindsey quickly made a name for himself in the organized street races of the Bakersfield and Santa Barbara countryside.
After high school, he attended Pepperdine University, and at age 20 he undertook a summer internship on the floor of the N.Y. Stock Exchange. He later cut short his studies to pursue a job offer on Wall Street. Lindsey successfully adapted to the New York lifestyle, driven not only by his ambition to succeed in business but also by his need for funding to pursue his dream of competing in the American Le Mans racing series.
Lindsey graduated into amateur road racing in 2005, and his advanced knowledge of race-car mechanics continued to help him on the track. He developed special components for his vehicles, and a shock package that he crafted for his Audi would later be sold as an aftermarket kit.
His mechanical prowess helped him win two National Championship races in his first amateur season, and he went on to achieve numerous track records and race wins in the National Autosport Association. He has since enjoyed two successful years in the World Challenge professional ranks.
After a third- and fifth-place finish at the Mosport International Raceway double header, Lindsey was described as "the one to watch" by commentators as the drivers were introduced before the Watkins Glen race in New York, on July 2-4. He ended up taking fifth place in Watkins Glen.
Speaking after the race, he said: "I got a great start and found myself second, but began losing touch with Randy Pobst as I waited for my tire pressures to come up. I gave everything to the car, but I pushed wide in turn nine and put the car on the grass. I had to wait, as the field came bearing down, to finally slot into ninth. I drove, determined to make back those lost spots, but I was only able to get back to fifth."
Lindsey's subsequent fourth-place finish in the Honda Indy Toronto, on June 17, means that he is continuing to build momentum in the series. When you're young and there's an idea in your mind's eye, you can go far, as proven by Lindsey's colossal achievements.