Education
Let the Race Begin
Four Candidates Vie for City College Board of Trustees Seats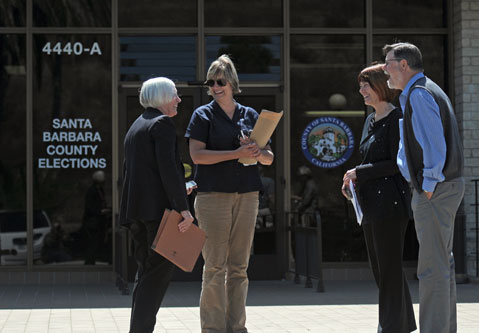 Historically the most overlooked, unexciting, and often uncontested election in the Santa Barbara political landscape, the Santa Barbara City College Board of Trustees contest this election season is going to be anything but. With the filing deadline looming — and, more importantly, after months of public outcry about the manner in which city college administrators and trustees have reconciled state budget cuts with the school's day-to-day offerings — a formidable foursome of candidates, including former mayor Marty Blum, officially threw their hats in the ring Tuesday afternoon for the four available seats on the seven-member board. Joining Blum in the race is current SBCC Association of Continuing Education Students spokesperson Marsha Croninger, former SBCC and UCSB Global Studies professor Peter Haslund, and certified public accountant and SBCC parent Lisa Macker.
The four new candidates (pictured above), who purposely announced their candidacy together on Tuesday outside the County Elections Office in a show of solidarity for one another, are running individual campaigns but with a unified purpose, said community organizer Ted Rhodes, who is helping oversee their efforts. "They all are people who are interested in restoring the trust in the trustees and they all share a common concern about openness and shared governance," Rhodes explained.
The four-pack of challengers join incumbents Joe Dobbs, first elected in 1971, Des O'Neil, elected in 1994, Kathryn Alexander, elected in 1965, and Sally Green, who was elected in 2006, in the race. According to folks in the election office, three other individuals have pulled papers but have not officially filed for candidacy. The deadline is August 6.