Sports
Polo Spectacular
Argentine Superstar Plays for S.B. at the Bombardier Pacific Coast Open
He rides like Laffit Pincay Jr., he controls a wayward ball like Lionel Messi, and he makes shots like Roger Federer. In the three weeks since he arrived at the Santa Barbara Polo & Racquet Club, Adolfo Cambiaso has lived up to his reputation as the world's greatest polo player.
An otherwise desultory game last Friday was enlivened by flashes of brilliance from the dashing 35-year-old Argentine. He continually put his mallet on the ball, taking it out of the air at times, almost always striking it with accuracy. He whacked a 150-yard drive, raced after it with an opponent in futile pursuit, and sent the ball between the posts for one of his five goals of the day.
Ernie Gonzalez drove 130 miles from Chino just to watch Cambiaso for an hour or so. "I've seen him on TV," said Gonzalez, an amateur polo player. "It's amazing to see him in person."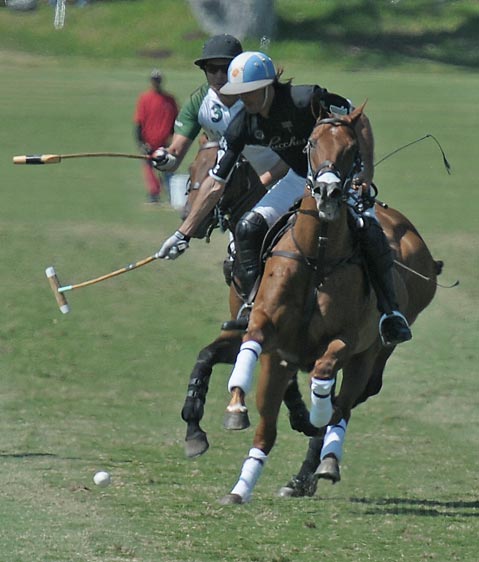 Cambiaso was at his best on Sunday. He scored 11 goals in the championship match of the USPA America Cup, leading Lucchese to a 15-10 victory over Piocho Ranch. It was the team's second title with Cambiaso in the captain's saddle. He scored 10 goals in the Robert Skene Trophy final, a 16-7 pounding of Valiente.
Cambiaso has won the sport's most prestigious tournaments, including the Argentine Open—the NBA Finals of polo—seven times. He recently collected his fifth British Open title with the Dubai team, and he was on the winning side at the U.S. Open in Florida for the sixth time.
John Muse, the owner of the Lucchese Polo Team, lured Cambiaso to Santa Barbara by telling him it was his chance to win another significant trophy, the Bombardier Pacific Coast Open, in a very special year. The tournament, the grand finale of the season at the Carpinteria fields, will celebrate its 100th anniversary during the next two weeks, starting Sunday, August 15.
Even as Cambiaso has been slicing and dicing the other seven teams competing against Lucchese, the players consider it an honor to be on the field with him. "He's a great guy," said Andy Busch, whose Grant's Farm team is the defending Pacific Coast champion. "He represents the sport well."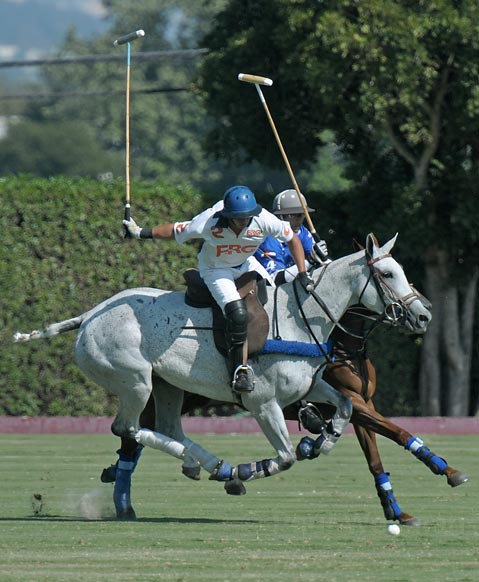 "He's unreal," said Santiago Torres of the ERG team. Noting that Cambiaso has a 10-goal rating, the highest that a polo player can achieve, Torres said, "He's more like a 15." That may not be much of an exaggeration. Cambiaso became a 10-goaler at the age of 17 and certainly has gotten better since then. Torres, who grew up in Carpinteria, turns 17 later this year, and he is considered somewhat of a prodigy for attaining a four-goal rating.
Cambiaso's presence is inspiring to his three teammates. "It's pretty cool," said Jason Crowder. "He's a polo dictionary out there. He's got moves nobody can copy." Andres Weisz said his concerns about team chemistry were lifted when Cambiaso told them, "Play your game. I will adapt to you guys." Muse, the team's playing sponsor, has to resist the urge to become a spectator on the field. "It's a big danger," Muse said. "You get mesmerized watching him."
In a brief interview, the soft-spoken Cambiaso said, "I'm happy here. It's fun to meet new people. I like playing with John, Andres, and Jason." He remarked that the weather is unseasonably cool. "That's great for the horses," he said.
Cambiaso is known for taking extraordinary care of his horses. "He works with the horses, knows the horses, loves the horses," Busch said. "He's a barn rat," Muse said. "He's fanatic about his horses. He has a groom who travels with him."
Muse added that Cambiaso keeps himself in top shape. He neither smokes nor drinks. "He doesn't party," Muse said. Cambiaso is married with two children. His wife, Maria Vázquez, was one of South America's top fashion models. She is expecting their third child, Muse said, and is staying at their home near Buenos Aires. Cambiaso hopes to have a new trophy in hand when he joins her in a few weeks.
The Pacific Coast Open will get underway with four games Sunday. Lucchese plays Grant's Farm at 1 p.m. Other matchups are ERG-Piocho Ranch and Zacara-Valiente, both at 10 a.m., and Mansour-Audi at 3 p.m. Round-robin play will continue on the following Thursday and Sunday. The top four teams will meet in the semifinals Thursday, August 26, and the championship game will be Sunday, August 29.
Lucchese is a 127-year-old company that manufactures leather boots. Speaking on behalf of Lucchese's polo rivals, longtime observer Steve Crowder said, "How do you stop these boots from walking all over us?"